Antique furniture offers timeless style, elegance, and quality not often seen in more modern furniture. When it comes to choosing an antique sofa it pays to have some decorating ideas about how and where the sofa will sit. Fortunately, an antique sofa of any style, colour, and size can suit almost any room and decor. With a few simple decorating tips, one can incorporate their antique sofa, whether it is large, patterned, small, or unique in style.
Decorating With a Large Antique Sofa

Decorating a room with a large antique sofa may be easy or difficult, depending on the size of the room. Large rooms, like an open plan kitchen, dining, and living room easily suits a large antique sofa. Dark colours and heavy materials help to fill a large open space, so try going with a large dark antique leather sofa. Adding patterns and other decorative items also helps to fill the space. Just be sure to use the sofa as the focal point of the room, otherwise it begins to look too cluttered. For small rooms, keep in mind that less is more.
Decorating With a Patterned Antique Sofa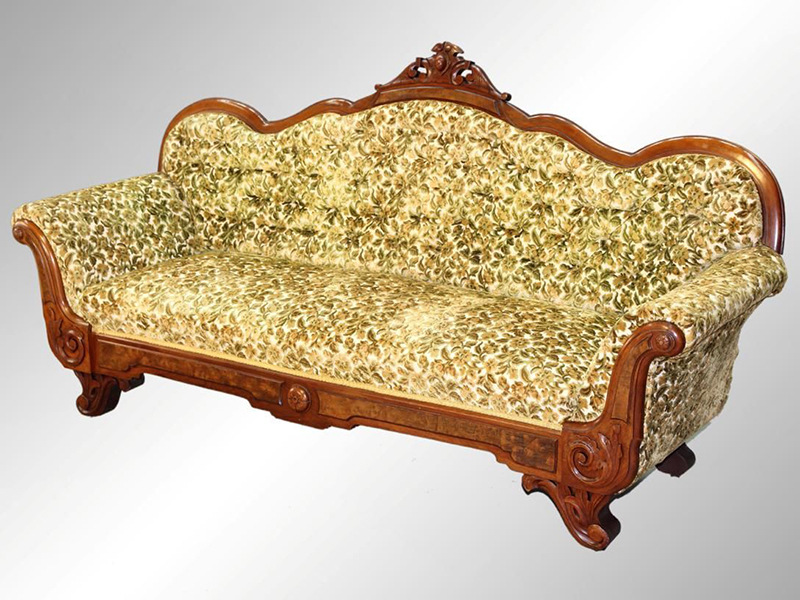 When decorating with a patterned antique sofa remember to keep the rest of the room simple. Neutral tones that blend with the sofa help to tone down any vibrant patterns. Add colour to the room by tying in colours from the sofa pattern itself. Either use these colours on the walls somewhere, or in ornaments and wall hangings.
Decorating With a Small Antique Sofa
The great benefit of a small antique sofa is that it is very versatile. It may be the focal point of a room, in combination with other seating, or it may help to divide a large room into practical areas. Depending on the size of the home, a small antique sofa may fit perfectly in a large hallway or entrance, in a guest bedroom, or even in a formal dining room. An antique 2-seater sofa may be upholstered to match the current decor, or it may blend in with what is already in place. Use a small antique sofa for practicality, such as near a window for reading, in the hallway next to the telephone, or to complement a larger sofa in a living room.
Decorating With an Antique Chesterfield Sofa
An antique Chesterfield sofa oozes luxury, style, and opulence. Usually quite expensive to buy, a genuine Chesterfield sofa is identifiable by the arms and back being of the same height. Most Chesterfields are leather or velvet and feature studs that give it that quilted look. Often large, they usually seat two or three comfortably. An antique Chesterfield sofa suits a traditional style room. Often black, brown, or dark red in colour a Chesterfield sofa also creates a very luxurious and warm decor.