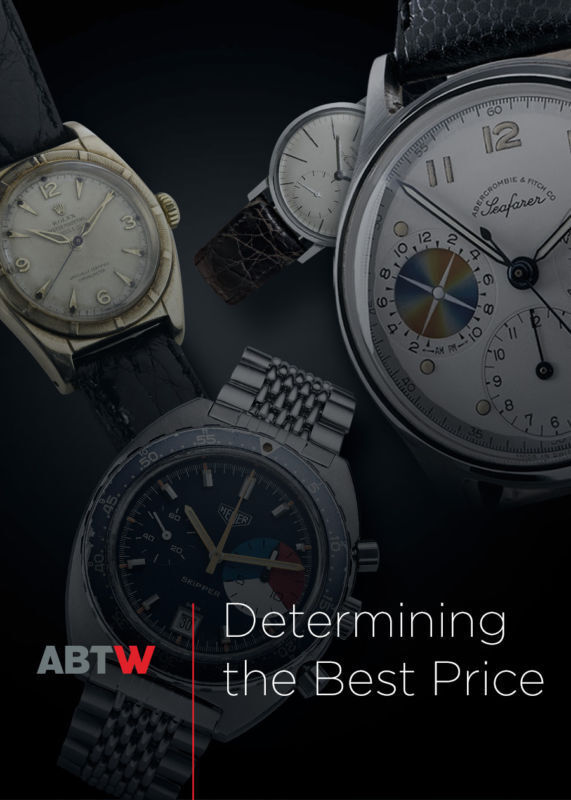 Finally, you've found it. The watch, the horological wrist adornment you've always wanted but didn't know existed until just this moment. After scrolling through pages of listings on eBay, reading hundreds of descriptions and studying thousands of photos, you're just a winning bid away from being the classy master of time you always knew you were meant to be. What's more, it must be your lucky day because there's only a few hours left and nobody has bid yet. With excitement you enter the starting bid and move your cursor over the Place Bid button, but just before you click a pang of trepidation shivers through your body. The moment's pause is all your mind needs to flood you with questions like "why hasn't anybody bid on this yet?" or "how will the value change over time?" or simply, "am I getting a good deal?"

The clock is ticking, but if you place that bid and find out later you've paid well above a fair price, you're never going to be able to enjoy the watch with full enthusiasm, buyer's remorse biting away at it each time you fasten the strap or bracelet around your wrist. How then to determine what that fair price is? A little research and simple analysis will help make sure you make a sound buying decision.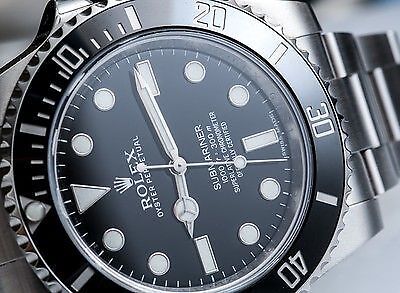 1. Low Supply Drives High Demand
It's important to understand where your desired watch fits in the world of serious and casual watch collecting. Certain brands have histories and reputations that collectors are willing to pay premiums for. As an example, there are numerous very good dive watches available, but the most desired, by far, is the Rolex Submariner. Some of this may be due to the brand's status as a symbol of wealth, some may be due to the fact that it was the watch worn by Sean Connery when he portrayed James Bond for the first time on screen in Dr. No back in 1962, and some may be due to genuine reliability and ruggedness. Whatever the cause, the Rolex Submariner has a high demand and typically premium prices to go with it compared to other dive watches with similar performance traits.

Originality is also very desirable and something incredibly important to serious watch collectors. You may come across two watches from the same year, one looking beaten up and the other looking crisp and fresh. Which one is worth more? Most likely the beaten up watch, as it means it is most likely all original. This is worth checking and most sellers will have service histories for their watches. If a service history is unavailable, you can do some basic research to make sure the physical details of the watch and movement match what was standard at the time of original manufacture. Most luxury watch companies will also let you check their serial number databases to ensure that the watch you're buying matches one they have on record.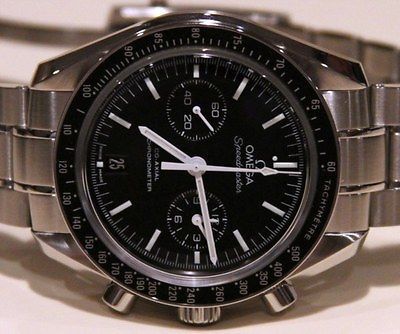 Certain models also have specific traits that drive values sky high. If you're looking at Omega Speedmaster watches, you may have in the past come across one with a " tropical brown" dial and wondered why it was selling for three to four times a similar watch with a black dial. The answer is largely due to collector preference and the rarity of the "tropical brown" watches.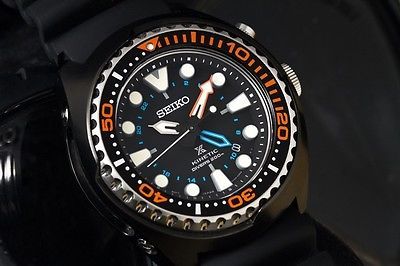 Add a caption
Seiko's Dive Watches are very popular and they have a huge variety
A quick search online or at aBlogToWatch will help you learn model specific traits and determine what matters most to you. Perhaps you want an all original Breitling Navitimer from the mid-1960s or are equally excited about a Seiko SKX009 ( Pepsi Diver) from the late 1990s that's been refurbished. There's a huge difference in price between them, but each satisfies different people equally.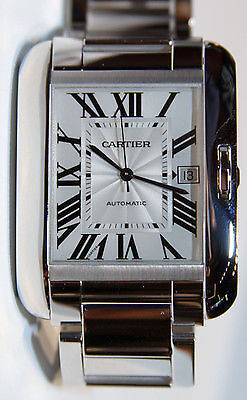 2. Historical Trends Can Help You Estimate a Fair Market Price
eBay gives you an incredibly powerful tool right in the refinements menu: the ability to look at historical prices. Under the Show Only section, select Sold Listings and under the Format section, select Auction. This gives you the sold listings that were determined by users bidding only, providing the best opportunity to find the market rate. Modify the filters further to find the specific watch you desire and see what people in the recent past have been paying. Take a note of key differentiators and how they affect price. For example, if instead of a metal bracelet the watch has a NATO or leather strap, how does the value vary? If you have the time, write down the prices and find the median and average. It'll give you two solid benchmarks for when you try to determine a fair bid.
3. "Past Performance Is Not Necessarily Indicative of Future Results"
Luxury watches, like many collectible items, are not immune to the influence of speculators who drive up the prices of certain makes and models based on expectations that the value will continue to go up in the future. As they say in the world of investing, "past performance is not necessarily indicative of future results," yet as a buyer you still have to be aware of which watches are favourites of the speculators as this affects the value. Be aware if this is the case for your watch and give the purchase extra consideration as the price has the expectation of growth built into it. The last thing you want is for your high GBP purchase to go the way of internet company stocks circa 2000-2002.


In the end, a lot of the value for watches is subjective. There are, as has been laid out above, quantitative measures to see what a fair price is for a watch, but overall it comes down to what price you're willing to pay. A ten percent premium on the watch you've been wanting for a decade that you'll wear everyday won't hurt nearly as bad as the watch you got for ten percent below average, but lives in a drawer unwound and regretted.