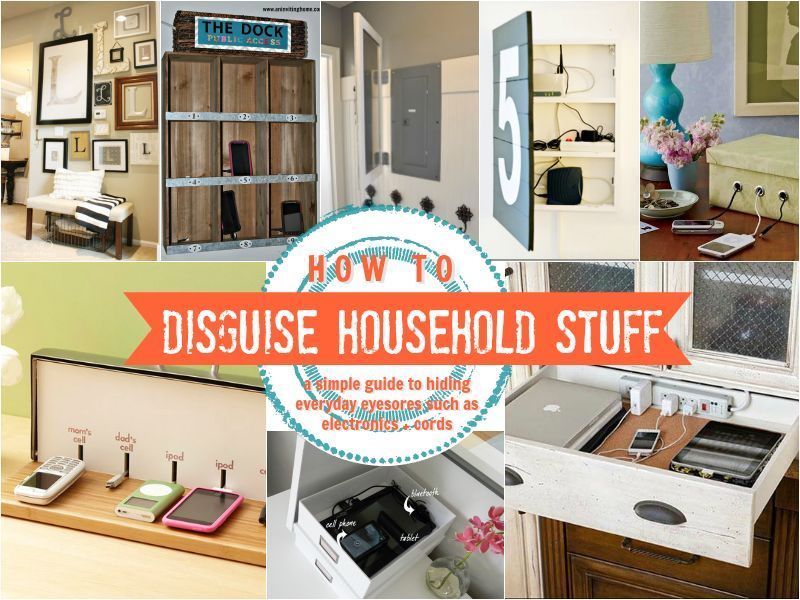 Every family has stuff, and every house has an unappealing but necessary thing or two -- a wireless router, a breaker box, football boots, mobile phone chargers. Just because these things are needed, doesn't mean you need to SEE them all the time. So we found some of our favourite solutions for hiding clutter and household eyesores.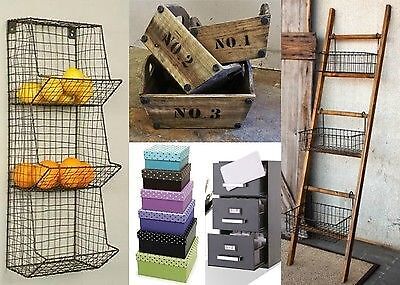 Hide general clutter
Shoes
, backpacks, outgoing mail and the like are better organized and less visually stressful (aka clutter!) when they are tucked away in a container that makes you happy. Try one of these beautiful
storage solutions
, or opt for a whole new piece of storage-ready furniture to keep things tidy .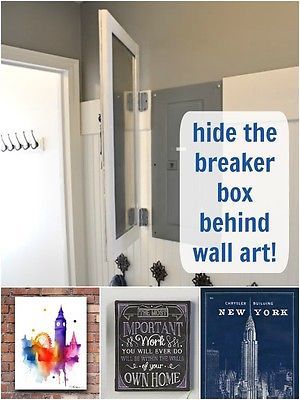 Hide a fuse box
Hide a fuse box behind a large hinged frame (image via Natalme). Breaker boxes are tricky because you'd like to disguise them but you still need to be able to access them quickly and easily should the situation call for it. So, a hinged lightweight piece of
art
(or framed mirror or memo board) hung over the top is a perfect solution. Just attach the hinges to the backside of the frame, level it in position, and attach the other section of the hinges to the wall.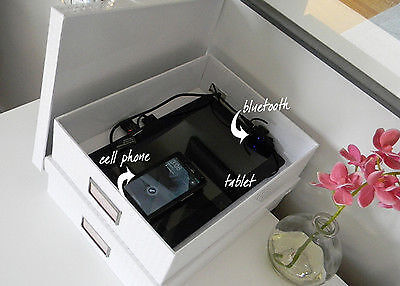 Hide desktop electronics and cords
Hide desktop electronics and cords in a decorative container, such as a box or
magazine holder
. Sure you could use a ready-made
desktop organiser
, or you could try a little decorating disguise!
Cardboard or paper mache photo storage boxes or even hat boxes are inexpensive and easy to adapt to your needs -- cut a hole in the back for your power strip cord, and small holes in the front for your device charging cords (image via Sweet Sanity Designs).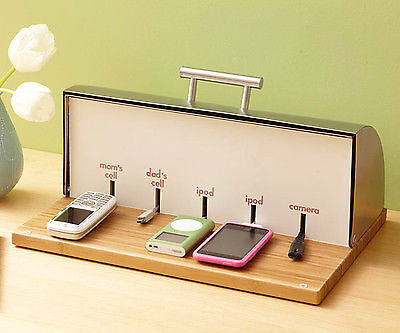 A desktop magazine file takes up less desktop or bookshelf space than a decorative box, and since it is open on top, it's not as likely to interfere with your router's wifi signal.

Or, put your DIY to work and convert a bread box into an organized electronics charging station (image via BHG).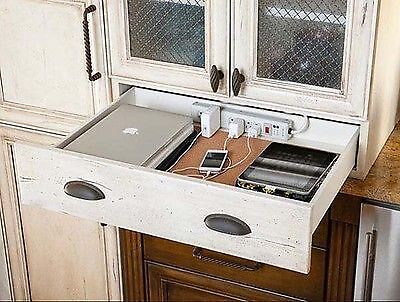 A couple of holes drilled in the back of a drawer make for a perfect in-desk charging station (image via ViralNova).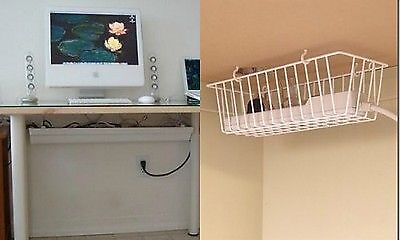 You can also go under the desk with a wall-mounted rain gutter (image via LifeHacker) or attach a small wire basket to the underside of the desk using small hooks (image via Martha Stewart) -- perfect for holding your power strip up off the floor so you don't have to fight dust bunnies when you need to plug/unplug a device.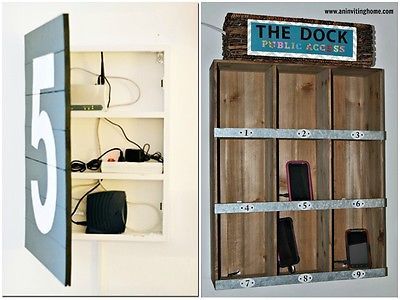 Hide wall-mounted electronics and cords
Hide wall-mounted electronics and cords in a shallow wall shelf or
medicine cabinet
(image via Mama Mekko). Somehow cable plugs and power outlets are always located in odd, inconvenient places. Use a paintable cord cover to hide the surge protector cord, and put the power strip and all of your various boxes and electronics in one place, hidden behind a (pretty) door. Or you could use a vintage soda crate (anything with dividers) to create a wall-mounted charging station (image via An Inviting Home)
Tip: If you're having trouble finding a shelf to your style, you can use an open-front shallow shelf like a
wooden wall spice rack
and then cover it up with an art canvas that is hinged to the box to act as a door. Use a small magnetic closure to keep it from swinging back open.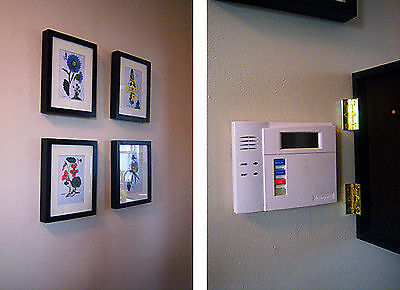 Hide a keypad, door control, or doorbell box
Hide a keypad, door control, or doorbell box behind a
picture frame
[link to collection] (image via The Kim Collective). Same idea as hiding a fuse box up above; use a smaller frame to make it easier to access regularly as needed.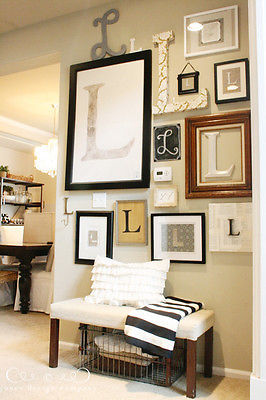 Hide a thermostat, wall jack, or switch
Hide a thermostat, wall jack, or switch in a gallery wall collection (image via Jones Design Company). Put a frame around it and surround it with a gallery of art, and even the oddest-placed control will blend right in to your decorating. Be sure that air can still circulate properly around your thermostat so that it can do its job and keep your home the desired temperature!

Another option: Buy a prettier thermostat or a new switch cover so you won't consider it to be an eyesore anymore :)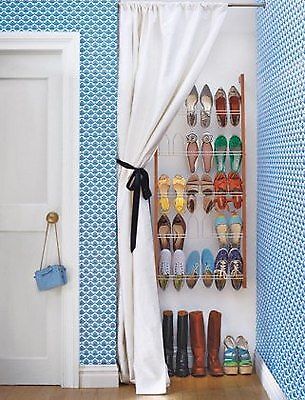 Hide assorted large eyesores
Hide assorted large eyesores behind curtains or a room screen (link). Nearly every home, especially if you're in an apartment or an older house, has something that you wish you could get rid of but can't. Hide an ugly wall treatment, breaker box, or even a handy
shoe rack
behind a fabric curtain panel or a decorative room divider (image via Lucky Mag).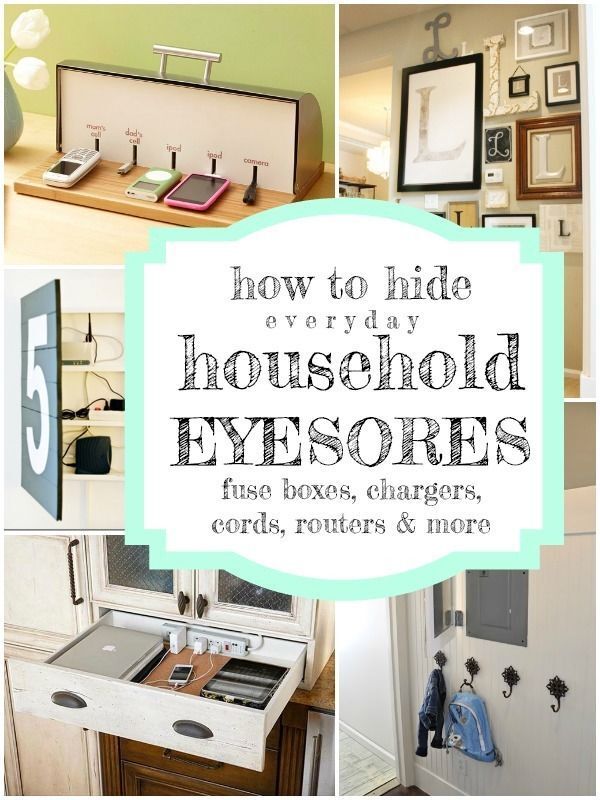 More home and organising tips from Remodelaholic