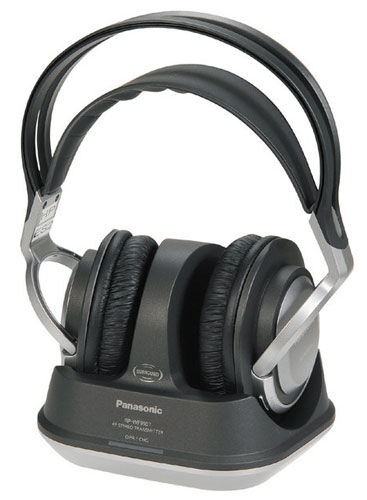 Cordless headphones, also known as wireless headphones, allow the listener to move freely without the restraint of a cord, while listening to a home stereo, television, or other electronic audio player. Cordless headphones are useful because the absence of a cable means that a portable audio device can be kept out of the way. They are ideal when worn for exercise as they prevent the listener from becoming entangled in the cable. They also eliminates strain placed on the cable when it is pulled to its full length.
Cordless headphones are battery powered, either by disposable or rechargeable batteries. Cordless headphones have a built-in receiver and amplifier, which allows signals to be converted to sound waves. They use radio frequencies or infrared technology to transmit sound from the audio device to the listener's ears. Cordless headphones are available in a wide array of styles and sizes. They have features that are designed to fit the needs of the listener and improve their hearing. When purchasing cordless headphones to improve their hearing, buyers should consider the various types, familiarise themselves with the different components, bear in mind their features, and learn about the various earpiece models. In general, cordless headphones with a good sound quality prevent listeners from increasing the volume excessively, which helps to improve hearing. Cordless headphones can be bought from electronic shops, department stores, and some large supermarkets, as well as online at retailers such as eBay.
Base Transmitter for Cordless Headphones
Cordless headphones come with a base transmitter. When choosing a base transmitter, buyers should consider device compatibility, the signal range, and the strength of signal. The base transmitter is designed to connect to the cordless headphone listener's device of choice, such as a computer or MP3 player. When choosing a base transmitter, buyers should make sure that it is compatible with their equipment. The base transmitter also dictates how far the listener can travel without losing a signal. Listener's that want to cover a large space should look for a model that allows roaming up to 90 metres. Also, buyers need to bear in mind the strength of the signal. This is largely determined by the type of cordless headphones. Infrared cordless headphones often limit listener movement to the same room as the base transmitter, while radio frequency headphones allow the freedom to move further distances.
Types of Cordless Headphones
Cordless headphones operate over a radio frequency or by using infrared technology. When choosing the best type, buyers should consider both the intended use of the headphones and personal preference.
Radio Frequency Cordless Headphones
Cordless headphones that use radio frequency technology work in a similar way to a household cordless phone. The radio waves are able to travel through non-metal barriers, allowing listeners to move around the house without losing the signal, provided they remain in range of the base transmitter. Depending on the signal strength, base transmitters be between 30 and 90 metres away.
Radio frequency cordless headphones usually provide a strong signal, and therefore, exceptional audio quality. However, interference is a common problem and can greatly hinder the cordless headphones' ability to function. Interference occurs when another radio frequency device using the same frequency creates static, which affects the sound quality. In order to minimise this interference and improve the buyer's hearing, the transmitter and headphones should be set to a range of channel frequencies.
Infrared Cordless Headphones
Infrared cordless headphones receive a signal that is emitted as an infrared light beam from the base transmitter. In order for these headphones to work, listeners should be able to see the transmitter. In general, the maximum range tends to be 9 metres. The limited mobility that infrared cordless headphones have puts the listener at a disadvantage. However, they offer better audio quality as the device is not subject to radio wave interference. Infrared cordless headphones are more energy efficient than radio frequency headphones, which means that the battery of the amplifier requires less frequent replacement, saving money and resources.
Features of Cordless Headphones
Cordless headphones offer a wide array of features that are designed to help the listener. When choosing the best features, buyers should consider what helps to improve their hearing, whether it is the volume control or the improved sound and bass quality.
On-Board Volume Control for Cordless Headphones
On-board volume control allows listeners to control the volume of music directly from their headphones, usually the ear-cups. This diminishes the need to travel back to the base transmitter every time an adjustment needs to be made. In addition to volume control, many cordless headphones allow listeners to control other features remotely, such as changing the music track.
Dolby Technology for Cordless Headphones
Buyers should consider cordless headphones with Dolby technology. The lack of wiring on cordless headphones often lessens the sound quality that is transmitted to listeners, which can encourage listeners to increase the volume, thereby harming their hearing. Dolby technology helps to improve the quality of sound, and thus improve the listener's hearing.
Bass for Cordless Headphones
When choosing a pair of cordless headphones, buyers should consider the quality of bass. Many manufacturers custom tune their headphones to emphasise lower frequencies, helping to improve the listener's hearing.
Types of Earpiece for Cordless Headphones
Buyers shopping for cordless headphones have four main options with respect to the earpiece. Popular models include earbuds, sealed, canal, and open back as seen in the table below.
Types of Earpiece

Description

Rests just outside the listener's ear canal

Compact and lightweight

Easily portable

Relatively inexpensive

Often bundled with electronics, such as the iPod

Provides moderate to excellent isolation from external noise

Lower quality of sound and bass response

Noise isolating

Both in-ear models and full size ear-cup designs

Seal limits the leakage of sound to those in close proximity

Ideal for private listening

Not recommended for wearing when the listener should be aware of their surroundings

Placed inside the listener's ear canal

Seals to listener's ears, helping to keep the audio in the ear

Blocks out external sound

Small and lightweight

Allows external sound to be heard by the listener

Music is often audible to anyone near the listener

Produces a better more open sound

Recommended for outdoor activities where awareness of the surroundings is needed
Choosing the best type of cordless headphones is often a matter of personal taste. However, sealed cordless headphones are often preferred because they offer better quality and comfort, which means that the listener does not need to increase the volume to hear the audio. Earbuds and canal cordless headphones are compact and appealing because of their small size. In addition to the type of earpiece, buyers should also consider the weight of the cordless headphones. They should be lightweight, especially if be worn for prolonged periods of time. This helps to decrease head and neck strain.
How to Buy Cordless Headphones on eBay
Shopping for cordless headphones is easy on eBay. From the eBay homepage, simply enter your keywords for any type of cordless headphones into the search box and a wide variety of results appear. Buyers who want to browse the types of cordless headphones can look through the results. This is often the preferred option as it gives buyers a wide selection of cordless headphones to choose from. To narrow down the list, buyers can filter the results by price or condition. For more selective listings, buyers can use eBay's advanced search feature to filter their search to their exact specifications.
Before finalising any purchase on eBay, buyers should investigate the seller thoroughly. This is simply a matter of reading a seller's feedback comments and checking their rating. A good rating indicates that the seller is known for dealing fairly within the eBay community. Sellers with consecutive positive feedback from buyers over an extended time are indicated by their Top-rated seller badge. There are a wide range of cordless headphones you can purchase on ebay for your iphone6.
Conclusion
Choosing the right cordless headphones is an important decision. Buyers who wish to improve their hearing should search for a pair that offers great sound quality so that they do not need to use excessive volume. Sound quality is usually linked to both signal strength and the compatibility of the base transmitter with the audio device. When searching for cordless headphones, buyers need to consider the type of wireless communication. Radio frequency headphones offer a greater range of movement. However, their high battery use is a drawback. Infrared cordless headphones may limit the listener's mobility, but they offer greater sound quality.
In addition to the wireless communication type, it is important to bear in mind the cordless headphones' features. These features are designed to maximise hearing levels and often allow the listener to control the volume of music directly from the headphones. Dolby technology and bass help to boost overall sound quality. Finally, buyers need to consider the design of the earpiece. Full size models, such as open and sealed cordless headphones, offer superior sound quality, while more compact earbud and canal headphones bear less weight on the listener's head and neck. With the large selection of cordless headphones available on eBay, buyers are certain to find a pair to improve their hearing and allow for the maximum level of listening comfort.