Replacing an old radiator with a new one is not for beginners, and if you're not confident that you're a competent DIY'er, it's probably best to call in an experienced plumber. However, if you've got some plumbing skills yourself, you can save yourself the expense of getting someone in and fit your new radiator yourself.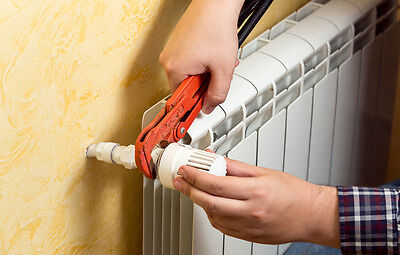 1.
Firstly, turn off the central heating and allow the water in the system to cool. Next, turn the manual control valve, which turns the heating on or off, clockwise. If it's a thermostatic valve, turn it to 'off' and not just 'frost'. At the opposite end you'll find another valve, the lockshield valve, which controls the flow through the system. Take off the protective cap and turn this clockwise to turn it off as well.
2.
Drain the old radiator. Place a bowl or bucket beneath the manual control valve, and gripping the body of the valve with a wrench, gently loosen the nut that connects the bleed valve to the adaptor piece screwed into the radiator. Next, use a radiator key to loosen the bleed valve, holding a towel underneath to catch any drips.Remove the old radiator. Loosen and undo the nut that connects the lockshield valve to the adaptor in the radiator.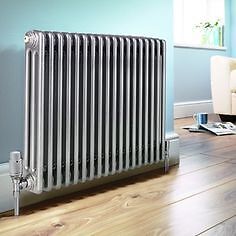 3.
Hang the new radiator. Wrap a piece of PTFE tape about 15cm long around the adaptor screw threads, in a clockwise direction. If your new radiator is a different width from the old one, you'll need to drain your central heating system so you can reposition the pipes. If your new radiator is the same size as your old one, fit the control and lockshield valves first, then secure the unit to the wall. Then, open the valves to fill the radiator. Lifting the radiator onto the wall brackets, tighten up the nuts that connect the valves to the radiator on each end. It's important to never overtighten compression fittings, and only use enough force to make a watertight joint. A good guide is to hand tighten as much as you can and then a three-quarter turn with an adjustable wrench.