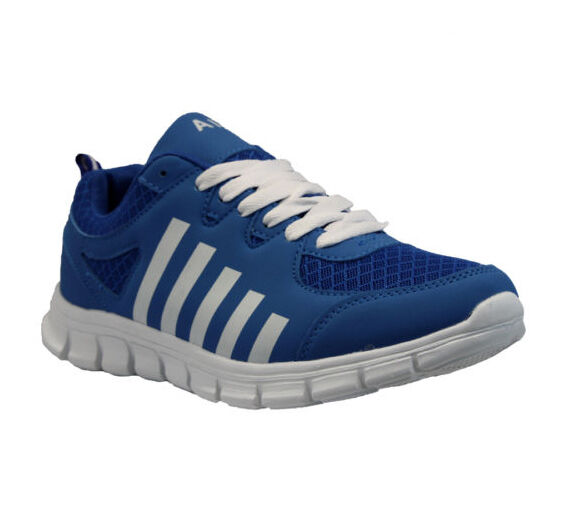 How to look stylish and still be comfortable in trainers is a common question. Trainers by nature are supposed to be comfortable if they fit well or use inserts to compensate for conditions, such as high arches. A plain pair of trainers can be dressed up or a stylish pair of trainers can be made comfortable. Doing this depends on an individual's sense of style and comfort. It is not necessary to sacrifice comfort for style.
The first thing to look for is a pair of trainers that are comfortable and useful. They do not have to be particularly stylish or a name brand. The appearance of trainers can be altered as can the outfit that is being worn with them. Also, if the trainers are stylish but uncomfortable, an insert can be used to increase their comfort. Coordinating an outfit that is stylish with the trainers can also be used to create an entirely different look. Stylish and comfortable trainers can be purchased at shoe stores, department stores, and on the online auction website, eBay. Before purchasing stylish and comfortable trainers, women should know what to look for in trainers, find their appropriate trainers size, and know which clothes to wear with trainers.
Selecting Trainers
Selecting a pair of trainers can be a daunting process if a person is unsure of their size and for what they are looking. There is a vast selection of everyday trainers available. Choosing a pair that is comfortable comes down to finding the right size and fit.
Measuring for Trainers
Measuring one's feet is a priority when it comes to finding comfortable trainers. This process begins with finding the length of the foot. Place each foot on a piece of paper. Then, either trace each foot or make a line at the longest toe and the heel. After this is done, measure the distance between the longest toe and the heel. This gives the length of the foot. Once this is done, take a tailor's measuring tape and wrap it around the widest part of the foot. This gives the width of the shoe that is needed.
Now that the length and width is known, it is a good idea to find out if a high, low, or ordinary arch is needed. Find this by wetting each foot and place them onto clean sheets of paper. The pattern the water makes indicates the type of arch that is needed. If most, or all, of the foot leaves a print, then it is a low arch. If only the outside of the foot is shown, then the arch is a high arch. If the footprint shows the majority of the the outside of the foot and some of the arch is showing, then the arch is ordinary. Low or high arches can be corrected by using shoe inserts, which are available at most brick and mortar shoe stores as well as online. After the correct size is found, there are modifications that can be made to the trainers to make them more stylish. It is easier to start with a comfortable pair of trainers than it is to make a stylish pair of uncomfortable trainers more comfortable.
Trainer Sizes
After finding the right size, it is necessary to compare the measurements that are recorded to a standard sizing chart for trainers. The sizing chart gives the approximate size needed.
| | | | | | | | | | | |
| --- | --- | --- | --- | --- | --- | --- | --- | --- | --- | --- |
| UK Size | 3 | 4 | 5 | 6 | 7 | 8 | 9 | 10 | 11 | 12 |
| Length (cm) | 21.6 | 22.4 | 23.3 | 24 | 25 | 25.9 | 26.7 | 27.3 | 27.9 | 28.5 |
| Width N-AA (cm) | 7.1 | 7.5 | 7.8 | 8.1 | 8.4 | 8.7 | 9.0 | 9.4 | 9.7 | 10.0 |
| Width M (cm) | 8.1 | 8.4 | 8.7 | 9.0 | 9.4 | 9.7 | 10.0 | 10.3 | 10.6 | 10.9 |
| Width W (cm) | 9.0 | 9.4 | 9.7 | 10.0 | 10.3 | 10.6 | 10.9 | 11.3 | 11.6 | 11.9 |
| Width WW (cm) | 10.0 | 10.3 | 10.6 | 10.9 | 11.3 | 11.6 | 11.9 | 12.2 | 12.5 | 12.9 |
The sizing chart is just a general guideline to length, width, and size. Many designers and manufacturers of trainers have slight differences in size. When purchasing a pair of trainers, make sure to try them on to ensure the fit is correct.
Modifying the Trainer
Trainers can be modified by using anything from interesting shoe laces to patterned soles. There are many different types of accessories for an average pair of trainers. Laces come in everything from a variety of colours to ribbons and leather. There are also lace charms and insignia patches that can be used to make an ordinary pair of trainers more stylish.
Another modification to trainers is more for comfort than style. Insoles can be used to make a pair of high-end stylish trainers into a pair of comfortable trainers. Insoles correct the cushioning inside of trainers to the contours of the feet. There are a wide variety of insoles available for an equally wide variety of foot conditions.
Clothing and Trainers
Although it is never acceptable to wear a pair of trainers with a cocktail dress, there are outfits that are stylish and can be worn with them. There are a few different looks that can be accomplished with a pair of dressed up trainers. Dress shoes, boots, or heels are no longer necessary to accomplish a stylish look. Many world famous stars have been seen wearing trainers with stylish outfits combining the comfort of a trainer with a unique outfit. Converse and Firetrap trainers are a popular choice for completing a smart-casual look.
Jeans
Many times, jeans can be worn with trainers to accomplish a comfortable, stylish look. Denim comes in a variety of colours and styles. There is no reason why one cannot wear a pair of coloured or patterned jeans with a matching pair of trainers. This combination with a decorated matching tank top and a suit jacket combines both comfort and style in clothing and trainers. This type of outfit can be made as casual or as formal as a woman chooses. The most simple combination is a pair of black trainers with black jeans, a white dress shirt, and a black crop jacket.
Skirts and Dresses
Although it is not a common practice, it is possible to wear trainers or running shoes with a shorter skirt or a dress. Trainers can make an outfit that is too dressy, more casual. Often a short ankle trainer can be worn with a skirt or dress to dress it down for a shopping or lunch date. By mixing and matching different styles of blazers, skirts, tops, and jackets one can accomplish an individual style with their trainers.
Trainers and Shorts
Classic trainers can be worn with a stylish pair of shorts or even a combination skirt, also called a skort. A combination skirt is one that looks like a skirt but is actually a pair of shorts with a skirt covering. This is one of the more common ways to create a stylish and comfortable look with trainers. With the wide variety of styles on the market, the classic pair of trainers can be paired with casual shorts, a dressier top, and a casual jacket to create a comfortable travelling outfit. There is also the classic athletic look that can be created by combining trainers with yoga pants or shorts and a fitted shirt.
Buying Stylish and Comfortable Trainers on eBay
One can purchase any number of dresses, skirts, shorts, insoles, and trainers on eBay. The popular auction site allows a woman to browse through listings until she finds exactly the product for which she is looking. This could be a way to make an ordinary pair of trainers stylish or find an outfit that goes well with stylish trainers. The combinations are virtually unlimited. eBay can be used to both get ideas for outfits and purchase them.
When shopping on eBay, there are a few things to which you should pay attention. eBay sellers often post a detailed description of the product they are selling. This can help to spark ideas about how to combine different outfits. Sellers on eBay also have feedback and reviews so a buyer can read about previous problems and successes they have had. These give the buyer an idea of the trustworthiness of the seller. A seller with good reviews who consistently follow eBay's policies is rated as a Top-Rated Seller. This designation is reserved for only the most trustworthy sellers.

You might be interested to know that Yeezy Trainers are now available on eBay.
Conclusion
Trainers are no longer limited to just workouts and morning runs. They can be a valuable fashion accessory when paired with the right clothing. By mixing and matching different outfits with trainers, women can come up with a new and stylish look. Looking through the listings on eBay, in fashion magazines, and in ads is a good way to come up with a stylish and comfortable outfit that includes a woman's favourite trainers. Do not forget that the trainers can be accessorised by changing the laces or using lace pendants to dress them up.
Outfits that are ordinarily worn with trainers can be made stylish by adding an accessory, such as a matching belt, purse, or jacket. It is not always a matter of changing the trainer, but adding or subtracting subtle accessories that makes an outfit stylish. Use online listings, magazine ads, and other outlets to get some refreshing ideas on how to look both stylish and comfortable in trainers.