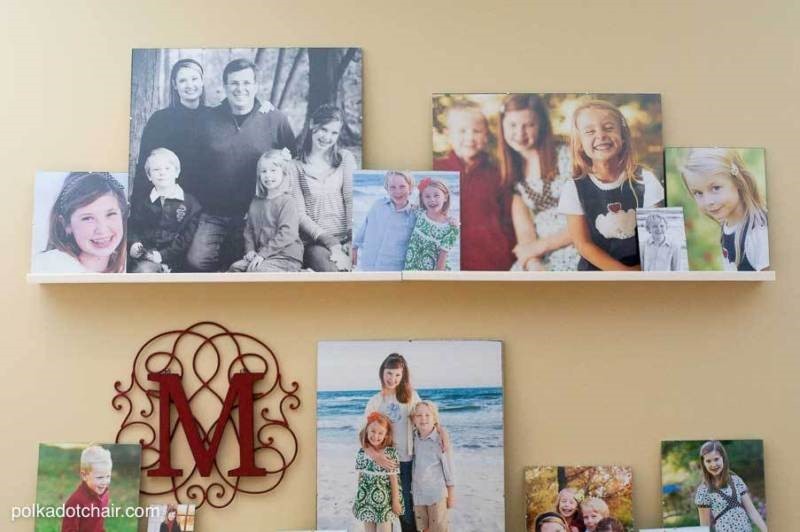 I love a good blank wall, in that I cannot leave it that way. I get ideas for them and sometimes get a little "nervous" when I start running out of blank walls at my house, because then if I get an idea, where am I going to put it?
One of my very favourite things to put up on a blank wall is photographs. I'm a scrapbooker and an avid photographer so I have a deep love of photographs. I love to do little "displays" of them around the house.
I also love to change out my photos frequently, so I don't like the idea of putting a lot of holes in my wall. This is a photo of a wall that I designed in my house so that I could change out the photos as much as I wanted. I can rearrange them easily as we get new photos and the kids grow.
Here's how I did it. You'll Need:
Skinny "Photo Ledge" Shelves
Clips Glass Photo Frames
Laser Level (recommended)
I started with two skinny shelves which are usually called photo ledges. After ensuring that they were level, I attached them to the wall (using wall plugs).
I then had some of my favourite photos printed and put into frames.
I noticed that the shop I ordered my prints from did not print photos in some of the sizes I had for my frames. This is an easy fix if you have Photoshop (if not, just buy frames to fit your photos).
Open your photo in Photoshop, edit it to get it like you want it…
Crop the photo to the size of the FRAME at 300 dpi… the large square is 19.75×19.75 so I made the photo that size…
Change the CANVAS size (not the IMAGE size) to the size of the PRINT available at your photo printer. In this case I changed the canvas size to 20×30… this will give you a border of "nothing" around the photo, but will ensure that the photograph is the correct size to fit in the frame. When you have the photo printed, just use a craft knife and a ruler to cut the print down to size.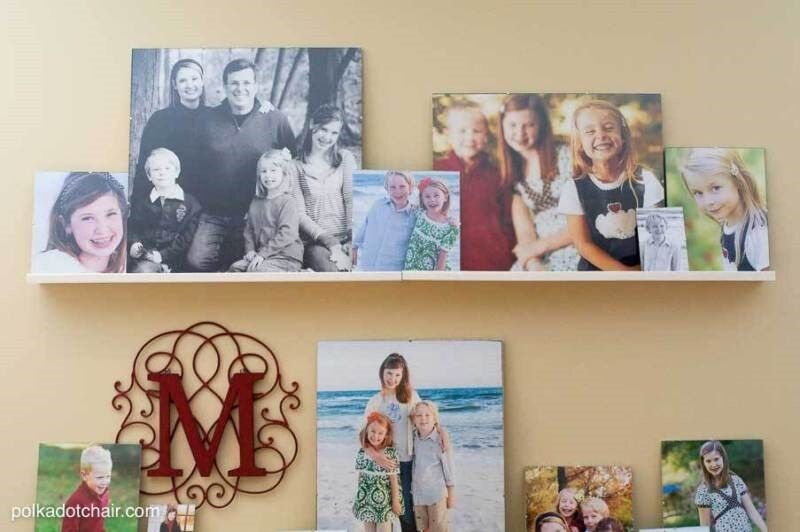 Using this photo ledge method you can also mix in photos printed on canvas or other smaller frames that you may have around the house.
Just play around with the arrangement until you've got it the way you want it. Also, one thing, if you have small children in the house, make sure this is out of their reach, or they may pull the photos onto themselves.
If you liked the decorating ideas in this article, here are a few other ones that you may enjoy.