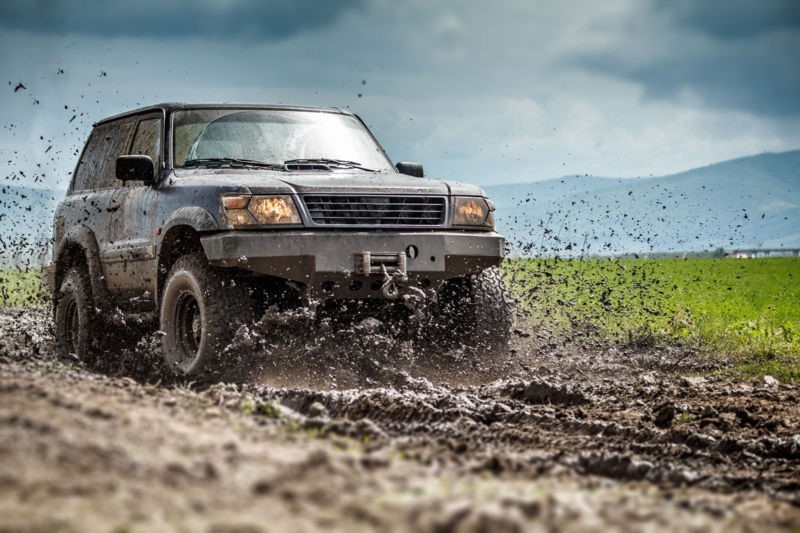 If you're an avid off-roader, then you must look forward to the weekend. You're either getting muddy in the wilderness somewhere or spending your free time wrenching on your truck or Jeep, planning your next dirt-bound adventure.
Mud, sand, snow...all represent potential calamity for others but you relish it all with open arms. When you go off-road, getting stuck is normal and simply part of the fun.
Whether you hit the trails alone or in a group, being prepared to dig your way out of any sticky situation has to be part of your planning. For those of you who love off-roading, what you see here is in your bag of tricks. For those of us who don't have a clue, this guide is for you.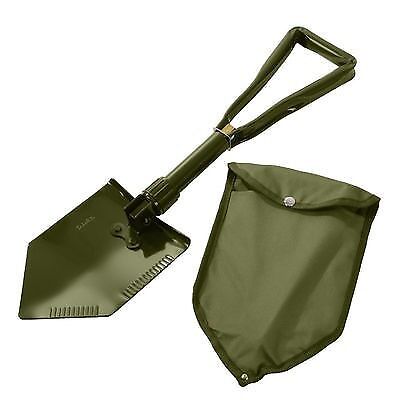 Dig your way out
It's almost worth not mentioning but this guide is for off-road newbies. So to help dig your truck or Jeep out of the mud, you must have a
shovel
. There are excellent options out there where the blade or the handle fold over, thus making the entire shovel more compact.
But be prepared to get dirty. If you're stuck, the shovel will only help if you get down in the muck and free your truck's tires with some simple elbow grease. So start shovelling.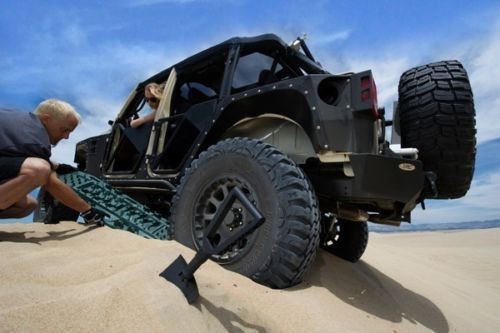 Add a caption
The sand will be no match for you as long as you're prepared.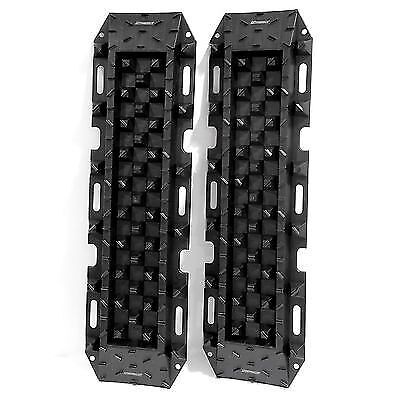 Recovery tracks
This is a perfect example of a unique tool designed to do one thing and do it well. As the name implies,
recovery tracks
can provide enough traction to drive your vehicle out of a messy situation. Clear a path with your shovel first, then drop these heavy-duty plastic tracks down in front of your 4-wheeler tyres and try driving out of the rut you're stuck in.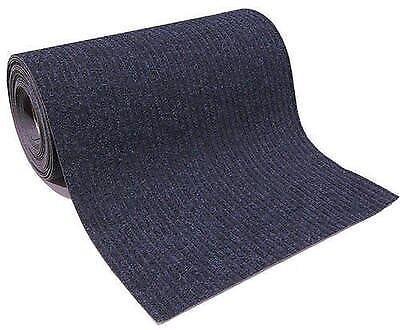 Add a caption
Simple utility rugs can double as traction for your truck
Floor or stairway rug runner
Since the recovery tracks can be a little difficult to pack and maybe a little too expensive for your wallet,
rug runners
can also provide just enough traction to get you out of a tough situation. There are many inexpensive alternatives here on eBay. A rug can be made compact by simply rolling and tying it up.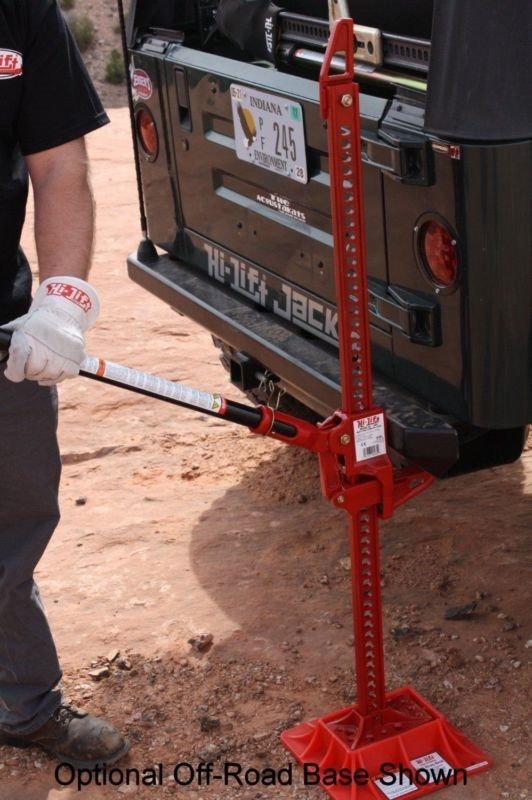 Add a caption
High lift jacks help raise your lifted truck or jeep

A very tall jack
To drivers of lifted trucks, a high lift jack is an absolute necessity. It actually serves two purposes, at least to those who off-road their trucks.
First of all, a
high lift jack
is needed to simply change a flat tire. The jack provided by the truck's manufacturer is now worthless. It simply isn't tall enough to jack up a truck that has much larger tyres and a lift kit on it. But in addition, a high lift jack can also help you free your stranded truck.
By jacking up your stuck vehicle, it gives you the opportunity to clear away mud or snow. It also gives you easy access to drop the carpet or recovery tracks under your tyres.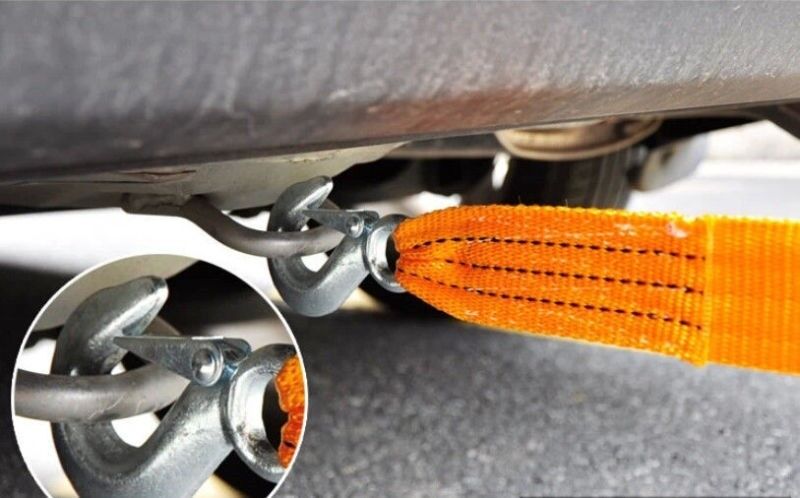 Add a caption
Make sure you attach the tow strap to your vehicle's frame or tow hook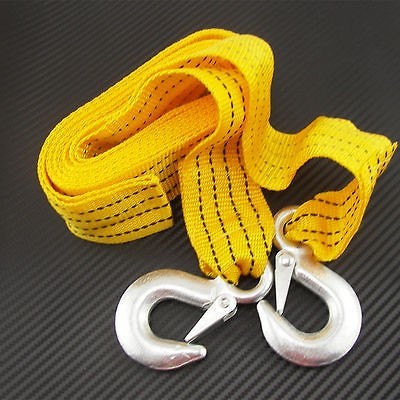 Add a caption
Figure 1 - Make sure the two strap is rated for towing a heavy vehicle
Tow straps
If you hit the trails with a friend or in a group, tow straps are a great option for getting you and your fellow off-roaders out of a jam.
Tow straps
are inexpensive, easy to pack and can pull your truck out of the mud or sand.
Tow straps typically come with a hook at each end. Simply attach it to the frame of the trapped vehicle and pull it out using one of the other trucks in your group. Don't hook the strap to body panels or even bumpers. The bumpers may only be there for looks and can't handle the load of towing a heavy truck from the mud. And if the tow strap is attached to the sheet metal, it will simply be ripped off the truck.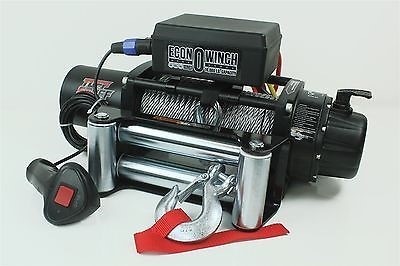 Add a caption
Figure 2 - This usually attaches to the front of your vehicle
Winches
If the opposite is true and you like to venture out by yourself, a
winch
on your truck or Jeep is a no brainer. With a winch, its cable, and a well-placed
snatch block
, you should be able to pull yourself out of most situations.
If you don't know the correct way to use a winch, ask for help from someone experienced before you head out into the wilderness. Some simple tips to help you understand how to use the winch and the role the snatch block plays in leveraging the power of the winch will go a long way. And just as with the tow strap, make sure to hook the winch cable to your truck's frame.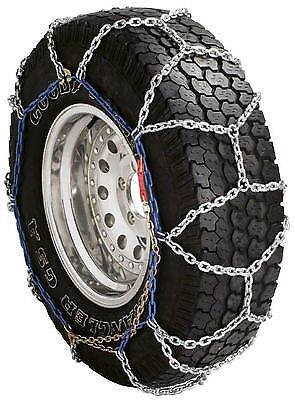 Snow chains
If you're heading north, looking for a winter wonderland to play in, make sure snow chains are part of your cold weather kit.
Some
snow chains
aren't chains at all but a system of cables with bungees which wrap around your car or truck tires. Snow chains like these have been made this way to make it easier for everyday drivers to wrap around their tyres. But these won't work in off-road situations. Actual snow chains will be more durable and are less likely to come off your tyres. Just make sure you know your vehicle's tyre size before purchasing the chains.
With the correct hardware, you'll appreciate having a more reliable system when you're negotiating deep snow and temperatures have dropped into the single digits.
As you can probably tell, being prepared is half the battle before heading off-road. Start off by making sure your truck or Jeep is in great running condition. Then, depending on what you expect to encounter while on your adventure, pack your vehicle with the items above you feel are necessary to make your trip a success. Rather than putting yourself in peril, you can take your time and enjoy the great outdoors.