Organza bags may be a traditional wedding favour bag for weddings, but that does not mean they have to be dull or boring. Consider a number of factors such as the wedding colour scheme, style, and bag shape to ensure guests will be equally delighted whether the gift is a bag of sugared almonds or a bottle of wine.
Consider the Wedding Colour Scheme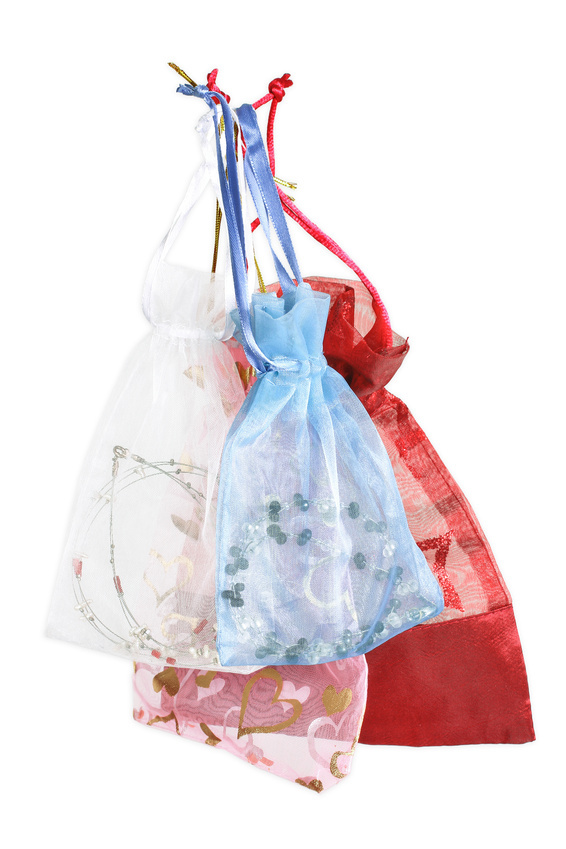 The colours of the bridesmaids' dresses and the flowers should give a clear idea of the main colour and one or two secondary colours that may work for the wedding favour bags. Matching the bags' colour to the place settings is one easy way to pick a complementary colour. Organza bags come in metallic colours, pastel colours, and many other variations too. Another option is to create a two-toned bag by choosing a different colour for the ribbon or cord that closes it. Couples may choose to use one colour for women and another for men if the primary colour is too feminine or masculine.
Wedding Styles and Organza Bag Options

Tassels, brushed organza, polka dots, ruffles, feathers and lace are just a few of the embellishments and patterns that make an organza bag unique. Tassels, for example, are appropriate for formal weddings, while polka dots are a good crowning touch for an outdoor casual wedding. Embellishments work best when repeated in other decorations as well. For instance, complement a wedding cake with lace decorations with the same or a similar pattern on the wedding treat bags. Similarly, ruffles, feathers, or beads on the bride's wedding dress or on the bridesmaids' dresses may show up as part of the wedding theme on the wedding gift bags for a cohesive look that pulls the wedding decorations together.
Organza Bag Shape and Closures
A more practical consideration is the size and shape of the bag so that it accommodates the wedding favours. Wine bags in organza are available for gifting wine bottles. Smaller or shorter bags are common for sweets and candles. In addition, organza bags with flat bottoms are perfect for putting in small boxes or items that have to be kept upright. As for closures, most have drawstrings of cord or ribbon either tied on the outside or sewn into the bag. Built-in drawstrings make the bag easily reusable as jewellery bags. Open tote-style organza bags with handles are also popular.