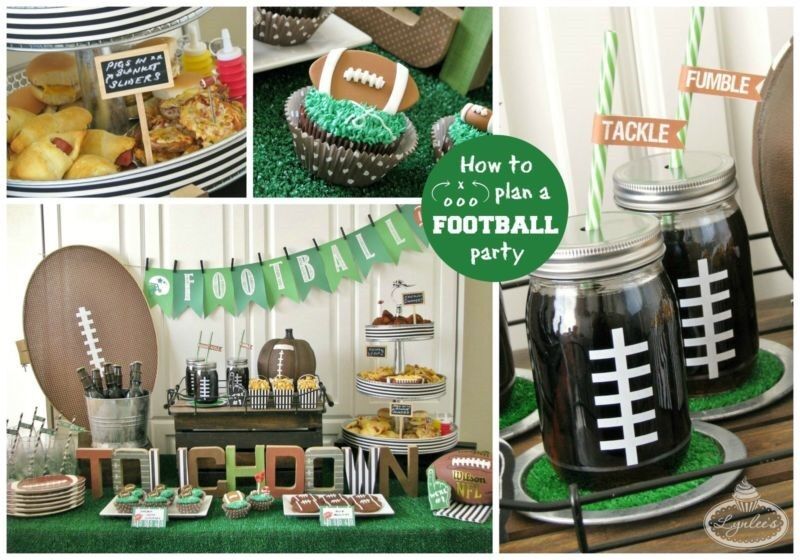 With the American football season beginning soon, bring the game day festivities indoors by hosting high-scorin' watch parties to root for your team!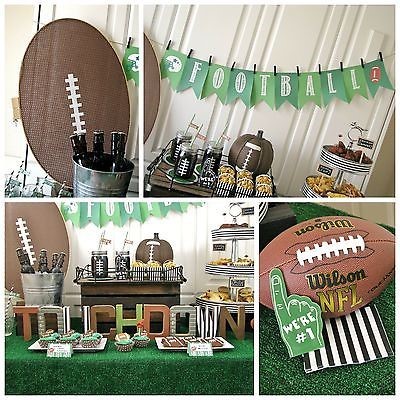 Decor
Start planning your party by concentrating on the decorations. Cut a piece of
artificial grass
to utilise as a tablecloth to set the field! Print out an American football-themed banner to hang over your table and add words with the use of paper mache letters. Cover the letters with American football related scrapbook paper or team colours with the help of
pva glue
to adhere the paper and seal the letters. Make a statement with a large American football made out of an
oval embroidery hoop
, fabric and
white duct tape
for the laces. Utilise American footballs, foam fingers and team paraphernalia to finish off your table!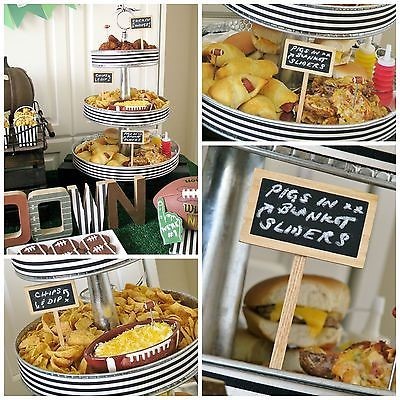 Game Day Food
Once you've worked on your decor, it's time to decide on the menu. From barbecue chicken wings and hamburger sliders to loaded potato skins and pig(skins) in a blanket, these traditional game day dishes are simple to make and serve that will score big with your guests! And, of course, don't forget crisps and dip! Offer coordinating
American football-themed plates and dishes
and utilise large bowls and galvanised steel stands to serve the food. Label the dishes with printable food labels or small chalkboard signs.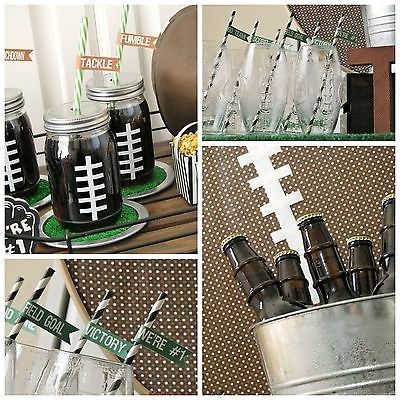 Hydration Station
Don't forget to make sure your sports fans are properly hydrated during the big game! Make sure your beer and drinks, like root beer and coke, stay cold by displaying them in
metal ice buckets
and offer American football glasses with patterned
paper straws
and flags for additional drinks. If you have little sports fans, utilise mason jars with lids to avoid spills and add football laces with vinyl or tape.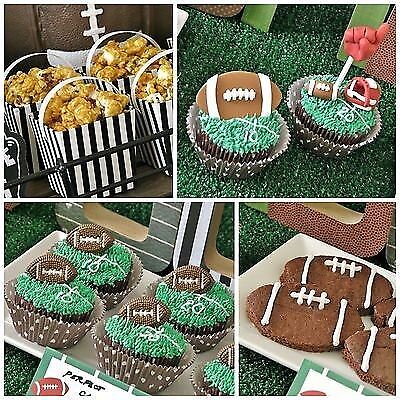 Big Scorin' Dessert
Finally, make sure to offer up some goodies to sweeten up any game! Bake cupcakes in
American football cases
, pipe them to resemble the grass on the field and add
icing decorations
and fondant toppers to finish them off. Punch out brownies or rice krispie treats with
American football cookie cutters
and pipe lace decorations across the surface. Find individual black and white striped treat boxes to fill with munchies, such as peanuts or caramel popcorn.
All that's left is to serve your sports fans and turn on the big game! Check out my
Tailgate Football Party collection
and stay tuned for a fondant cupcake topper tutorial for your American football sweets. As always, make sure to continue to
follow me
for additional party, craft and lifestyle inspiration!