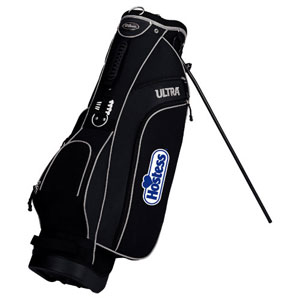 Choosing a brand new golf bag can be hard to do and can be difficult to find the perfect bag for you, so it is very important to take care of the bag around the golf course, as well as whilst travelling and storing at home.
Golf bags can be up against adverse weather quite often, and it is so important to properly care for your golf bag around the house and in the car as well. With the weather being a bit of an enigma sometimes it is vital to make sure you keep the bag protected and look after the bag once it has been exposed to wet weather.
A huge range of golf bags and protective equipment and travel bags can be found in the Sporting Goods category on eBay.
Types of Golf Bag
There are a number of golf bags which are on eBay for varying levels and golfer ages and sizes. eBay has a great range golf bags in all the variations below:
Carry Bag
The most used type of bag, carry bags are your standard golf bags and are light and easy to carry. They can come with a single or double strap to make carrying the bag around the course a breeze. They are made with a water resistant material and are the most basic type of golf bag.
Pencil Bag
Pencil bags are extremely light and skinny golf bags and are a good choice for golfers of a smaller size or for a quick 9 holes. Pencil bags hold a full set of clubs and are usually made of very thin and lightweight material. These bags aren't great for holding up well in wet weather conditions but are easy to travel with and store in the house.
Stand Bag
Stand bags are similar to carry bags but have a built in stand so clubs don't have to be placed on the ground before every shot. Stand bags are great for keeping the bag clean as the bag is always standing up and not on the muddy floor. Stand bags come with a pedal at the bottom of the bag that springs the two prongs out when pressure is applied to the bottom of the bag.
Cart Bag
Cart bags are carried on a golf cart or buggy as they are heavy and are made of materials that aren't designed to be used in bad weather as they are generally under cover on a cart.
Tour Bag
Tour Bags are huge bags that are used by professional players and are usually carried by caddies. Tour bags give you big pockets and are good for keeping all accessories and golf clothing with you.
Lots of these golf bags can be found in the Sporting Goods category on eBay.
Caring for your Golf Bag
For many, carrying the bag around the course is a real chore. Of course, it needs to be done in order to play the game effectively. To make sure that the bag is in top condition and lasts for years it is important to take care of it. Some of the best tips for keeping your golf bag looking good and in working order are:
Always place the bag down gently on the ground to avoid damaging the frame. The bag contains fairly heavy clubs so constant banging on the floor can really damage the frame and club compartments of the bag.
When using a golf cart, make sure your bag is securely fastened so it won't fall off the cart or move around a lot.
Do not keep wet clothes or damp clubs in the bag for an extended period of time. This can allow moisture to weaken the bags material and can really smell after a while as well.
Store the golf bag in a dry, cool area between uses. Extreme temperature changes in a car boot can damage your bag and its contents. Be aware that clubs can also rust in damp conditions so make sure your shed is water tight if that is where you store your clubs.
Replace the single or double-strap on the bag if they are weak or fraying.
Use a golf umbrella. Umbrellas are a perfect way to protect the bag and clubs around the course in adverse weather. This will stop the bag getting wet and letting moisture into the material which can eventually rot and render the bag useless.
Every golfer should have a golf towel in their bag. They are perfect for wiping the clubs and bag and taking any mud or excess moisture off of them. Be sure to wash the towel often though so it isn't damp when on the bag or in one of the bags pockets.
Use a rain cover. Many bags will have golf bag rain covers attached but they can be bought separately. They are normally a clear material so you can see the bag and clubs easily and provide fantastic protection against the elements.
Similar to rain covers, golf bag hoods are great for protecting the bag and clubs during wet weather. These will only protect the top of the bag, so aren't brilliant for really stormy weather but will do the job in a light shower.
Always have wet wipes to hand. They are brilliant for wiping away grass and mud from the bag as well as drying small areas of dampness. Wet wipes are cheap and easy to store in the golf bag pockets.
Be careful to make sure your locker is clean and dry if you store your golf gear in a locker. Mud and general dampness can make the bag mould and smell.
These are some great ways to properly care for you golf bag and these items can be found on eBay.
Conclusion
Properly caring for your golf bag is important to make sure it lasts and can be used for many rounds of golf. Simple accessories such as golf towels, golf umbrellas and golf bag covers are a great way for protecting and improving the lifespan of a golf bag so it can be used for a number of years. Always make sure that you store the bag in a dry place where the room temperature stays constant and there is no chance of moisture getting to the golf bag. When buying golf bags and accessories, make sure you look at the information on the item listing to make sure that it is suitable for your need and golf bag.
There is a number of ways to look after a golf bag from specific accessories to everyday items that are around the house. This guide has shown the best ways to protect a golf bag against bad weather, the wear and tear of travelling and storing the bag at home or in the shed or garage. A huge range of golf bags and accessories can be found in the Sporting Goods section on eBay.