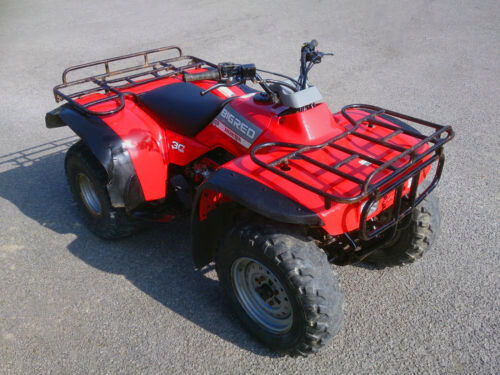 For someone who is used to driving cars, a trike, ATV, or quad is like a breath of fresh air. Riding a trike, ATV, or quad can be an exhilarating experience. However, such vehicles are designed for extreme conditions and edgy recreational activities. Of course, one can cruise around using a trike, ATV, or quad bike, but their big wheels would be wasted on flat cement. Difficult roads are a must to fully enjoy driving these types of vehicles. It is all about riding it rough.
For the same reason, parts of a trike, ATV and quad are prone to damage and eventually need to be replaced. Such vehicles are made up of different parts, and there are common parts that need replacing because of daily wear and tear, while other parts are replaced to make the vehicle more resilient against extreme conditions. In addition, some owners want replacement parts simply to make their vehicle look better. Whatever the reason for buying replacement parts, it is always helpful to know what to look for in the components of a trike, ATV, and quad to make a more informed decision.
Trikes, ATVs, and Quad Parts
A trike, ATV, or a quad bike is a popular vehicle amongst people who love riding on rough terrains. These types of vehicles are also used for extreme sports.
Trikes
Engine-powered tricycles can be categorised as motorcycles or scooters, depending on their design. While scooters have a chair-like seat, a motorcycle has a saddle type seating. Scooters have automatic transmissions, while motorcycles have manual transmissions.
Trikes are a different beast. Trikes have two varieties: the delta trike, which has one wheel in front and two in the back, and the tadpole trike, which has two wheels in the front and one in the back. When it comes to braking efficiency, a tadpole trike takes the cake. Because of the two front wheels, a tadpole trike is more stable when breaking, sliding instead of rolling.
A delta trike, when braking instantly, needs to steer almost straight to avoid tipping. Trikes, in general, are good for people with problems in mobility or balance. Also, when riding a trike, a driver, who does not need to wear a helmet, can still hitch multiple passengers. Riding a trike gives a feeling of driving a futuristic flying car that one only sees in the movies.
All-Terrain Vehicles (ATV)
All-terrain vehicles or ATVs are three- or four-wheeled vehicles with a seat the driver straddles and a handlebar to control direction and movement. An ATV travels on low-pressure tires, and as its name suggests, can cover a variety of terrains. Depending on the structural design, ATVs can sit a single operator or an operator and one more passenger.
The first ATV was six-wheeled and designed to be amphibious. The first three-wheeled ATV was designed in 1967 and was called the Sperry-Rand Tricat. The saddle-type seat of the Tricat was a sit-in type, as opposed to the sit-on type that is common today. In 1970, Honda introduced the first sit-on ATV, which was used in the movies James Bond: Diamonds are Forever, Magnum P.I., and Hart to Hart. Further developments have resulted in more efficient and better-looking ATVs that people enjoy today.
Quad Bikes
Quads are defined in the U.K. as a vehicle with four wheels with a mass less than 550 kg. Quads are street-legal vehicles in the U.K., but an owner must hold a B1 licence in order to drive it. A quad bike in the U.K. requires tax, registration, and insurance.
Suzuki is one of the manufacturers that dominate the market for four-wheeled ATVS. Its first model was the 1982 QuadRunner LT 125, which was created for recreational purposes. Yamaha and Honda are other well-known brands for quad bikes.
Trike, ATV, and Quad Bike Manufacturers
The table below shows a number of manufacturers for trikes , ATVs and quads . The table provides the popular makers for each type of vehicle
| | |
| --- | --- |
| Type of Vehicle | Manufacturers |
| Trike | Piaggo, Harley-Davidson, Bombardier, T-Rex |
| ATV | Arctic Cat, Bombardier (Can-Am), Honda, Kawasaki, KTM, Kymco, Polaris, Suzuki, Yamaha |
| Quad | Honda, Yamaha, Polaris, Quadzilla, Suzuki |
The table above provides a list of popular manufacturers for each vehicle type. To see a complete list, buyers can go to eBay motors.
Trike, ATV, and Quad Parts
Trikes, ATVs, and quads are almost always subjected to intense driving and rough terrains. For this reason, owners need to replace parts eventually.
Battery
The battery is one of the life sources of trikes, ATVs, and quads. Battery replacement may have different specifications according to the brand. Batteries can malfunction because of long periods of stagnation. An ATV stored away for months can cause its battery to build up sulphation on the plates. The sulphation can decrease performance, run-time, and life of the battery.
Avoiding Sulphation
In order to not have to replace the battery of an ATV, quad, or trike too soon, owners should use an automatic battery charger or maintainer that gives the batter a charge current. This way, sulphation does not form. An automatic battery charger also breaks up loose sulphation on the battery, if there is any.
Other Considerations to Maintain a Battery
Another way to make sure that the battery lasts long is to regularly check the fluid levels, adding distilled water if needed. Low temperatures crack the battery, so it is important that there is a battery maintainer connected to the battery when not in use during a cold weather or season. The maintainer activates the molecules of the battery, which keeps the battery from freezing.
Engine Parts
The engine of a trike, ATV, or quad has a lot of subparts . Owners should be aware of the various parts that may need repair or replacement.
Piston Ring Set
The engine may need a piston ring set replacement. When buying a piston ring set, buyers should make sure that the item meets factory specifications. Piston rings have a parts number as a reference when checking a replacement part. There are sellers, whether individuals or from companies, that offer piston rings of different types online.
Crankshaft
The crankshaft is another part of an engine that may need replacement eventually. It is actually one of the main parts of an engine, and buyers must find a replacement part that has a long service life, a high ISO quality, and a competitive price.
Carburettor
The carburettor affects the performance of a vehicle, and keeping it in tip-top condition requires routine cleaning of the float bowl, diaphragm, and metering assembly. Although cleaning a carburettor only requires a few tools, it is the removal of parts that require a little technical expertise. A replacement carburettor comes in different sizes and structures, and buyers must find one that fits perfectly to their vehicle. The engines of trikes, ATVs, and quads are composed of small but important parts, and it is important to know the specifications of the original part so as to find a replacement part that is just right.
Body, Frame, and Chassis
The body, frame and chassis are replaced when they are worn out or damaged, but there are owners who are pleased to change these parts for the sake of improving the look of their trike, ATV, or quad bike. Parts like the armour, windshields, seat and seat covers, and gas tanks make up the body, frame, and chassis of a trike, ATV, or quad. The material in which armour is made of can be steel or aluminium alloy. Armours are placed in the front, middle, and rear of the vehicle. It can also be a bumper bar, grab bar, nerf bar, and skid armour.
A windshield on the other hand, can come in different sizes and shapes depending on the fairing. The fairing itself can have a different shape, colour, and design, and choosing one that is best for the buyer is a matter of the overall structure of the vehicle, and personal taste.
Seats usually conform to the structural design of the trike, ATV, or quad. Seat colour should match the overall colour scheme of the vehicle, or it can also be a contrasting colour. Seat covers can be made of leather or synthetic fabrics. A seat cover should fit tightly on the seat. Because such vehicles are always exposed to the elements, a seat cover should be able to resist water, dirt, and dust.
Handlebars, Grips, and Footrests
Handlebars provide directional control to the driver. They come in a variety of shapes, with each shape fitted to a particular purpose. A clubman bar, which shape angles forward, prompts a motorcyclist to lean forward and to be in a more aggressive position.
The cruiser handlebar, on the other hand, slopes toward the rear part because it allows the rider to sit upright. Handlebars can be made of steel, titanium, carbon fibre, or aluminium alloy. There are accessories that can be installed on a handlebar, but the most important are the grips . Handlebar grips are made of rubber, anodised steel, or billet aluminium. Grips for trikes, ATVs, or quads should have a tight and comfortable hold. The best grips are made of a combination of rubber, foam, and aluminium.
Footrests , on the other hand, can also be made of aluminium, silver alloy, or anodised silver. Its shape can be tubular, block-like, board-like, or rectangular. Footrests often come with rubber covering, not only to protect the part but also for tight impact on the shoes.
Purchasing Trike, ATV, and Quad Parts on eBay
Thankfully eBay collects all trike, ATV, and quad bikes from different manufacturers. The websites lists them in one category so buyers can view and buy any part they want in just one area of listings. eBay is a large online marketplace website in the U.K., and you can make it your one-stop-shop for all trike, ATV, and quad parts needs. You can even buy a whole vehicle on the website. Whether you need parts such as battery, footrests, handlebars, or grips ; or parts for engine, body, frame, and chassis of your ATV, trike, or quad bikes, eBay is certainly the website to visit.
You can find credible sellers that have 100 per cent positive feedback ratings from their customers. This assures you that the product and the overall transaction can be something you enjoy as a buyer. For concerns regarding your account, the product, or the website, you can contact eBay's Customer Support to answer your questions.
Conclusion
Trike, ATV, and quad bikes are vehicles that are suitable for rough terrains and extreme sports. For owners of such vehicles, riding on one is the height of cool. There are different variations of trikes, ATVs, and quad bikes, and there are different manufacturers that offer them at competitive prices. These vehicles are exposed to extreme conditions, and eventually, their parts need replacement. However, there are owners that buy aftermarket or replacement parts for the sheer joy of making their vehicle look even better. Common parts that buyers purchase for their trike, ATV, and quad include the battery, handlebar, and footrest, or parts for the body, frame, and chassis.
Buying some parts for these vehicles requires taking note of specifications to make sure that the replacement part fits and functions well with other parts. There are other parts, however, which specifications are subject to the buyer's preference. Aftermarket parts are widely available, and knowledge in the form and function of each allows a buyer to get the best deal out of his or her money.