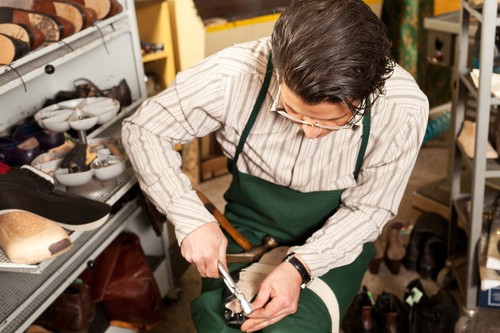 Popular around the world with men, women, and children, leather shoes come in a wide variety of styles and colours to pair well with virtually any outfit. Over time, frequent wear, tight laces, long-distance walking, and exposure to water, dirt, and other hazards can cause the leather to dry out and crack as well as unseat or break areas like the footbed insert and sole. Whether the repair materials come from a local shoe shop, a big box store, or online at eBay, even novices can use the materials to make footwear repairs to restore their leather shoes to comfortable and good looking condition.
Assessing Shoe Areas Needing Repair
Each type of leather shoe requires different repair processes, so carefully analysing the shoes in need of revitalisation allows owners to determine the proper course of action. For the best results, the main areas to examine on the footwear are the condition of the leather itself, the shape of the shoe, and the integrity of the heel.
Gathering Repair Materials
To properly complete leather shoe repair at home, owners need some materials necessary for the job, including a deep bucket or plastic container big enough to accommodate the shoes, a set of wooden shoe forms or shoe trees, replacement heel tips, a thick towel or sheet, and a leather polishing kit. Owners can use a canister of shoe cleaning polish, cleaning and polishing shoe brushes, and a can of leather protector spray in place of the kit.
Repairing Leather Shoes
Before beginning the leather shoe repair process, set up the designated work area by spreading out the towel or old sheet and arranging the necessary tools nearby.
Correcting the Shape
With frequent wear, leather shoes can stretch out of shape. To correct this quickly and easily, fill a plastic bucket or container with warm water and submerge the shoes for approximately 10 minutes. Then, remove the shoes from the water, carefully shaking the excess into the container, and place the shoe forms inside the shoes before placing them on the towel to dry in a warm place or in the sun for several hours. Alternatively, owners can use a hair dryer set on medium-low to speed up the process.
After 4 to 6 hours, remove the shoe forms and allow the shoes to continue drying for at least 24 hours. The treatment of water followed by heat shrinks the leather to its original shape for a better fit and sharper look.
Replacing the Heels
Owners can also replace worn down or broken heel tips. For stilettos or pumps, pry the heel tip off with a flat screwdriver and attach a replacement heel tip. Owners can place shoe glue on the tip before sliding it into place for a long-lasting hold. For mens shoes, use the same process, except use more shoe glue and shoe tacks to hold the new heel in place properly.
Restoring the Finish
To restore the finish, first remove loose dirt and debris with a stiff shoe cleaning brush, and then apply leather cleaner polish with a soft cloth. Working with one shoe at a time, rub the cleaning polish in with a circular motion, taking care to get into all the creases, and allow it to sit for 5 to 10 minutes. Then, buff the polish off with either a buffing cloth or leather buffing brush until the finish shines.
Add a coat of protection by applying conditioning leather protector spray. This product comes in an aerosol can for easy application. To use it, place the polished shoe on a flat surface and spray the cleaner in a back and forth motion until the whole shoe has a light, even coat. Allow this coat to dry completely and apply a second coat, if desired.
How to Buy Leather Shoes and Repair Supplies on eBay
Whether you need a new pair of laces, shoe forms, or a cleaning kit, eBay has everything you need to get your shoes back into tip-top shape as well as new leather shoes of any colour or style imaginable. To locate the products you need quickly, use specific keywords in the Search bar located on any page. Try keywords such as "men's size 12 shoe forms", "Waproo high shine black shoe polish", or "aerosol leather protector spray".
Repairing leather shoes ensures they look great and last a long time. The repair process takes less than a day to complete and is easy once owners know how to do it.