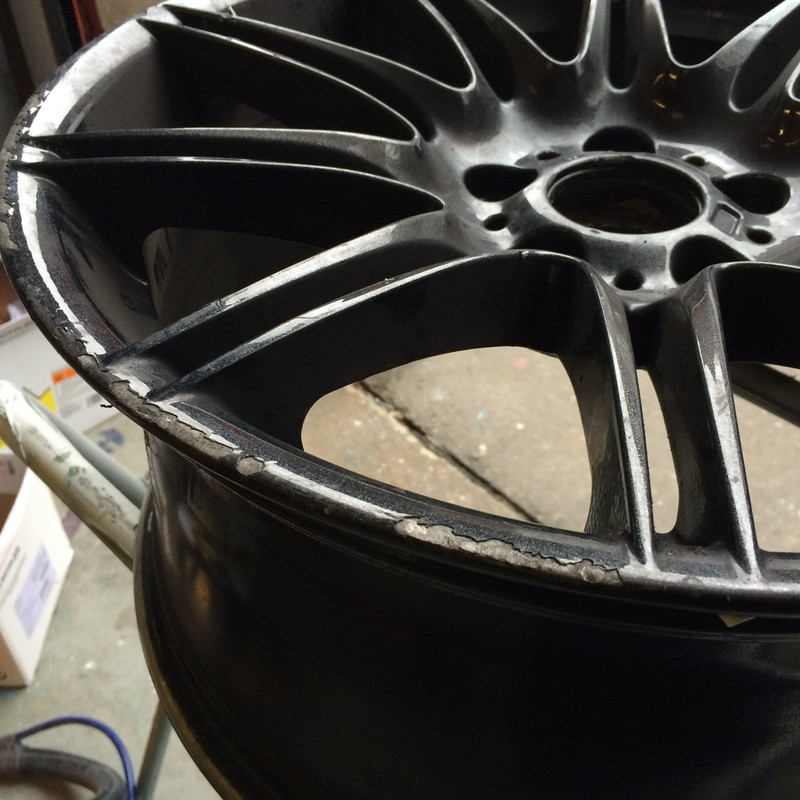 HOW TO REFURBISH YOUR ALLOY WHEELS
PREPARATION IS THE KEY!

Firstly you will need the following items to refurbish your wheel:
Degreaser
Wheel wash and cloth to apply and dry
Multi Grades of Sand Paper ( 120 grade for deep scratches - 320 to fine finish)
Filler ( on seriously damaged wheels)
Etch Primer (if down to bare alloy) or High Build (if only surface only keyed)
Ground Coat ( not always necessary unless a chrome or light silver Base Coat is to be applied)
Base Coat
Lacquer
Appropriate Masks for spraying an Isocyanate product.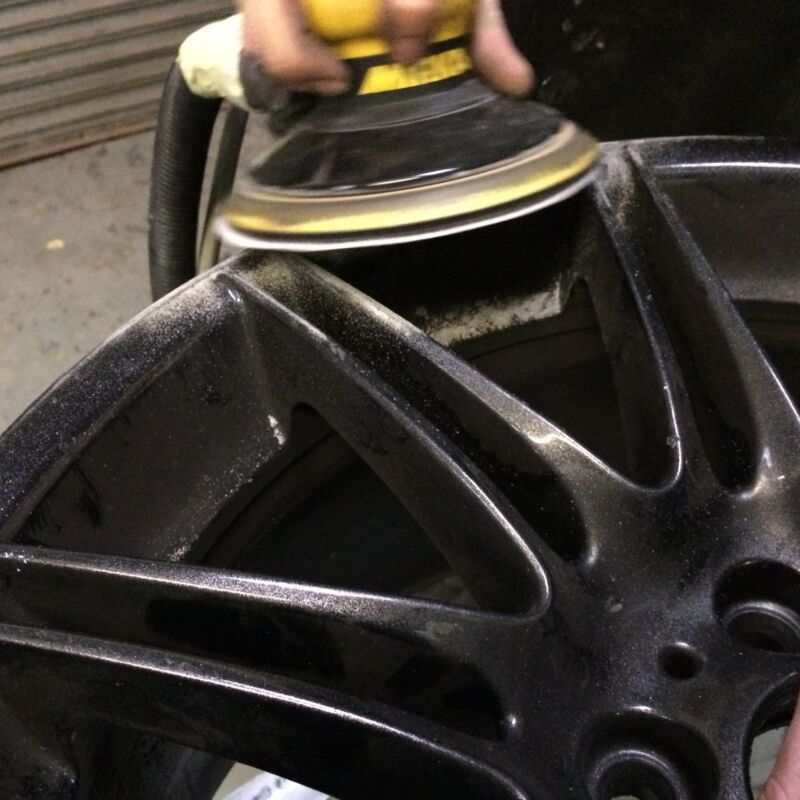 Add a caption
Preparing the wheel with a DA (Dual Action) Sander.
Preparing your Alloy Wheel.
It is important to thoroughly degrease/decontaminate and clean the alloy. This will prevent any possible reaction with the paint you are looking to apply.

Once the wheel has been dried rub it down with a dry cloth to remove any other residue on the wheel.

ALWAYS WEAR A MASK APPROPRIATE TO THE TASK IN HAND!

If you are only looking to re-spray your alloys for a different colour or brighten the finish, you may get away with "keying" the surface with some scotch wool and clean down ready for the next steps.

For heavier damage you need to remove any rusty or cracked edges. Here in the picture above we use a DA (Dual Action) Sander. You can use normal sandpaper but be prepared for a bit of elbow grease. Start with a heavy grade sandpaper and get all the rougher edges and heavier rust patches out of the wheel. The further you wear down the affected edges, you will need to work your way through to a finer grade of sandpaper to give you a smooth finish.

Try and get the smoothest finish you possibly can as this will aid the quality of your finished product.

If there are evident pits/pores or cracks in the surface even after sanding down, you could use a alloy filler. Apply the filler, wait or it to dry and sand down the filler once again following the same steps.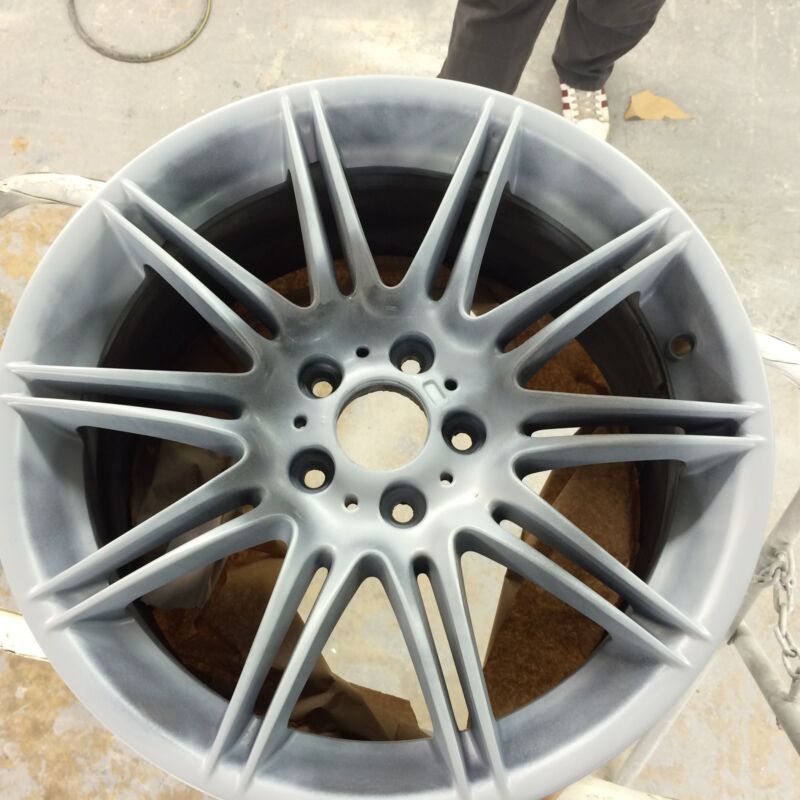 Picking the right Primer for your Alloy Wheel.
Once you are satisfied with the wheel, you need to apply a primer. A primer will seal the existing surface and also help smooth it over.

ALWAYS WEAR A MASK APPROPRIATE TO THE TASK IN HAND!

You have a few options for the type Primer. If you are going to take your surface all the way down to bare alloy, we would suggest an Etch Primer which is suited for this purpose. If you are looking to "key" the surface or not go all the way down to bare metal, we would suggest a High Build Primer. High build Primers are usually a bit thicker and will help to cover minor pits and pores in the surface. You can apply multiple layers to smooth the surface.

Once the primer has been applied ( only if using a High Build Primer), you may need to sand down the finish once again to get a perfectly smooth surface ( this will not be needed with an Etch Primer).

Drying time 20-40 minutes.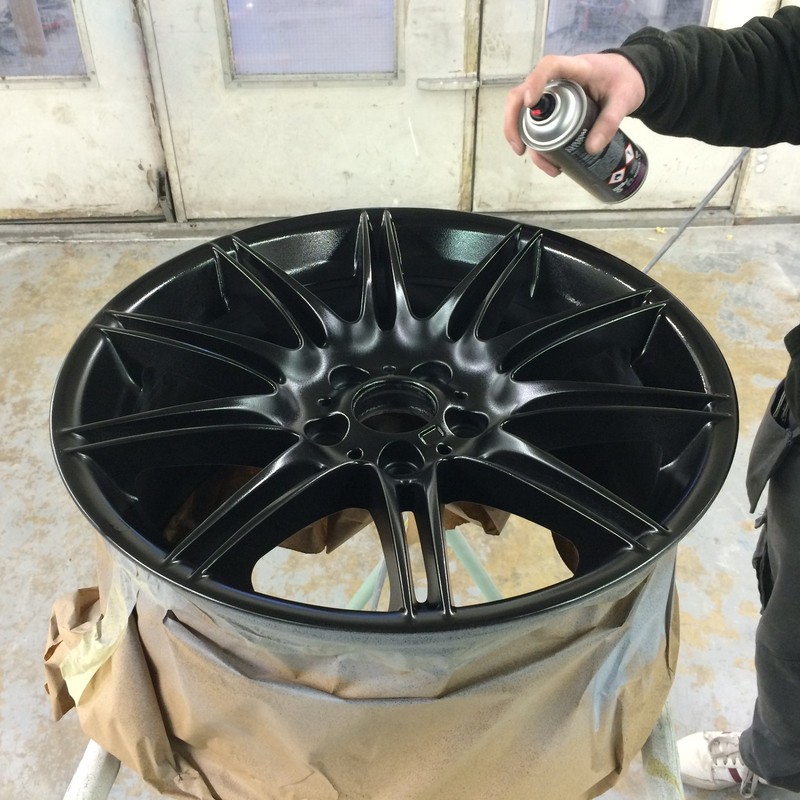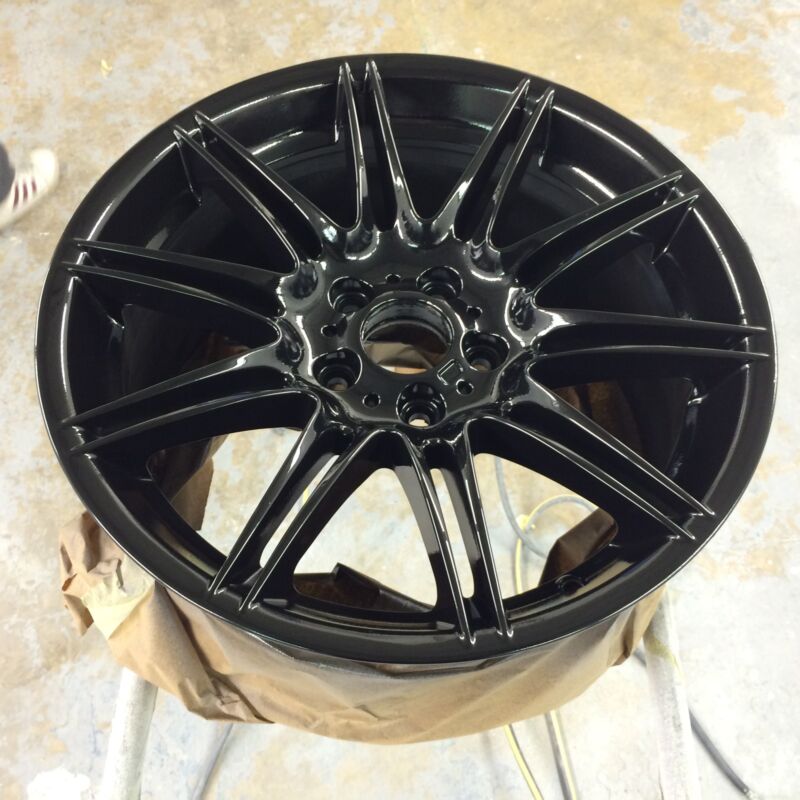 Add a caption
Pic 1 Gound Coat applied. Pic 2 Gound Coat with a lacquer finish.
Applying your Ground & Base Coat.
Once you have prepared your wheel, give it another good clean, removing any dust particles and grime, then dry thoroughly.

ALWAYS WEAR A MASK APPROPRIATE TO THE TASK IN HAND!

GROUND COAT:
A ground coat would be the first actual paint you apply to embellish the following Base Coat. If you wanted to apply a chrome or High Silver paint, we would suggest applying a Black High Gloss Ground Coat.

Start of by applying a grip coat. A grip coat is very fine feathered spray out which will provide a surface for the full coat to stick to. Just before the grip coat dries, apply the rest of your ground coat.

BASE COAT:
Follow the same steps for the Ground Coat.

Drying time 30-40 minutes.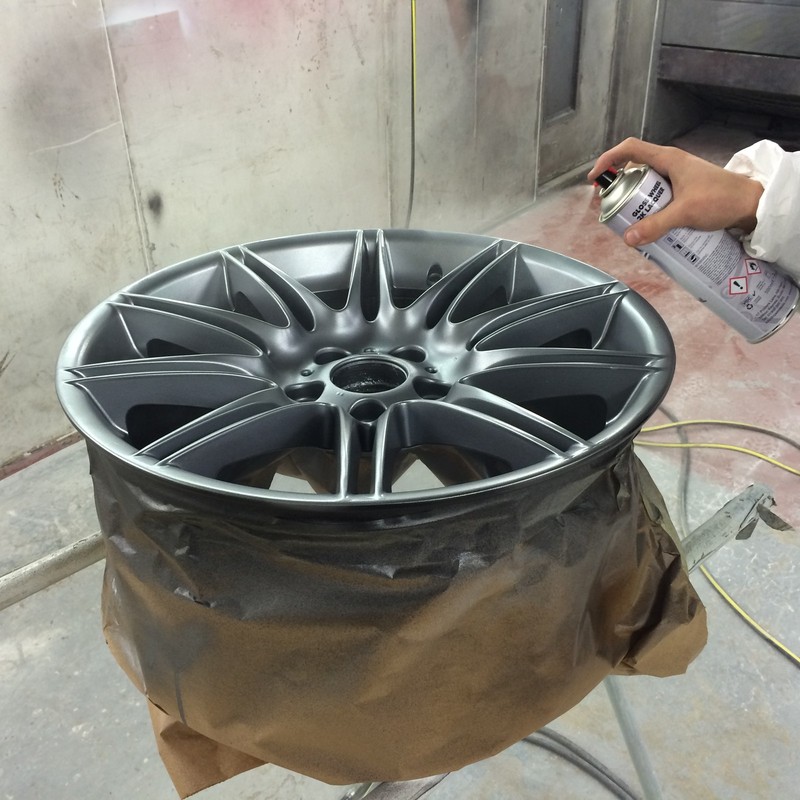 Applying the correct Lacquer
Once you have let the paint cure properly you need to add Lacquer. Lacquer is a clear product which will add protection to your finished product. Different Lacquers will provide you with a different gloss finish.

Gloss Finish Levels
Matt Lacquer has no sheen ( like a sheet of generic A4 paper)
Satin Lacquer is commonly referred to as Eggshell (for the similarities in sheen)
Gloss is the equivalent to a car showroom/mirror finish.

1K or 2K?
A 1K ( 1 Pack Lacquer) is very flexible and can be used for a variety of purposes.
A 2K ( 2 Pack Lacquer) provides a much harder finish, more sturdy and scratch resistant. 2K Products have a chemical called Isocyanate which has been linked to asthma and other medical issues.
ALWAYS WEAR A MASK APPROPRIATE TO THE TASK IN HAND!

In the case of applying the best possible lacquer for this task we would suggest a 2K lacquer every time. This would provide the best durability and protection for your wheel. You could use a 1K lacquer but this will eventually wear and will not provide the best gloss finish. The purchase of the correct lacquer is important. You only get what you pay for.

Apply the Lacquer in coats or layers. 3 coats should be sufficient, but if you wish to apply more, always wait for the former coat to cure and dry properly. Once you are satisfied with the finish, polish off with a smooth cloth.

Drying Time 30-40 minutes.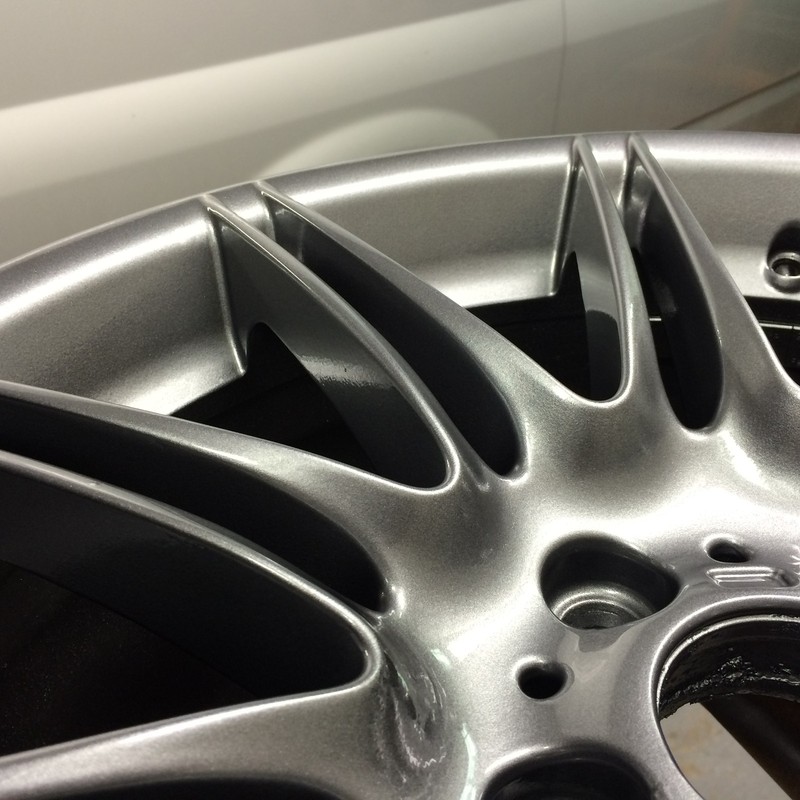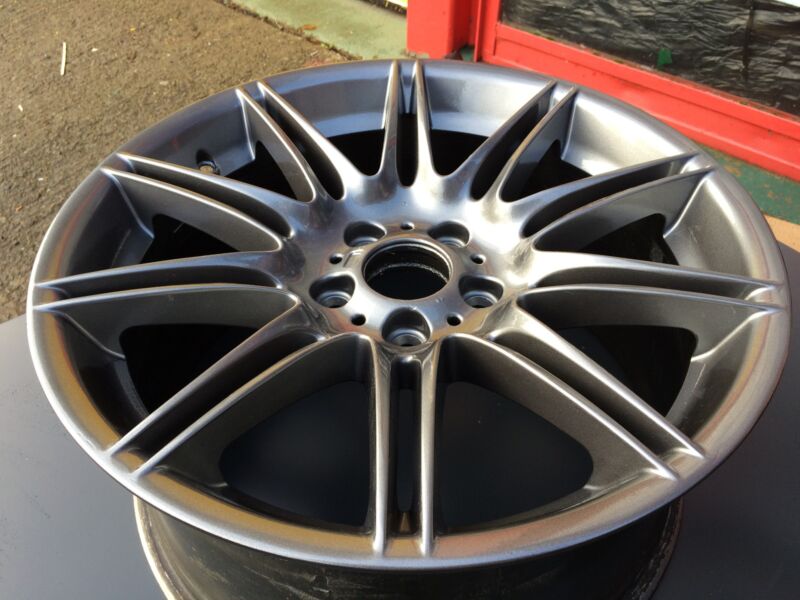 I hope this guide helps, as always should you have any questions or need any further assistance please contact me.