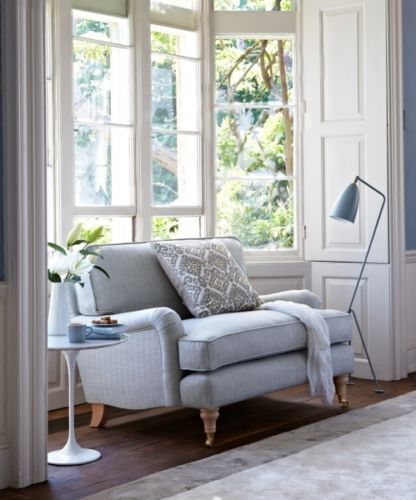 Within the average living room, one of the most beautiful aspects is usually the furniture that is colourfully placed and arranged within it. When establishing the overall décor and style of the room overall, choosing the right furniture with the right patterns was an essential step in bringing all of the other pieces together to complete the interior design puzzle. However, aloveseat and sofa can lose its captivating appeal and decorative style over time.
Instead of rushing out to purchase brand new furniture, the wisest step to take would be to take the necessary steps to reupholster the furniture instead. There is a wide variety of tools, fabrics and patterns to choose from on eBay that can provide a considerable amount of assistance with this home décor project. eBay has even provided this guide to walk you through the different steps and explain everything that needs to be known in order for this decorating endeavor to be successful.
Key Reasons for Upholstery
One of the biggest questions that might spin around the minds of the average consumer is, ''Why should I reupholster my living room furniture?'' Even though it may seem pointless to many people, those who understand the value of this type of project understand its true value. What are some of the key reasons why so many people should consider reupholstering their loveseat and sofa, if they do not do so already?
1) Adapt the Furniture to the Décor: Even though the average person may enjoy the colourful patterns and overall décor of their living room today, they may have a change of heart next year, next month or even within the next week. Instead of buying brand new furniture, a person can simply reupholster their loveseat and sofa with the new colour patterns and fabrics to blend right in with the updated arrangement.
2) Get Your Money's Worth: Reupholstering living room furniture also offers the opportunity to consumers to truly get their money's worth from their original purchases. You may have paid several hundreds or even thousands of pounds for living room furniture when it was first purchased. Just because your tastes and personal preferences have changed does not necessarily mean that the furniture has to as well.
3) Rejuvenate the Look and Feel of the Furniture: Over time, wear-and-tear can cause detrimental damage to the appearance and texture of living room furniture. It is fairly easy to get so used to its current dull appearance that the owner forgets the captivating, stylish appearance that it had when it was first purchased. Reupholstering furniture gives owners the chance to bring their furniture back to life, rejuvenating their original style and appeal with just a few minor adjustments and changes.
4) Learn a New Trade: By learning how to reupholster living room furniture, an individual will also be learning a new skill and trade. Even though this may seem to be great for personal purposes within their own home, this can easily be turned into a profitable profession as well. There are many furniture owners that would love to have their items reupholstered but have no idea where to begin. Being able to accomplish these projects for them can generate a substantial income for any person with this particular skill.
Points to Consider Before Beginning
Once the decision has been made to reupholster a loveseat and sofa, the very next step would be to consider several points to determine if reupholstering the furniture truly would be the best route to take. In most cases, reupholstering the furniture is the most feasible option in improving the appearance and style of the item in general. However, there are other cases in which this type of project should not be started. What are some of the factors that should be considered?
The chart below lists each factor and then examines the situations in which a person ''should'' and ''should not'' reupholster specific furniture items.
| | | |
| --- | --- | --- |
| FACTOR | SHOULD | SHOULD NOT |
| Age of Furniture | If the furniture is older than a decade, the odds of being able to use any of the existing material are slim. The entire piece would have to be redone from scratch. | If the furniture is between five and seven years old or younger, this will cut the work and expense required for reupholstering in half. |
| Shape of Furniture | Keep in mind that nothing about the actual shape of the furniture will be changed through this process. If the shape of the furniture is still acceptable to the owner, then reupholstering is feasible. | If the shape of the furniture is no longer acceptable, then reupholstering would be a waste of time and money. A complete replacement would be more feasible. |
| Condition and Framing | If the structure and framing of the furniture is still in a good, solid condition then reupholstering is a great idea. | If the structure and framing of the furniture is worn down and severely damaged, then those repair issues should be addressed first before considering any type of upholstery work. |
| Price of Reupholstering | Even though reupholstering is more affordable than buying new furniture, it still comes with a price. It is going to cost money, time and hard work as well. If these resources are available, then reupholstering is a great idea. | If time, money and hard work are not available resources, then reupholstering is not a good idea. Consider other options, including paying more money for new furniture to replace the old. |
| Time Involved | The average reupholstering job is not going to happen within a matter of minutes. It can take several hours, days and even weeks depending on the sise of the job. If this is acceptable, then go for it. | Furniture owners that are searching for a quick and easy way to enhance their living room décor should just consider purchasing new furniture. Reupholstering is only feasible if you have the time to invest into it. |
The Necessary Tools and Fabric
When it comes to the type of tools that will be needed to reupholster a loveseat or sofa, the items that are featured on that list will really just depend on the type of furniture that will be reupholstered.
The following is a standard list of tools that are usually necessary for most furniture reupholstering projects:
* Hardware Nails (500 gm.)
* Nails without a head (100 gm.)
* Multiple sheets of cardboard (7-8 sheets)
* One-inch measuring tape for cutting fabric
* A hammer and a pair of fabric scissors
* Miscellaneous hardware tools (including needle nose pliers & a staple gun )
Another important material that a person should have readily accessible for this type of project is the fabric or cloth that will be used to cover the sofa or loveseat. Make sure that there is enough fabric or cloth to cover each surface of the furniture item. This is going to require measurements of the loveseat or sofa to be taken in order to make sure that enough fabric is purchased to cover it entirely. Here are a few average fabric measurements that have been used for many standard projects in the past:
| | |
| --- | --- |
| FURNITURE ITEM | MEASUREMENT |
| Sofa (seats up to five people) | 17 meters |
| Sofa (seats up to seven people) | 20 meters |
| Loveseat | 10 meters |
Remember that the above measurements are just averages that have been observed and used in the past. This does not necessarily mean that it is an approximate amount of what will be needed for your particular project. In most cases, first-time beginners and amateurs may end up needing more fabric while more expert upholsterers may not need that much. Any leftover fabric can be used for throw pillows and other decorative items after the project has been completed. Take experience and skill level into consideration when purchasing fabric, tools and any other materials for this type of project.
The Steps of Reupholstering the Furniture
Once the materials, fabrics and tools are all in place, it is time to begin the reupholstering project. Each of the steps involved can be categorised within a sequence of stages that will take the individual performing the work from beginning to end.
Out with the Old: Nails, Staples & Tacks
1) Remove the old material and fabric from the furniture.
2) To remove the existing staples, you can use: (a) a screwdriver, (b) a hammer's end or (c) a staple remover.
3) Pay close attention to how everything was put together as it is being taken apart.
Out with the Old: Fabric Materials
1) Carefully remove each piece of fabric. Try to keep each separate piece together without any ripping or tearing, because these pieces can be used to easily make patterns for the new fabric.
2) Measure the old fabric pieces based on the way that the selvage will run with the new fabric. Do not measure the pieces from left to right; make sure that they are measured from top to bottom. It will be necessary to cut the new fabric pieces parallel to the selvage or along with the grain, but never against or across it.
3) After the new fabric pieces have been cut, drape them over their furniture in their proper places for sizing and any further adjustments, if necessary.
Focus on the Batting
1) If the batting is severely worn down, then it will need to be replaced. Fortunately, there are many different places that have great deals on batting.
2) Changing the style and overall look of the loveseat or sofa can be easily accomplished by adjusting the batting and sewing of the fabric pieces accordingly. Be creative, but make sure that the end result does not clash with the desired décor and overall vision for the furniture item.
3) After the batting has been put into place and the fabric pieces have been cut and sised accordingly, it is now time to move on to the final stage of the project.
Putting It All Back Together Again
1) Stretch the fabric pieces into their proper places so that there is no sagging or air bubbles that emerge in the fabric. Use the staple gun to staple the fabric pieces into the wooden frame of the furniture.
Below is a chart that provides a guide of where each piece will need to be stretched and then stapled.
| | | |
| --- | --- | --- |
| FABRIC PIECE | STRETCH LOCATION | STAPLE LOCATION |
| Back Piece | In the back over the top of the loveseat or sofa | The framework in the back of the furniture item |
| Bottom Piece | Underneath towards back | The bottom of the framework in the back |
| Side Pieces | Stretched to the back | The sides of the back framework |
| Bottom Piece | Stretched below the pillows | Inside of the framework on all sides (including top & bottom) |
| Back Piece | Covers all pieces that have already been stapled to the back | The top of the frame over the stapled front pieces and attached to the top of the furniture's back frame |
Do not forget to stretch each fabric piece as tightly as safely possible before stapling them. Consider using decorative upholstery pins for the sides and then just hammer them into place. Visually inspect everything to make sure that it is all stretched tight, stapled down and secure. Since the frame is finished, it is now time to move on to the cushions.
Don't Forget About the Cushions
The cushions are the final piece of the reupholstering puzzle that needs to be put in place in order for the entire project to be completed. Make sure that these cushions are carefully sewn based on the pattern that had already been examined and measured when removing pieces. If ribbing is involved, sew the fabric pieces over and then into it. Here are a few tips to consider that make the cushions look great on your newly reupholstered loveseat or sofa:
* Sew in a Zipper: Adding a zipper makes it easy to remove the cushions whenever they need to be cleaned
* Consider buying New Cushions: Fluffy cushions are always much more appealing than flattened cushions, so consider purchasing new foam rubber cushions .
* Cover Cushions with Cloth First: Before covering the new cushions with the new fabric, place a plain cotton cloth on them for preservation purposes.
* Make throw pillows: Use any leftover fabric material from the project to create throw pillows for even more appeal
Buying Safety Considerations
Reupholstering a loveseat and/or sofa is a project that is based on details. This is made obviously clear by the detailed instructions and detailed steps that are required in order to successfully get the job done the first time around. Therefore, when shopping for the fabric, materials and tools that are necessary, it is also important to focus on the details and specifications of each potential purchase.
Check the measurements of each fabric material to make sure that you will have more than enough material to work with. Pay close attention to the swatches and colour samples that are available to make sure that this is the colour and style that is wanted. The last thing that any consumer wants to do is to spend a lot of money purchasing these materials just to get them home and realise that it is not what they wanted.
When shopping online, examining the pictures and photographed samples is an even more important step. Do not purchase fabric materials from sellers and companies that have bad reputations and a history of negative customer service experiences. Study reviews, ratings and testimonials that might be available online to ensure that the individual seller or company is legitimate and worthy of your investment.
How to Use eBay to Buy Reupholstering Materials and Tools
There is a long list of online websites that offer such things as fabric, materials and tools for reupholstering projects within the home - especially when it comes to living room furniture. However, there are not very many companies that can match the great offers featured within the extensive online catalogue that eBay has available.
The complete listing of fabric options to choose from can be found underUpholstery in theFabric section of theSewing & Fabric category in the Crafts portal. The search filters can categorise the thousands of available listings by a number of different factors, including:
* Type
* Material
* Length & Amount
* Colour
* Width
* Brand
* Pattern
Use the Auction and Fixed Price options for flexibility when it comes to payment options. Study the specifications featured in the public display of each item listing and then explore the details of that listing if those specifications are acceptable. Interested buyers can contact the seller if they have any questions or concerns that need to be addressed before making a bid or finalising a purchase.
Study the seller's transactional history and past feedback to ensure that they are trustworthy and are capable of delivering quality products. Do not be afraid to reject an offer if you are skeptical about the seller, because there is an abundance of other products being sold currently by reputable sellers that can be purchased.
Conclusion
Reupholstering furniture without paying a professional to do it may seem like an overwhelming task that is too difficult to complete on your own. However, this is not the case at all. eBay can provide all of the fabric and tools that are necessary to get the job done. Even though there is a lot of steps involved that require people to invest time, money and effort, the lasting benefits that can be enjoyed by doing so are truly worth the investment.