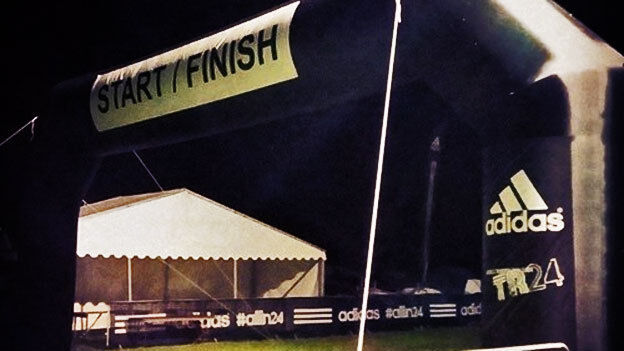 Whether you're hitting the trials or the tarmac, pushing beyond the normal 26.2 miles of a marathon and into the world of endurance running means a different approach to your running gear. You need to pack smart, pack light and find the right kit to help you conquer those extra miles. Not sure what should go on your shopping list? Here's our top selection of the essentials you need to perform when it counts.
X-Bionic The Trick Running Shirt

Turbo-charge your ultra without overheating, thanks to the Swiss brand X-Bionic's innovative technology. As soon as you pop this shirt on, an insulating strip along the spine of the shirt tricks your brain into thinking that you're warmer than you are so you sweat earlier on in your run, which helps you regulate your core temperature. The result is you can go for longer without overheating. Clever huh?
Compressport R2 Calf Guards

Ultra-light and multipurpose, Compressport Calf guards support your muscles and keep the oxygen flowing so you're less likely to suffer from painful cramps and muscle tears during races. Wear them post-race and they'll continue to flush out the toxins and oxygenate your muscles to help prevent DOMS and encourage a faster recovery. Don't just take our word for it – there's a reason they were the number one calf guard worn during the Iron Man World Championships in Kona.


Inov-8 Race Ultra 270

Featuring a 4-inch drop, flatter sole and mesh lining, you wouldn't be wrong in thinking that the Inov-8 Race Ultra 270 is a racing shoe but these cope just as well when you're heading off-road and going the distance. They may be light (270g to be precise) but the cushioning and flatter outsole helps to ensure comfort and stability whatever obstacle the course may throw at them.


Marmot Kompressor Flask
Light, tough and completely collapsible, fill this flask form the
Marmot Kompressor range up with 500ml of water and sip at your leisure from the non-drip silicone soft bite valve. And once empty you can squash this water flask right down so it can fit into a space as small as your trouser pocket. Designed in an oval rather than round shape so that is sits snuggly in the palm of your hand. No wonder it won an Outstanding Design award at ISPO in 2013.
LED Lenser Neo Headtorch

Don't get caught short when out on the trails. Make sure you're ready for anything with a LED Lenser Neo Headtorch. With 100 hours of burning light a front wide beam of up to 10 metres and wide beam reflector, you'll be able to see whatever nature throws at you. There's also an optional rear red LED light for those who take to the road. Weighing in at just 88g, it's certainly worth packing.


OMM 20L Adventure Light Rucksack

Deceptively roomy and with removable options, the OMM 20L Adventure Light Rucksack offers a lean way to carry all your gear. The stripped-back streamlined chassis and padded shoulder harness makes this race pack suitable for runners of all shapes and sizes. Zip pockets around the hip area and angled mesh pockets at either side mean you can access your stash easily when on the go.


Salomon S-Lab Sense Advanced Skin3 12 Set

Worn like a waistcoat, the series of S-Lab packs by Salomon are the ultimate in comfort for going lightweight on longer distances. Packed full of features including front soft water flasks, safety blanket, room for a hydration bladder and zipper pockets for gels, batteries and snacks, this is a first-class option for those long endurance runs.


Inov-8 Race Ultrashell

This waterproof layer from Inov-8 means business. Boasting a 4-way stretch, taped seams and a 2.5 layer waterproof fabric alongside breathability, it lets you keep on racing even if the weather takes a turn for the worse. The fabric is also fully transparent so your race number is always visible and it packs away neatly into its own hood. At 125g it's an essential you can't really afford to leave out.


UltraAspire Quantum Racebelt

No buckles, no loose ends, no fuss, the UltraAspire Quantum Racebelt is the ultimate one piece running belt design. This stretchable wide mesh belt features two pockets at the rear (for energy gels and small snacks) and a larger zip pocket at the front for keys, phone, camera, map etc. And most importantly, it sits snuggly around your hips and is so light (even when packed) that you'll hardly know it's there.


Runderwear

Going long can mean uncomfortable rubbing on your unmentionables. Avoid painful chaffing and hold your bits in place thanks to the comfiest underwear or Runderwear on the market. The moisture-wicking and anti-chaffing fabric combines the 360 degree seamless construction design and functional flatlock edging means you'll be able concentrate on the race rather than how you feel down there.