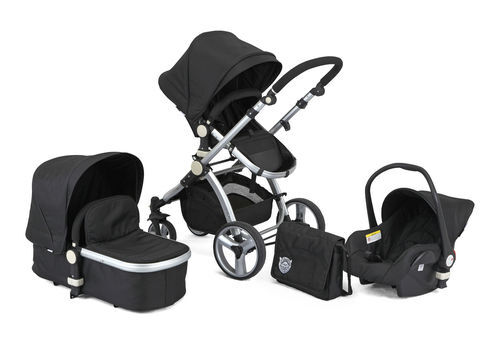 A pram is a type of stroller where the baby lies down as if in a bed instead of sitting up. Also known as a pushchair, a pram is suitable for babies of various ages, but the style is best suited to newborns and young infants who tend to be less frustrated by laying down. A buyer can choose from many different styles of prams, and most styles can be found in baby goods stores or department stores, although Internet shopping sites, such as eBay, may offer the broadest overall selection. Some things to consider when buying a pram are the size and weight of the stroller, the type of wheels, and the purpose of the pram.
Many prams offer a variety of features, such as brakes and different accessories. Every parent is concerned about his or her child's safety, so it is important to know how to safely use a pram before purchasing one. Some safety concerns include the pram tipping over, the child getting hurt in the harness, and the pram moving without supervision because the brakes are not applied. The user should follow all instructions from the manufacturer of the pram to protect the child.
Styles of Prams
Prams come in a number of different styles, including 2-in-1 and 3-in-1 prams. A 2-in-1 pram is suitable from newborn age and up. The body lies flat for newborns, and then it can convert into a sitting up design when the child is older. A 3-in-1 pram has a pushchair, car seat, and carrycot. These tend to be bulkier than a 2-in-1 option, but they provide a traditional look that many people love. Modern 3-in-1 prams often have a removable pushchair seat that can be converted into a travel system with a car seat or a pram with a carrycot. Carrycots are a great option for parents who want their babies to lie flat, and they are also good for winter use because they offer a lot of warmth protection for babies.
Factors to Consider When Purchasing a Pram
Some things to keep in mind when purchasing a pram are the size and weight of the stroller, the style of the wheels, and other special features. The choice of pram also depends on whether the buyer plans to purchase another stroller.
Size and Weight
If the buyer is looking for an all-purpose pram, then he or she wants one that is lightweight enough that it can be picked up and carried easily. A caretaker should remember that he or she often carries many other items in addition to the pram. The buyer should also consider the size of the pram in relation to his or her vehicle size because a large pram may not fit very well in the back of a small car.
Wheels
The style of the wheels on a pram is also important. It is a good idea to choose large pneumatic wheels that work on all terrains. However, these larger wheels can also puncture and may need to have air added regularly. Additionally, pneumatic wheels may add quite a bit of weight to the stroller. Hard plastic wheels are often used on smaller strollers. These wheels are a lot lighter, but they do not work well on rough terrain.
The number of wheels may vary, depending on the pram. Prams can come with three or four wheels. Many prams that have three wheels often have larger tires, which are great for rough terrain, but they can puncture a lot easier. The wheels may also be fixed or swivel, and swivel wheels are generally easier to manoeuvre.
Purpose of the Pram
The buyer's choice of a pram should depend to a large extent on what he or she wants to do with the pram. If the buyer is looking for a general purpose pram that can grow with the child, he or she should get one that has an adjustable back rest. When the child is an infant, it is especially important to have lots of storage space in the pram for diaper bags and other essentials. Considering the intended use of the pram helps the buyer make the right decision about any special features that may be needed, including the type of wheels or the addition of helpful accessories.
Pram Features
Prams come with a number of different features. Some of them are basic and simple, while others may only be found on higher end models. Many prams also offer a variety of accessories, including rain covers, cup holders, and storage baskets. A lot of accessories are sold separately, but the buyer should check to make sure that they are compatible with a particular pram and that adding them is safe for the baby.
Common Feature

Description

Makes it a lot easier for a busy parent to fold up the stroller

Removable Washable Pads

Pads that can be removed and thrown in the washing machine save a great deal of time and effort

Brakes

Several types of brakes are available

Brakes should be easy to activate for optimum safety and convenience

Foot-activated brakes are generally a good option to consider

Special Handle

An adjustable handle is a wise, convenient choice

May also want to consider a reversible handle that lets the user change the direction of the pram when pushing it
Prams come with a number of different features, including handles, brakes, and removable pads. The buyer's choice of features primarily depends on his or her needs. In some cases, budget may play a part, as well, as some features may significantly add to the cost of the pram.
Safety Tips When Using a Pram
It is important to always follow the product instructions when using a pram. The pram should also be maintained according to the manufacturer's instructions. It is useful for a pram to have a harness. The safest choice may be a five-point harness . It is best to choose a harness that can be adjusted so it still works as the child grows. A buyer should look for a harness that is child-proof, so only the parent can undo it. Although harnesses are very useful, the baby could get tangled in the harness when rolling over, which means harness use should be monitored carefully.
Although it sounds basic, a parent or caretaker should never leave a child unattended in a pram. One should also never allow the baby to slide down too much in the pram in order to prevent suffocation. This also means it is better not to use too many thick blankets, especially around the baby's face. The brakes should always be used when the pram is not being pushed, even if it is only for a moment. Caretakers should also take extra precautions if a pram is being used or parked on a steep surface.
A parent should always be mindful of the surroundings when using a pram. This means being careful about strong winds or uneven ground that could cause the pram to tip over. One should also be careful about hanging items on the handle because this could cause the pram to tip over, as well. Weather is always a consideration when putting a baby in a pram. A child should be bundled up when the weather is cold, but care should be taken to make sure the child is not too hot in warm weather.
Finding a Pram on eBay
When looking for a pram on eBay, you should consider the different search options that are available. One good place to start is by using the search tool. You can enter keywords, such as ' 3-in-1 pram ' into the search box to get started. If you want to focus your search on very specific types of items, you can try to narrow down the listings by selecting one of the categories or the filters on the search page. This is just one of several search options you can check out.
Another useful tool offered by eBay is the feedback tool, which allows a user to see what buyers have had to say about their transactions with sellers. Whether you are new to eBay or an experienced buyer, it is always a good idea to check out the seller. You should consider both the quantity of feedback and the ratings given to the seller. After you have bought an item, you can then leave your own feedback to help another seller make a purchase in the future.
Conclusion
Prams are a style of stroller that positions the child primarily in a laying down position, although some prams have bottoms that can be adjusted to allow the baby to sit up. When shopping for a pram, a buyer has a number of different options to choose from, including a 3-in-1 pram and a 2-in-1 pram. Some of the key features to consider on a pram are the type of handle and brakes and whether the pram has a one-hand fold mechanism, which can be very convenient for putting the pram away. A buyer should get a pram with good wheels and consider the size and weight of the pram for ease of use.
Every parent is concerned about the safety of his or her baby, and there are steps that can be taken to keep a child safe in a pram. This includes making sure that the child cannot suffocate and preventing the tram from tipping over. When the proper safety measure are taken, a pram can be an excellent way for a parent to cruise around on foot with his or her child in tow.