How to Shrink Wrap a Temporary Roof Scaffolding - Quick Guide
Start by hanging your sheet around the sides of the scaffolding. We generally recommend a 7m wide x 15m long roll of shrink wrap sheeting because this allows a 'drop' of 6m (3 scaffolding lifts) with a 0.5m overlap top and bottom. Start from the top lift of the scaffolding and work downwards.
Batten the top edge of the side sheet around the perimeter of the roof.
Heat weld any sheets together. At this point the side sheets can be heat shrunk drum tight using a hand held propane gas hot air gun (see image below) or you can move on to installing the roof sheets.
Unroll roof sheets and batten around perimeter of roof and at 2 metre intervals across the surface of the roof.
Heat weld areas where shrink wrap sheets overlap. Heat weld the roof sheet to the side sheets. Ensure that any overlap is at least 30-40cm to create a strong weld that will stay bonded.
Shrink the entire roof sheet 'drum tight'. This heat shrinking can take place from above or below the roof sheeting. (see setting up scaffold structure below).
5 x Tips to ensure success for your next scaffolding shrink wrap project:
Ensure scaffold structure is suitable for shrink wrapping - no protruding tubes! Roof must be boarded and provided with a handrail to provide safe access.
Do not attempt to shrink wrap in wet or windy conditions.
Use a good quality plastic shrink wrap film. For scaffolding we recommend a shrink wrap film at least 300 microns thick.
Most construction sites will insist the shrink wrap film is flame retardant. Make sure your film is compliant with the standards.
Make sure the installation team has sufficient knowledge. Shrink wrapping is a simple concept but it is critical to weld and shrink the film properly, especially for temporary roofs. If necessary, arrange some training!
We hope you found this short guide useful. For further help & advice contact our team at Rhino Shrink Wrap on +44 (0)1477 532222.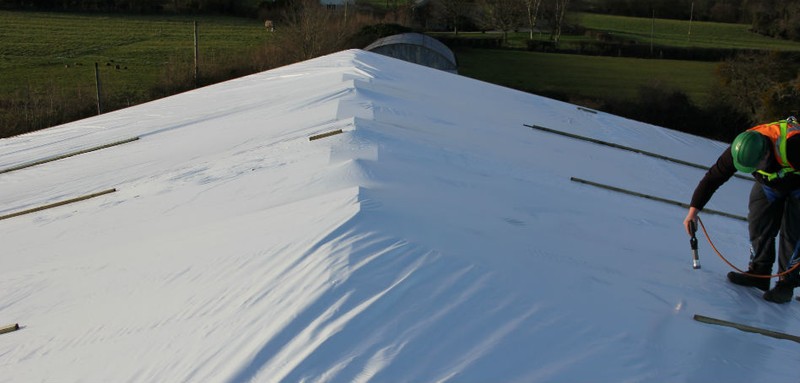 Add a caption
Heat shrinking the scaffold sheeting 'drum tight' using a propane gas hot air gun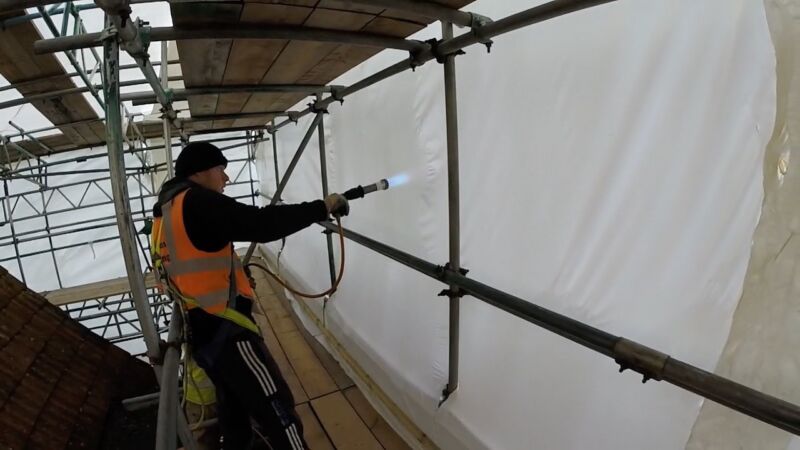 Add a caption
Heat shrinking the sheeting around the scaffold sides using a hand held propane gas hot air gun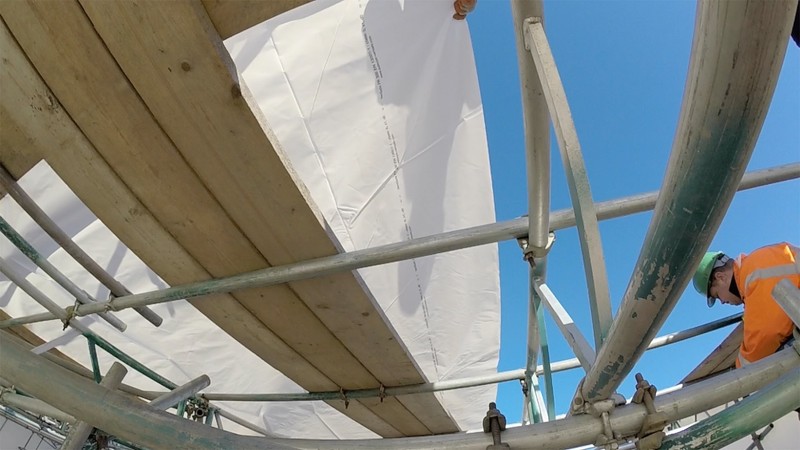 Add a caption
Unfolding the shrink wrap sheeting across the temporary roof