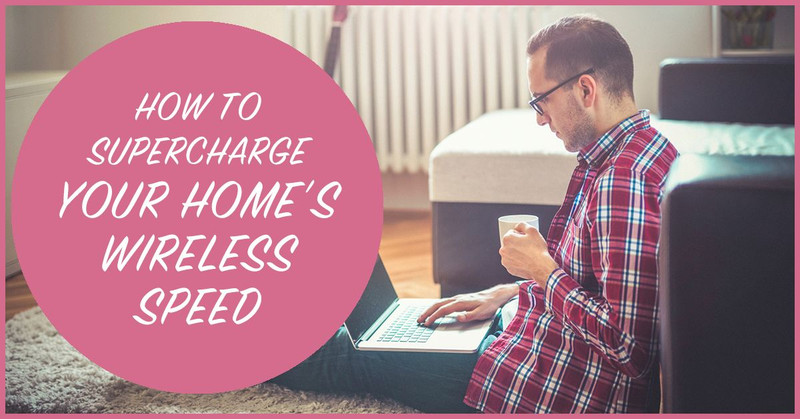 Our internet service provider tends to be the first to get the blame for buffering, slow loading and poor picture and sound quality on our devices, but it could be that your home set up is the cause of most of the problems. A few tweaks could be all it takes to give your
home wireless speed
the boost it needs. Before calling your broadband operator's helpdesk, run a few checks on your home network to see if you could make some changes that could really speed things up. These are the questions to ask yourself.
Is Electrical Interference Affecting Your Router?
Cables, lighting and
electrical appliances
such as TVs, speakers, cordless telephones and even boilers produce electrical interference that can affect your broadband speed. Obviously, you can not avoid this altogether, but you can reduce the impact of electrical interference by placing your router away from the floor on a table or desk and at least 1.5 metres away from other electrical devices.
Is the Wireless Signal Worse in Some Rooms in Your Home Than Others?
If you have no problems accessing content online in your kitchen or lounge, but can't even get a wireless signal in your bedroom or conservatory, it is likely that the construction of your home is creating blind spots that the Wi-Fi signal finds hard to penetrate. To alleviate this problem, re-position your router so that it's in the middle of your home. The router sends out signals in all directions, so if it's stuck in a corner of your home some of this will be wasted out in the front garden.
A
wireless powerline adaptor
or homeplug could also help to spread the Wi-Fi signal around your home. These plug into a standard socket in your home and use your home's internal wiring to bring Wi-Fi into those parts the router can't reach. A signal repeater is another option, this picks up your existing Wi-Fi signal and rebroadcasts it further into your home.
Is Your Router Due an Upgrade?
Check that you have the latest router or home hub that your service provider offers. If not, it's worth asking for an upgrade. If you're out of contract do some research to see if competing providers offer a faster router, if this is so, switch. Alternatively, if you're tech savvy you could invest in your own router. This might speed things up, but remember that these can be complicated to install and some broadband services are set to only be compatible with their own routers.


Are Your Devices Ready for Retirement?
If your
tablet
,
computer
,
TV
or
games console
is more than four or five years old, it is unlikely to have what it takes to keep up with the quantity of content you are asking it to very quickly access. It won't have the storage capacity of newer machines, it won't be able to upgrade to the latest software and it's processing system will be nowhere near as fast as the latest systems. Check that your device meets the minimum system requirements for your broadband system. If it doesn't and can't be upgraded to comply, you need to invest in something new.