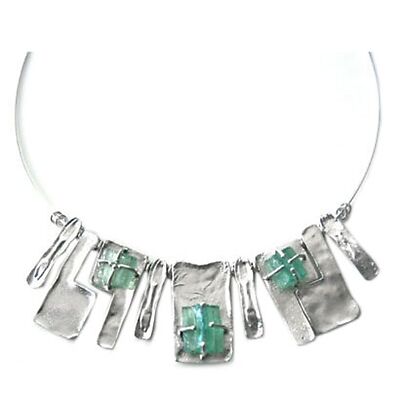 Art Deco jewellery was most popular in the early 20th century. However, it has never truly gone out of style. Elements from this era are incorporated into contemporary styles, and many people still shop for vintage Art Deco jewellery from the 1920s. These pieces feature bright colours and geometric shapes, so pairing them with the proper attire is crucial to avoid making a fashion mistake.
In order to wear Art Deco jewellery correctly, a woman should first take a look at the history of the style and the era in which it originated. This gives a shopper a better idea of the style and the emotions that the designs represent. No matter what season it is or if women prefer vintage over contemporary styles, Art Deco jewellery can be worn to complete any outfit. With a few examples of how to match Art Deco jewellery to different types of outfits, a woman is well on her way to making a fashion statement. Shopping for Art Deco jewellery is simple on eBay. This global online marketplace boasts thousands of listings for Art Deco jewellery.
What Is Art Deco Jewellery?
Art Deco refers to jewellery that was widely popular during the 1920s and 1930s. These pieces featured bright and contrasting colours, geometric and abstract shapes, and linear designs. Art Deco jewellery is known for using diamonds, black onyx, and several other brightly-coloured gemstones as accents in the pieces. Additionally, non-precious materials, such as Bakelite, were used to mould interesting designs and shapes featured in earrings, pendants, and brooches. Motifs inspired by everyday life were also incorporated into some costume pieces of Art Deco jewellery.
One motif in particular that was popular was the Egyptian theme. Because of the popularity of all things Ancient Egypt around the time of the discovery of King Tut's tomb, jewellery designers chose to draw from elements, materials, and images inspired by this ancient civilization.
History of Art Deco Jewellery
Art Deco originated as an art movement in France in the 1920s. This art movement inspired the creation of jewellery that incorporated the same elements. Art Deco jewellery increased in popularity until the mid-1930s when it began to fade out. A resurgence in popularity occurred again in the 1950s and 1960s. While Art Deco jewellery is not as popular as it was at one time, the style has continued to influence jewellery designs even in the present day. So much so that by the early 21st century, nearly 100 years after it was first introduced, Art Deco jewellery is once again becoming popular.
How to Wear Art Deco With Vintage Styles
Some women choose Art Deco jewellery as a way to complete their vintage looks. To match vintage Art Deco jewellery to the correct era, women have to go back to the 1920s and embrace the Flapper fashion. The two fashions emerged from the same period that gave rise to women's liberation and complement each other perfectly.
How to Wear Vintage Flapper Fashion
In order to wear Art Deco jewellery, a woman doesn't have to be limited to a Charleston dress, which is the only image many people have of Flapper fashion. While these dresses pair nicely with dangly Art Deco earrings or large bracelets, other options are available.
For period-specific vintage fashion, women should stick with the popular elements from that era. This style emphasises a masculine shape, so tops and dresses need to have a drop waist to create a tubular figure. Skirts also need to be streamlined to create a straight figure, and the hem should be no longer than the mid-calf. Women should choose Art Deco necklaces, earrings, and bracelets that use loose and linear designs. These tie in with the same designs of the clothing to allow for body movement, and emphasise the freedom that women from this era were celebrating.
How to Wear Art Deco Jewellery in Autumn/Winter
Art Deco jewellery also pairs nicely with contemporary fashions. Shoppers don't need to look for vintage clothing to bring this old style to the 21st century. Autumn and winter jewellery fashions usually involve sparkly diamonds with toned down colours and simple shapes. Wearing Art Deco jewellery allows women to spice up the fashion without breaking any winter fashion rules.
How to Wear Art Deco With a Cocktail Dress
The winter season is the time for holiday parties, most of which require cocktail attire. For women, this usually means pulling out the little black dress and hanging a simple diamond necklace around the neck. While the little black cocktail dress is often required for these types of parties, women have a little bit of freedom when it comes to the jewellery.
For starters, a pair of Art Deco chandelier earrings made from diamonds or cubic zirconia add the much-needed winter sparkle. Women should be sure to wear their hair up, so as not to take away from the earrings. Additionally, adding a large cocktail ring, oversized bangles, and large, geometric Art Deco necklace really emphasises the Art Deco style. Women can remove jewellery to tone down the look for an event, as needed.
How to Wear Art Deco Jewellery in Spring/Summer
When the spring and summer seasons come around, women can wear the brightly-coloured pieces of jewellery that are characteristic of the Art Deco style. These pieces can be worn to spice up a casual outfit or add colour to a dressier look. Art Deco necklaces are particularly fashionable in the spring and summer when there are fewer clothes to distract from the beauty of the jewellery.
How to Wear Art Deco Jewellery With a Strapless Dress or Top
Chunky Art Deco necklaces are often grouped into the same category with statement necklaces. This is because they are bold, stand out, and make a statement about the wearer's personal sense of fashion. A woman should choose a brightly coloured Art Deco necklace that is oversized or has an interesting geometric design. The colours can match those in the strapless dress for a consistent look, or they can clash to draw even more focus to the necklace. Bare shoulders eliminate distractions and allow the Art Deco necklace to be the centre of attention. Women who are afraid to go strapless in the summer can still pull off this look. They just need to be sure to choose a simple top that is a solid colour.
Choosing Art Deco Jewellery
Shoppers have several options to consider before buying a piece of Art Deco jewellery. Once they have learned how to wear Art Deco jewellery, they can begin looking for the pieces that match the outfit and create the look they're going for. In order to find these pieces, shoppers must choose between vintage and contemporary designs, the materials used to make the jewellery, and the price they are willing to spend.
Vintage vs. Contemporary
Vintage Art Deco jewellery should be chosen when dressing in Flapper or 1920s-era attire. Shoppers do not have to invest in authentic vintage pieces, but they do add a certain touch to the outfit. Vintage reproduction pieces mimic the styles seen in the 1920s but were crafted recently. However, these differ from contemporary Art Deco pieces. Contemporary pieces fuse Art Deco elements with current styles. These pieces of jewellery are ideal when dressing in modern fashions.
Materials
Art Deco jewellery can be crafted from any number of stones and precious metals. Sparkly stones and diamonds are popular in vintage and contemporary styles alike. Shoppers should opt for precious stones and metals when choosing Art Deco pieces to wear to a cocktail party or dressier occasion. Brightly coloured stones, pearls, jade, and turquoise work better for casual attire in the spring and summer.
Price
Art Deco jewellery covers a wide range of prices. How much the jewellery costs depends on a number of factors, including the age, condition, and materials used to make the piece. Before searching for Art Deco jewellery, shoppers should set a budget for how much they are willing to spend.
How to Buy Art Deco Jewellery on eBay
If you need a piece of Art Deco jewellery to complete your outfit, eBay offers a large selection of pieces to go along with any outfit. Shopping online at eBay expands your selection, so you are not limited to the jewellery available in your immediate area. Since all of the jewellery listed on eBay is being sold by private sellers, you can often find lower prices there than anywhere else. Finding the best deals on trendy Art Deco jewellery means that you need to learn how to search the listings effectively so that nothing is missed.
Searching for Art Deco Jewellery
The search for Art Deco jewellery should begin with a basic keyword search. Type keywords to describe what you're looking for and begin the initial search. Rather than using a broad search term like 'art deco', be sure to add a bit more detail so you are not overloaded with results. A search for something specific like 'amber art deco necklace' may return a more manageable number of results. Select options to narrow down the jewellery to better match what you are looking for. Finally, read the item descriptions carefully and compare the prices for each piece to determine which one is the best deal.
Conclusion
Women can break free from the same old fashion trends that circle around each season by incorporating Art Deco jewellery into their outfits. These bold and geometric styles can be matched with any outfit for just about any occasion. Because Art Deco pieces are so unique, it is important for women to know how to match them correctly. Otherwise they may end up with an outfit that is distracting or clashes with the style they are going for. Carefully selecting pieces of Art Deco jewellery to go along with an outfit ensures that she'll stand apart from the rest with her fashion forward sense of style. Once women have learned how to pair Art Deco necklaces, bracelets, rings, and earrings with their favourite outfits, the shopping process becomes much easier. Additionally, the process is simplified by shopping on eBay for Art Deco jewellery. With a large selection of jewellery that is always changing, shoppers can find unique pieces and great deals.