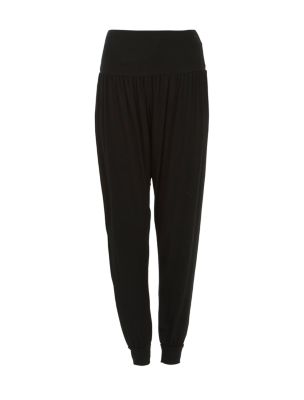 Harem trousers have been around for years, making appearances in fashion magazines time and time again. More than just a trend, harem trousers are being integrated in the wardrobes of women everywhere. For those who want to learn more about harem trousers and how to wear them, this guide provides many useful tips.
For example, when wearing harem trousers to work, ladies should stick to certain types of trousers, especially in office environments that are very conservative. The addition of a blouse or jacket can help to give harem trousers a professional polish.
When not at work, ladies can feel free to experiment with various fabrics, fits, and colours. However, they should pay attention to the types of harem trousers that they buy because different trousers achieve very different looks, as this guide explains. Whether women are looking in retail stores or on eBay, they should learn a little bit about harem trousers before they begin shopping.
Wearing Harem Trousers at Work
Harem trousers are surprisingly versatile, enabling ladies to be fashionable both at work and on the weekends. For a professional look, buyers should opt for harem trousers that are billowy at the top but quite fitted from the knees down. Moreover, darker colours are better for office settings than vivid ones. A pair of black harem trousers that is fitted at the knee creates a look that is fashionably sleek without being over the top. Because office styles are usually a bit more conservative, women can incorporate some classic pieces, like jackets and blouses, in order to dress up harem trousers for work.
Dressing Up Harem Trousers with a Blouse
When wearing harem trousers to work, the final look greatly depends on the other pieces that make up the ensemble. Blouses are an essential part of any work wardrobe, and ladies can match various colours and fits with their trousers.
Choosing the Colour of the Blouse
For this reason, ladies should turn to the classic combination that brings together the black pair of trousers and the white blouse. This combination is a mainstay of office fashion, and its conservativeness helps to offset the adventurousness of harem trousers As a result, ladies can wear these kinds of trousers without fearing that they look too trendy or wild for the office. Of course, wearing coloured blouses is also an option and a great way to show off personal style. Buyers should therefore consider their own tastes and work environments when deciding which blouses to pair with trousers.
Choosing the Fit of the Blouse
Because harem trousers are so loose at the top, the ideal blouse for these trousers is fitted and possibly worn tucked in. Tucking in the blouse provides a slim profile from the waist up, which contrasts nicely with the loose fit of harem trousers. With harem trousers that are fitted at the knee, this contrast is even more striking. Combinations can also be made with loose blouses, and this look works well with layers. For buyers who want to wear various types of blouses with their harem trousers, using jackets can help create a professional layered look.
Dressing Up Harem Trousers with a Jacket
For more traditional work environments, jackets can be used to make outfits with harem trousers look stylish yet serious. For business casual dress codes, ladies can consider tweed blazers and cropped jackets. Loose-fitting or baggy jackets could also be an option for very casual workplaces or for buyers who prefer the bohemian professional look. In more conservative environments, ladies should probably stick to conventional jackets in traditional colours like black, grey, and brown. No matter what styles buyers ultimately pick, they will have a large variety of both jackets and harem trousers to choose from.
Wearing Harem Trousers for Leisure
Harem trousers work especially well for leisure time. Since they are so versatile, they can be worn whilst running errands, grabbing a coffee, going to dinner, or partying. Whether buyers want to find harem trousers for day or night, they have plenty of options.
Choosing Harem Trousers for Daytime Wear
During the day, ladies can opt for lighter fabrics and casual styles. For example, harem trousers that are loose all along the length of the leg are both comfortable and trendy. Furthermore, they usually come in light, breezy fabrics that will keep buyers cool even when they are running around and getting things done. To complete these daytime styles, ladies can pair harem trousers with strappy sandals. Another option, for ladies who will not be running around or who feel very comfortable in heels, is to pair the harem trousers with chunky heels. Even a slight heel will help compensate for the bagginess of the trousers, which helps petite wearers look more striking when wearing these trousers.
Choosing Harem Trousers for Evening Wear
At night, those who wish to wear harem trousers can truly get creative. Harem trousers are available in vivid colours, sparkly fabrics, and fashionable fits, and buyers can explore all of these possibilities in the evening, the time of day when experimenting with fashion is expected. When choosing colours for their harem trousers, buyers can make decisions based on their personal preferences. However, when it comes to fabric and fit, these types of trousers offer some special benefits that buyers can read about below.
Fabric Choices for Harem Trousers Worn in the Evening
Fabric is one of the most important aspects to consider when deciding which kinds of harem trousers to wear. The following chart gives a few examples of common fabrics for harem trousers. It also explains what kinds of looks can be achieved with these fabrics and which occasions such trousers can be worn for.
| Fabric Type | Look Achieved | Appropriate Occasions |
| --- | --- | --- |
| Silky | A classic look with elegance and glamour | Fancy dinners, cocktail parties, anniversaries |
| Glittery | An adventurous and flashy look that really makes a statement | Parties, girls' nights out, birthdays |
| Sheer | A sleek and daring look that will turn heads | Parties, dates |
| Sturdy cotton | A fun and crisp twist on traditional trousers | Business dinners, formal get-togethers |
| Soft Cotton or jersey | Comfortable fashion for quieter nights | Casual dinners, hanging out with friends |
By looking at this chart, buyers can choose the fabrics that correspond to their styles and evening activities. This will help them to determine which kinds of harem trousers will suit their fashion needs.
Fit Choices for Harem Trousers Worn in the Evening
During the evening, buyers have the freedom to experiment with the extreme styles harem trousers offer. Some trousers attract attention by being extremely wide and billowy. Other trousers play with contrast by being wide and puffy at the top and ultra-fitted and smooth below the knees. This enables women to integrate several different pairs of harem trousers into their wardrobes because different fits can dramatically alter the appearance of the trousers. With such variety available, it is easy to see how harem trousers have become so popular.
Buying Harem Trousers on eBay
Ladies who wish to find harem trousers can do so in a number of places. For example, large department stores, women's retail clothing shops, and fashion websites all offer women the opportunity to shop for harem trousers. Women who want a convenient way to browse through a wide variety of harem trousers can also shop on eBay. In order to locate harem trousers on eBay, buyers can enter "harem trousers" in the keyword search bar at the top of every eBay page. To find exactly what they want, buyers can try various combinations of keywords, like "black harem trousers" or "cotton harem trousers."

It might also be worth searching contemporary fashion collections such as Yeezy by Kanye West, for items or ideas on how to style Harem Trousers.
Using Filters to Narrow Down eBay Search Results
Buyers can also use eBay search filters to narrow down results even further. In this way, ladies can set their own preferences for criteria like price, condition, and location. This enables buyers to quickly find the harem trousers that correspond to their needs.
Conclusion
Harem trousers have re-emerged as a fashion trend that is here to stay. Women who decide to try these trousers discover that there is a large range of styles that fit many different environments and occasions. For the workplace, ladies can choose more conservative looks. Such looks include sleek harem trousers that are fitted below the knee and trousers in dark colours. In order to create an entire ensemble, women can pair the trousers with nice blouses or jackets. By combining various pieces, an appropriate look for any work environment can be created.
When not at work, ladies can wear the trousers to run errands or do other daytime activities. Harem trousers can be both comfortable and trendy, making them great to wear during the day. During the evening, ladies have even more freedom to create bold outfits with harem trousers. By choosing the right fabrics and fit, they can have harem trousers for formal outings, flashy parties, and many other night-time occasions. Shopping on eBay enables buyers to find the trousers that will help them to create stylish looks for work and for play.