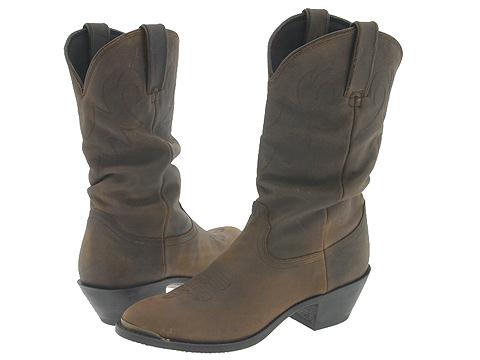 The slouch boot is an ideal choice of footwear to dress up a casual look. Some find traditional boots, with their stiff shafts, to be uncomfortable to wear. This is because stiff boot shafts can chafe ankles and calves. In contrast, slouch boots are made of soft, buttery leather that lays softly against wearer's lower legs. Slouch boots can be worn in any season and can be paired with skinny jeans, cargo trousers, or even dress slacks for a slightly dressed-down formal look.
The different types of slouch boots include the unadorned slouch boot, the heeled slouch boot, and the Western-style slouch boot, with its pointed toe, rounded top, and low, stacked heel. Which type of slouch boot to wear with what clothing to pair with the boots depends on the occasion and the setting. These boots are very versatile. Ankle boots can be paired with skinny jeans, while mid-calf boots work well for looser styles of jeans or trousers. Low-heeled slouch boots work best for dressier occasions. Slouch boots are available from shops that sell men's shoes. However, the stocks in high street shops are often limited. A shopper will find the widest range of slouch boots on eBay.
What Is a Slouch Boot?
A slouch boot is characterised by a supple shaft. The shaft is the part of the boot that extends from the foot up the calf. With traditional boots, the shaft is quite rigid. Instead of being firm, the shaft of the slouch boot scrunches up, and this boot usually fits looser around the lower leg of the wearer. The slouch boot can vary in heights from ankle height to mid-calf slouch boots. Slouch boots are manufactured from a variety of materials. These shoe materials range from natural leather to manmade materials. Slouch boots have been made from suede, canvas, and even man-made materials like pleather. The slouch boot is the one boot that has something for every man and one of the best things about slouch boots is the fact that they can be paired with almost any casual outfit as well as some dressier ones, if the occasion warrants a dressed-down smart casual look.
Benefits of the Slouch Boot
The slouch boot is extremely versatile and works well with any style of clothing, including trousers, and some slacks. They are very comfortable to wear. Because the shaft is not rigid, slouch boots can accommodate large as well as thin calves, and because of their forgiving nature, slouch boots can be worn in a variety of ways and with a wide range of clothing choices.
Types of Slouch Boots
Slouch boots are available in a variety of styles that range from flat-soled ankle slouch boots to mid-calf low-heeled boots, such as the Western-style slouch boot. These boots are categorised according to the height of the shaft. The boots may be embellished or sport a distressed look with factory-oiled leather.
The slouch boots of today are modelled after the slouch boots of The Eighties, which sported cuffed shafts and low heels. However, the modern incarnation is slouchier, softer in the shaft, and the heels are more conservative and practical. When choosing a pair of trousers to go with one's slouch boots, think about comfort as well as style. A pair of jeans works very well with slouch boots, as do cargo trousers.
Often slouch boots are made to have a distressed look. This look is popular with those who want a boot that appears to be comfortably worn in. However, due to the nature of the look, wearing this particular style of slouch boot with more dressier attire is not a wise move. Instead, choose faded jeans with a softly worn in appearance or a pair of worn in cargo trousers.
The wearer should complete the look with an open, button-down shirt with a t-shirt worn under it. The buyer, should try different combinations until they find a look that goes well with the wearer's individual sense of style. Remember, that no particular look or combination of clothing is right or wrong, it all depends on the wearer's personal sense of style, and what looks best with distressed slouch boots.
Low Slouch Boots
This style of slouch boot does not extend up the calf but stops just above the ankle. Because of their low attitude, low slouch boots will complement any man's physique. Low slouch boots go particularly well with skinny jeans as the leg of the jeans fit nicely inside the soft shaft of the boot. The result is a sleek appearance that is very stylish. For a chic look in warmer weather, ankle slouch boots can be worn with linen trousers or cotton cargo trousers.
Mid and High Ankle Slouch Boots
Slouch boots that continue past the ankle and up the calf slightly are referred to as mid or high ankle slouch boots. Compared to the ankle style slouch boot, this version is far more versatile as it can be worn with a wider variety of clothing. For instance, traditional or skinny jeans and a variety of slacks look great with low rise slouch boots. However, there are some guidelines to consider for wearing mid and high ankle slouch boots. For instance, because of the vast array of colours that ankle boots are now available in, buyers should search for the shade that best complements the attire they wear. Try to stay away from black ankle boots if the idea is to pair the slouch boots with light-coloured linen slacks. Alternatively, if black jeans are on the agenda, light-coloured slouch boots with dark pants would just draw too much attention to the shoes. The appropriate pairing of colours provides a smart and stylish look.
Trying on Slouch Boots
Due to the soft and supple leather and flexible shaft, the slouch boot is easy to slip on and take off. To put on a slouch boot, the wearer simply needs to gently grasp the leather pull-tab on the shaft and slide the foot into the boot. The wearer needs to make sure that the toes do not touch the tip of the boot, as they must be able to freely move within the toe box of the shoe. The heel of the foot must cup comfortably into the heel of the boot without the heel experiencing any chafing. The ankle and arch of the foot should be well supported and the foot should fit comfortably. The calf of the leg should feel only the softness of the buttery leather. When walking, the wearer should not feel the leather constantly rubbing up against their calves.
How to Find Slouch Boots on eBay
When looking for the perfect pair of slouch boots, most shoppers think of visiting their local high street first. Due to constraints like physical space, most stores are not able to keep a wide variety of styles and sizes of slouch boots in stock. For a wider range at better than high street prices, you should try eBay. First go to eBay's homepage and locate the search bar at the top of the page. Enter keywords that describe the slouch boot you are looking for. For example, if you enter 'low slouch boots', this action will pull up a results page with listings for slouch boots that match that description. You can sort the listings by applying various filters. For instance, you can sort the listings by colour, heel height, type of fastener, brand, and upper material.
Once you have found the perfect pair of slouch boots, you can purchase them in one of two ways. One way is to pay the seller's list price, or you can participate in an auction. The seller will specify the buying method in the item description. Take careful note of the size listed in the item description. If no size is listed, you should contact the seller by going into their profile and clicking on the contact link. If you are thinking of purchasing used slouch boots, it is wise to ask the seller for photos of the boots from different angles, so that you can examine the slouch boots for any signs of wear and tear.
Conclusion
For a casual and relaxed look, choose slouch boots that will complement dressy trousers, skinny jeans or cargo trousers. Choose between flat-heeled ankle slouch boots or low-heeled slouch boots. Wearing slouch boots will enable any man to dress smartly while staying comfortable. Wear slouch boots with a pair of skinny jeans and a vest or cardigan for a casual and laid-back look, or wear a pair of ankle slouch boots with nicer, dress trousers for a dressed-down, smart casual occasion.
When selecting a style of slouch boot, the buyer should consider the size heel, height of the shaft, or rise, and the type of shoe material. Soft, buttery leather slouch boots are not only casually chic, but create a feeling of sensual enjoyment that cannot be matched by traditional stiff leather boots, with their unforgiving stiff shafts. Because of the soft shoe material and the looser fit, slouch boots can comfortably accommodate calves of various sizes. While a shopper's first inclination might be to search for the perfect slouch boots in high street shops, a much wider selection of slouch boots can be found on eBay, often at prices much lower than those on the high street.