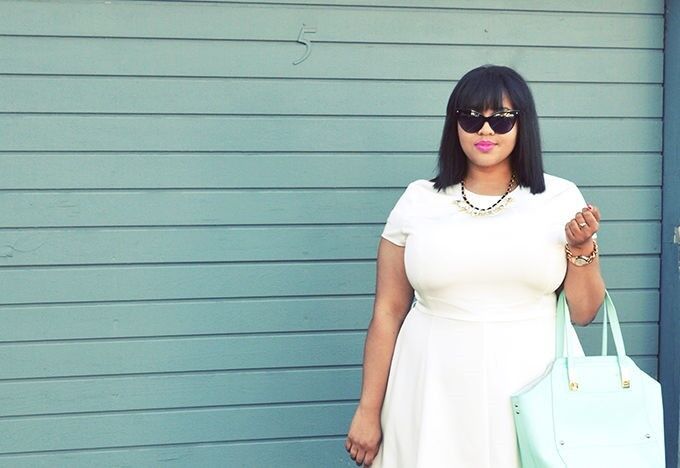 Many of you know I'm a rule breaker when it comes to fashion, and one of the things I hate most is when people tell plus size women to stick to dark colours and avoid white at all costs. It's an outdated, fat-shaming concept! I've seen plenty of plus size ladies look absolutely fabulous in white, and it happens to be one of my favourite colours year round. I'm not going to argue that black isn't slimming, but I will argue that sticking to dark colours just to appear smaller is a really limiting and boring way to live life. I may look larger in white, but that doesn't automatically mean I don't look good.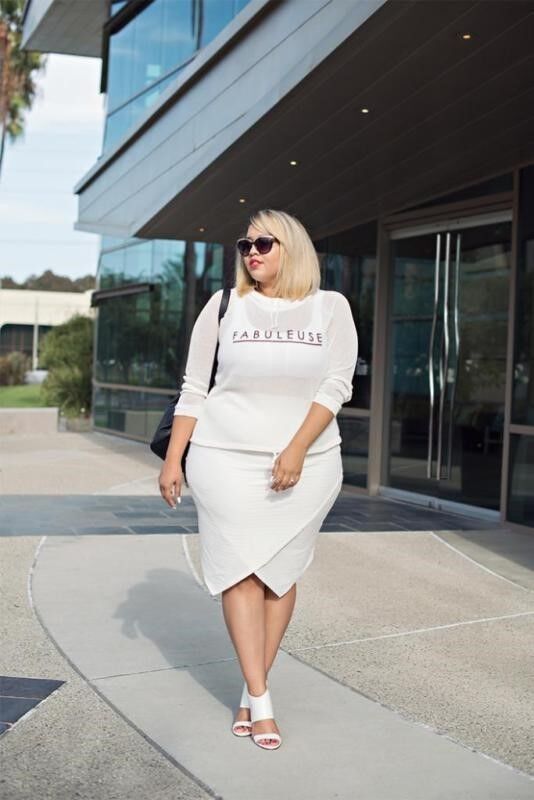 If you want to go super chic, adding black details to a mostly white outfit is always a great idea. Above, the
black lettering
on the top paired with the
black bag
and sunglasses creates a minimalist feel that's super fashion forward. (Note: to achieve this look, make sure not to add any other colours to the outfit. Less is more.)
Another one of my favourite things to do when wearing white is
mixing textures
and shapes. Above I'm wearing a
mesh top
with a knit asymmetrical skirt and leather shoes. Even though all the items are white, there's depth to the outfit because the different shapes and textures add interest.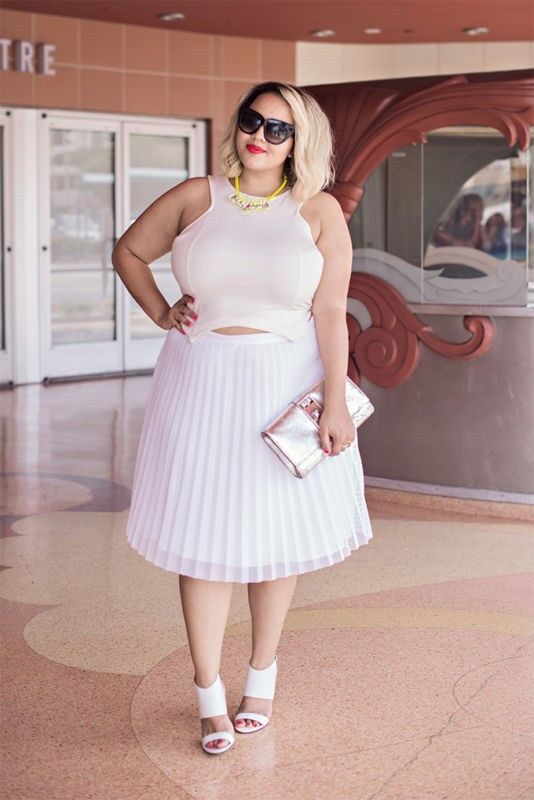 Same goes for this outfit: my crop top has a non-traditional shape, and the
skirt
is pleated with a mesh overlay. Its unexpected details like these that make monochrome outfits much more stylish.
My last tip when wearing all white? Make sure you carry a
stain remover pen
! I know it should be obvious, but white outfits are best for days when you don't plan on doing (or eating) anything potentially messy!
For more of my favourite white items, check out my collection here.