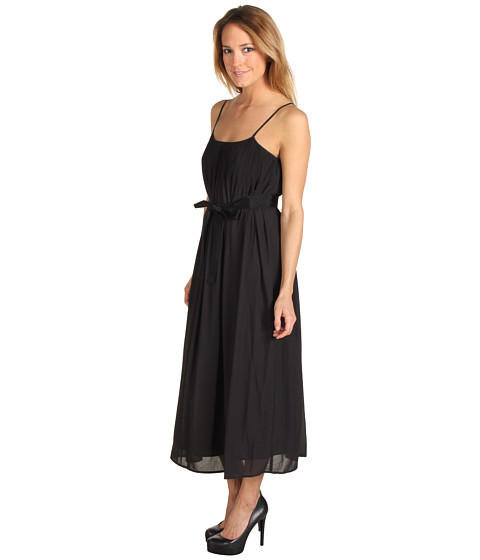 Women have quite a few choices when it comes to hemline lengths. Minis and micro-minis are worn several inches above the knee, while other modest types of clothing have lengths at the knee or a couple of inches above or below the knee. The ankle has its share of hemlines, with dresses worn above or below it and, not to be outdone, the calf has dresses that go by the name of calf-length dresses. These calf-length dresses also go by the name of midis, which have never been as popular as the other hem lengths. The reason for this is that more often than not, calf-length dresses appear sloppy. With these dresses, there appears to be a very thin line between frumpy and chic and therefore, they must be worn at the precise length.
A woman can achieve a fashionable look with a calf-length dress with a little thought to the style and fit of a dress, as well as the accessories to go with it. Calf-length dresses are still popular, as is evident from the fact that this type of clothing is available at brick-and-mortar retail stores and online stores as well.
The Tall and Short of Calf-Length Dresses
The verdict on calf-length dresses by fashionistas is very much in favour of tall, leggy women, as the hemline at the calf hides part of the legs to give an illusion of reduced height. Therefore, women of average or short height would appear shorter in calf-length dresses. While body shape plays an important part in determining whether a calf-length dress is suitable for a woman, lack of height can be made up by wearing heels. And a woman determined to wear calf-length dresses for the modesty and comfort it offers may certainly go ahead and don them. Oodles of attitude, high self-esteem, and elevated heels can be a great combination here.
Guidelines for Wearing Calf-Length Dresses
Despite numerous choices of hem lengths, it is often the one that is out of bounds that the woman wants to conquer. This is so with calf-length dresses as well. Using the tips below can enhance the experience and earn compliments as well.
The Right Fit and Style Does the Trick
While this mantra about the perfect fit and style holds good for every outfit, it is all the more relevant for the challenging calf-length hemline. Another factor to consider is the fabric used in the calf-length dress. These longer hemlines in printed fabrics, leather, or knitted material created in straight pencil silhouettes endow a smartly-turned-out look for those with straight or rectangular and athletic body shapes. A dress made from the versatile jersey can offer just that right touch of sophistication while enhancing the figure. For women with body shapes such as apple, pear, hourglass, the idea is to make the calf-length dress more ladylike with pleats or ruffles. For these types of figures, using sheer fabrics to draw attention away from the unflattering length can also help. Another option is to have an attractive deep cut for the neckline on the back, which could be square, use criss-crossing bands, or a deep V or U, all of which can look good on a woman.
Vary the Hemline to Suit Your Body
Wearing calf-length dresses can mean that the hemline of the dress falls at the widest part of the calf. Therefore, the length of the leg is an important factor here. While accentuating the thickness of that part of the leg, the dress also hides a good length of the leg, making the person appear shorter. By changing the hemline a little bit, going higher for those with short, stubby legs and pairing the outfit with high heels can be a game changer. For women with legs that are of average length and with calves that are not too thick, a figure hugging calf-length dress with the hemline at the calf and high heeled boots can be a great option. Women with long legs and generously endowed calf muscles can take the liberty to lower hemlines ever so little, by an inch or so, on a dress that creates a slim silhouette and also shows off a part of their calves.
Measuring a Flattering Hemline for a Calf-Length Dress
Women who would love to own a calf-length dress but are afraid to do so out of apprehension about the way they would look may try out a simple 3-step procedure to gauge the hemline effects. First, wearing shoes that one would with a short dress, and stand in front of a full length mirror wearing underclothes. Second, take a length of fabric, wrap around the body, and adjust the fabric at variable length from the feet upwards. Third, make a note of all lengths that flatter the body and pick out the favourite one to use on a calf-length dress.
Calf-Length Dress Style Options
When selecting a calf-length dress, there are many different types to choose from. A calf-length dress is a chic and stylish look for a woman, no matter what her tastes and preferences may be.
Scoop Neck Jersey Midi
Elegant and comfortable, the scoop neck jersey midi is a style statement in itself. The dress in pencil silhouette may be plain or have pleats at the waist and can be paired with a suitable waistband and high boots. This is ideal business wear or for an evening dinner as well.
High Neck Sleeveless Midi
A classic turtleneck and sleeveless dress combination or a backless midi with a halter neck, mostly in black, brown, grey, and other dark colours, creates an attractive youthful look. These midis worn with high heels or ankle length boots are certain to make many heads turn.
Pleated Calf-Length Dresses
Calf-length dresses with the fit-n-flare skirt in pleats or the whole dress with pleated fabric creates a flirty, casual look, especially when combined with colourful and funky accessories that transform the drab hem length. These pleated midi dresses generally have bright floral prints or may be plain in single colour and can be worn as daywear.
Empire Waist Summer Calf-Length Dresses
Empire waist midi dresses with swaying flared skirt and fitted bodice in floral prints and soft fabrics are high on comfort. The empire waist feature is appropriate for different body types, sizes, and heights.
Use Heels and Accessories with Calf-Length Dresses
Wearing calf-length dresses with flats or flip-flops is not appealing, because the hemline has already made the wearer appear shorter. Women with average or below average height can enhance the look of the calf-length dress by pairing it with high-heeled shoes. Peep-toes, ankle length boots, and pumps are great options here.
Don't forget to leverage some great accessories including jewellery and handbags to accentuate a midi look. For example, chunky bronze, silver, or wooden jewellery, a Boho style sling bag, and a pair of sunglasses can add a great deal of charm to summer calf-length dresses in soft, flowing fabrics.
Buying Calf-Length Dresses on eBay
Numerous varieties of calf-length dresses such as summer midi dresses, knitted midis, and pleated midis are available on eBay in various colours and prints. Searching for dresses on eBay is easy, as there are links to the numerous pages that list the dresses available on the website. You can begin by conducting a basic search by typing "calf-length dress" in the search bar, to get an overall understanding of the types of clothing available in this category on the website. Once you have a sense of the specific type of calf-length dress you would like to purchase, you may narrow down your search using the advanced search tool on the website.
With eBay's numerous functionalities, shoppers can choose to buy dresses from top-rated sellers. To purchase confidently on eBay, a potential buyer can read the feedback a seller has received on earlier transactions, and choose a seller with a great track record.
Conclusion
Calf-length dresses, or midis, are a popular type of clothing option that offers flexibility in hem length to women. Leading fashion designers have been creating various styles of calf-length dresses that can accommodate different body types and sizes. Although calf-length dresses are considered to offer modesty, some styles such as the sleeveless turtleneck midi and the scoop neck jersey midi are figure hugging and can help accentuate a woman's shape. This makes the calf-length hemlines accessible to all women, although short women may be well advised to pair midis with high heeled shoes for that chic look.
A couple of calf-length dresses in the wardrobe can help spice up the daywear during spring and summer. Women can opt to wear sexy midis for formal occasions, if they feel they can carry the look well. Testing a look with a cheaper midi before buying a high end design is a good idea. The numerous options that an online website such as eBay offers can make the process of finding that right calf-length dress easier.