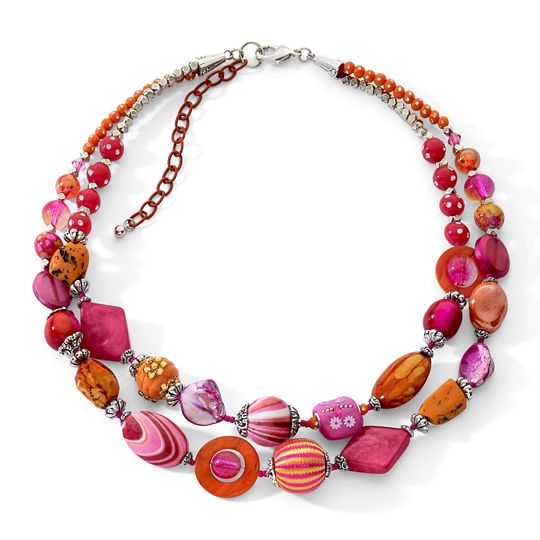 Wearing a chunky necklace can transform a drab outfit to a chic and funky one without breaking the bank. These necklaces are available in bright, bold colours and varying lengths and styles. They are made from materials such as beads, acrylic, plastic, resin, glass, metal, gemstones, shells, or wood. Bright colours and interesting materials allow these accessories to add an element of fun to the wearer's wardrobe. Their size means that chunky necklaces are often worn as bold statement pieces. They are versatile and the right necklace can be found for any occasion.
Learn how to choose the right colour of chunky necklace for an outfit and how to match necklace materials to an occasion. Find out how to wear a chunky necklace to work, with party dresses, and with casual clothing. Learn how to accessorise the necklace properly for the best effect and what general guidelines to follow when wearing it. Chunky necklaces are available from fashion shops and department stores, and from online sources, such as eBay.
Choose a Chunky Necklace in the Right Colour and Pattern
Chunky necklaces are available in a huge variety of colours and patterns. Some necklaces are multi-coloured, while others have a specific theme. As a rule, wear a patterned necklace with a plain top or dress and a plain necklace with a patterned top or dress. This eliminates conflicting patterns and the outfit does not look too busy. In addition, wearing a combination of a plain and a patterned item allows the necklace to stand out. This also applies to tops and dresses with embellished necklines: a chunky necklace does not look its best when worn with decorated necklines.
The colour chosen should complement the wearer's outfit and skin tone. People with cool skin tones look better when wearing silver and cool colours like blue and white, while those with warm skin tones look better when wearing gold and warm colours like orange and red.
Match Chunky Necklace Materials to the Outfit
With the extensive range of materials used in the manufacture of chunky necklaces, finding the right material for a necklace should be simple if the material is matched to the occasion and other elements of the outfit. A crystal or glass necklace can be worn with an elegant dress for a night out, while a wood tribal design is more suited to a casual look and can be paired with a beaded bag and strappy sandals. Acrylic flowers match a sundress or casual skirt, while a chunky pearl necklace looks great with an elegant outfit.
Choose a Chunky Necklace for an Occasion
Chunky necklaces can be found to suit a variety of occasions. The right necklace can be chosen to wear to work, with a party dress, or with a casual outfit.
Wearing a Chunky Necklace to Work
A chunky necklace can be worn with a button down shirt for work. Either wear it under the collar like a tie or opt for a bib necklace with a collared shirt. Of course, these necklaces are an excellent choice for adding a splash of colour when wearing shift dresses. Those who work in offices where conservative dress is required should choose solid coloured chunky necklaces that are not overly large.
Wearing a Chunky Necklace to a Party
A chunky necklace is the perfect accessory for a party dress. Choose a metallic or crystal necklace for added glitz and glamour and match it to the wearer's bag. To make a party dress less formal, add a plastic or resin chunky necklace. To dress it up, choose a chunky necklace made of delicate components, such as small crystals. Smaller designs featuring gold or silver embellishments often add a sense of elegance.
Wearing a Chunky Necklace to a Casual Event
For casual outfits, just about anything goes. From wood to beads to crystals, bright colourful designs to solid colours, almost any chunky necklace matches a casual outfit. Choose a theme, for example flowers or animals, and accessorise the shoes and bags to match. Crystals can be used to add an element of glamour to jeans and a T-shirt, while wood, shells, or beads work well with hippie-inspired looks.
Accessories to Wear with a Chunky Necklace
Chunky necklaces should be worn without any other jewellery, as combining them with other pieces could create an overwhelming effect. If the temptation to add a little something is too great, choose a cocktail ring only. Instead of wearing jewellery with a chunky necklace, match the necklace to shoes, a bag, or a belt. Avoid wearing a scarf that covers the necklace or adds too much bulk at the throat. This gives the outfit a more polished look, without detracting from the effect of the necklace. Giving the necklace some space makes it more eye-catching.
Tips for Wearing a Chunky Necklace
Some general tips are helpful to know when wearing a chunky necklace. When wearing a bib necklace, wear it over the neckline of a top or dress to create a unique look. Alternatively, wear it an inch or two higher than the neckline to avoid the need to adjust it throughout the day, and to create a clear line between the two.
It is best not to pair a chunky necklace with other necklace styles as this could look too gaudy or busy. Allow the necklace to make a statement by leaving it uncluttered. For formal occasions, avoid chunky necklaces made of cheaper materials, such as plastic, and choose more expensive pieces that feature, for example, semi-precious stones. Chunky necklaces work best with open neck tops and dresses, and may not look as good with polo necks or tops with very high collars.
Keep the wearer's build and body shape in mind while shopping for a chunky necklace. Women with short necks should choose longer necklaces to avoid looking bulky. Conversely, women with longer necks should opt for neck hugging chunky necklaces that make their necks look slender. Delicately built women may seem to drown in large chunky necklaces and should choose smaller pieces.
How to Buy a Chunky Necklace on eBay
There are three basic steps to buying a chunky necklace on eBay: search for the necklace that you want, and evaluate the item and the seller before you buy.
Type a search phrase, such as "silver plated chunky necklace", into the search field, which can be found on every page, to see the items available from eBay sellers. Refine your search by choosing the most appropriate item characteristics. If you would like more control over your search, use the advanced search feature.
Before You Buy on eBay
Once you have found the item that you are looking for, click on the listing to go to the item listing page. Here, you are able to find everything you need to make an informed buying decision. The information displayed on this page includes the full item description, buying options, the seller's accepted payment methods, postage and packaging costs, and the seller's feedback details. If you have any questions about a listing, click on the "Ask a question" link to contact the seller.
Use the seller's feedback information to make up your own mind about a particular seller. To access this information from the item listing page, click on the number next to the seller's username. Buyers are encouraged to leave feedback about sellers' products and customer service at the end of each transaction, so you can use this information to see what others have experienced when buying from specific sellers.
Conclusion
A chunky necklace can be added to an outfit to create anything from a colourful funky look to a bold, elegant statement. The colour and pattern of the necklace should complement the colour and pattern of the outfit. It is best to wear a plain necklace with a patterned top or a patterned necklace with a plain top. Avoid embellished necklines for the most striking effect. The materials used in the necklace should match the outfit. For example, crystal or semi-precious stone necklaces are best for formal occasions or an elegant look, while plastic is best suited to casual wear. Match the style and type of necklace to the wearer's shoes and bag to tie an outfit together. Chunky necklaces can be worn to work, with party dresses, or with casual clothing. They can be used to dress outfits up or down as the wearer's mood or the occasion demands.
A chunky bib necklace can be worn over the neckline of a top or dress to create a new unique line. Wearing it slightly above the neckline creates clearer definition. Chunky necklaces look their best when worn on their own with open neck tops and dresses. Resist the temptation to pair them with other jewellery. Consider the wearer's build while shopping for the necklace and choose a design that is flattering and does not overwhelm the wearer. A variety of chunky necklaces are available from eBay sellers in a range of styles.