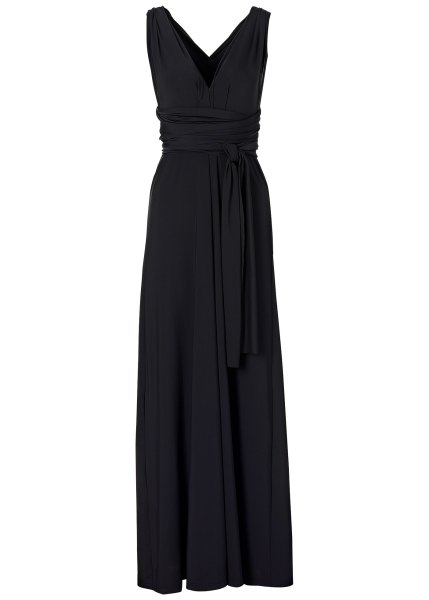 Formal events hosted over the centuries have demanded dress codes for the men and women attending them, and a full-length evening gown is what women are expected to wear to such events.
Elegant and stylish, full-length dresses continue to be sought after by women all over the world. The cyclic world of fashion, glitz, and glamour has been constantly evolving, setting new trends combining chic designs and swanky styles, but the timeless appeal of the full-length dress has always held ground. Regarded by many as the epitome of femininity, full-length dresses are created in several styles. Numerous variations of these styles ensure that women with any body shape, height, and size can wear and carry off full-length dresses.
The varieties of full-length dresses available at fashion boutiques, shopping centres, malls, and online stores can be mind-boggling. However, shoppers will be pleased to find fabulous styles and patterns at reputed online stores such as eBay, allowing the dress shopper to scroll through page after page of full-length dresses, from the comfort of home.
Should Full-Length be Floor Length?
A full-length dress that sweeps the floor looks the height of elegance. Realistically speaking, however, a dress that trails on the ground could be disastrous, unless the wearer is going to be indoors most of the time and walking on even surfaces. Climbing stairs and going outdoors could easily snag the hem of a floor-length dress as well as attract grime and dust. This certainly is not what one wants after significant expenditure on a fine formal dresses or beautiful wedding gowns. Ideally, a full-length dress will cover the footwear and remain a bit above the ground. Alternatively, a woman who has a lovely pair of shoes that she wishes to showcase along with her gown may choose to have a hem a couple of inches above the ground
Commonly Worn Full-Length Dresses
The pristine white bridal gowns, luxurious formal evening gowns, and beautiful prom dresses spring to mind when one thinks of the category of full-length dresses. Let's take a look at what else this category holds.
| | | | | | |
| --- | --- | --- | --- | --- | --- |
| Formal Dresses | ball gowns | wedding gowns | evening dresses | mermaid dresses | prom dresses |
| Informal Dresses | maxi dresses | caftans | Bohemian dresses | kimono dresses | A-line dresses |
Formal Full-Length Dresses
Often made from high-quality, expensive fabrics such as silk, satin, velvet, lace, chiffon, gossamer, and charmeuse, these full-length dresses are the secret desire of many a woman. The hemline in these dresses can fall anywhere from the ankle to the floor. No wardrobe is complete without several formal full-length gowns tucked away in it for those special occasions.
Ball Gowns
A ball gown has a well-defined fitted bodice narrowing towards the waistline from which a wide, fully flared skirt takes shape and falls all the way to the floor. Ball gowns are embellished with lace, ruffles, flowers, and embroidery using gold and silver threads.
Wedding Gowns
Traditionally full-length and white in colour, wedding gowns are created for that special day that holds a great deal of ceremonial importance for the bride. Richly designed in pristine white and soft fabrics, floor-length wedding gowns may be embellished or may be a simple, well-cut gown with a few flowers or ruffles, if the bride so desires. No longer limited to only white, modern wedding gowns may also be cream or ivory coloured.
Evening Dresses
Floor length dresses, whether with figure-hugging styles and silhouettes such as sheath, mermaid, trumpet, and A-line or peplums and empire waist for those who are conservative, evening dresses are a woman's prized possession. Available in breathtaking colours, evening dresses create a rich, sexy, and stylish look at parties and other semi-formal events.
Mermaid Dresses
Mermaid dresses are figure-hugging dresses that fit close across the upper body down to the knees. The dress flares out below the knee. Perfect for wedding and evening gowns, full-length mermaid style dresses are created using silk, satin, georgette, chiffon, and such other fabrics. These dressed are often highly embellished with intricate work on the bodice and liberal use of ruffles, lace, or layers of fabric on the flare below the knees.
Prom Dresses
Many secondary school girls look forward to wearing prom dresses, which may be full-length mermaid dresses, evening dresses, or ball gowns. These dresses are available with or without slits at the leg, and with different necklines and sleeve styles.
Informal Full-Length Dresses
Comfortable and easy to move around in, informal full-length dresses are ideal for spring and summer seasons. Cottons, voile, calico, chambray, cambric, and linen fabrics in pastel colours, floral prints, and flowing styles create stunning informal full-length dresses.
Maxi Dresses
The maxi dress is a floor-length or ankle-length informal dress whose swaying length imparts grace and enhances the femininity of the woman. Exotic prints, sensuous colours, and snazzy cuts on maxi dresses spell comfort all the way, making these as wearable while on a shopping spree as they are for the park or for the day out.
Caftans
Long ankle-length tunics with wide sleeves and worn with a belt, caftans have origins in Africa and the Eastern Mediterranean regions. Caftans worn by women may have embroidery on the sleeves and neckline; these may also be made from fabrics that have vivid colours and dense designs.
Bohemian Dresses
A Bohemian dress conveys a carefree and fun-loving nature that goes just up to the line of unconventional, and sometimes beyond. Bohemian dresses are flowy and full-length with bright ethnic ikat or paisley prints and can be accessorised with chunky jewellery.
A-Line Full-Length Dresses
The full-length A-line dress, also called the princess cut dress, is narrow at the top and gradually flares as it goes all the way to the ankle to the floor. Though often worn as casual wear, this dress style can also be a formal A-line evening gown with embellishments. The addition of a split near one leg makes the style a sexy and highly fashionable one.
Kimonos
Kimonos are traditional Japanese dresses, a style that has been adapted with variations to create ankle-length or even short kimono dresses. A typical kimono dress has the fabric criss-crossing to overlap at the bust while the sleeves are wide and loose.
Full-Length Dresses on eBay
Because of the worldwide popularity of this dress style, formal and informal full-length dresses can be found aplenty on eBay. A buyer can find every imaginable style of full-length dress, with hundreds of variations in the fabric, sleeves, neckline, and waist. While choosing full-length dresses, shoppers should be certain to check carefully their own measurements against those of the dress in order to find sizes that are the perfect fit. As for the length, most full-length dresses that are plain at the hem can be altered, but some those with some pattern, design, or embellishment that goes all the way to the hem cannot be altered without affecting the look of the dress.
eBay Sizing Chart
Adequate information is provided on eBay as to how to take measurements when choosing apparel. Additionally, sizing charts provided by the seller and the eBay review guides should also be of help in determining the exact clothing sizes. eBay advises shoppers to refer to the seller's description for sizes before using eBay charts and if in doubt, to communicate with the seller before buying.
Other Buyer-Friendly eBay Features
Offering several buyer-friendly features, eBay ensures that shoppers get what they want and find the going easy throughout the process, from browsing for products all the way to making the payments for purchased goods. People will find numerous guides that will help along the way. A shopper can create his or her personal account with eBay and keep track of his or her entire shopping and purchase history. eBay also has several safe and secure payment options so every shopper can choose one he or she finds most convenient.
Conclusion
The process of shopping for full-length dresses, whether formal evening wear, a wedding gown, a prom dress, or even an informal full-length dress, can be an exciting one. The process is made all the more fun and easy by online shopping on eBay, which offers a good variety and fits a wide range of budgets as well. When buying full-length dresses to set up the wardrobe, fashion gurus advocate a judicious mix of formal and informal dresses. While a couple of formal full-length dresses should suffice for everyone but the compulsive party-goer, a number of informal dresses should be chosen, especially for spring, summer, and autumn. Airy and comfortable, informal full-length dresses are a welcome change from the mundane jeans/top or skirt/blouse routine. Dresses with similar designs and patterns in several different silhouettes, colours, and sizes are also available from most sellers and which allows buyers a wide choice. While selecting dresses, shoppers can choose wisely about the silhouettes that would best suit their body shape. Similarly, dresses with different sleeve lengths and varied patterns on the neckline are available to flatter petite women, medium-built, and larger-built women as well. Whether shopping for oneself, for a loved one, or for a friend, these full-length dresses are an excellent gift idea, the only limitation being that the shopper should have a fair idea about the other person's likes and dislikes regarding the product.