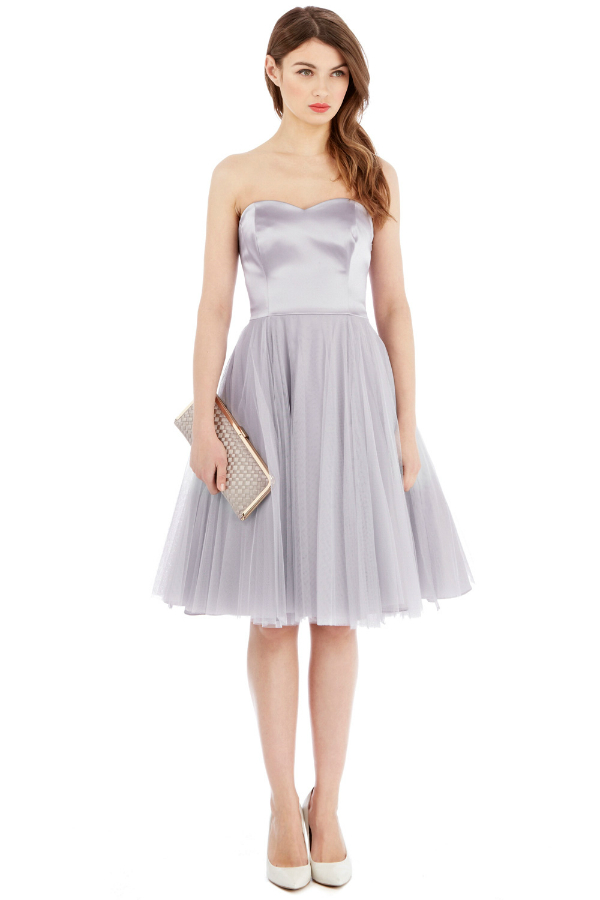 Dresses offer many variations on neckline, style, pattern, sleeve length, and sleeve style, affording women the opportunity to experiment and create various looks and styles. Choices amongst dress lengths provide another way to change one's look. Lengths vary between very short minis to full-length flowing gowns and dresses. Knee-length dresses offer another choice, one that happens to be suitable for women of all ages and sizes. Elegant and chic knee-length outfits can be worn to business meetings and offices with as much elan as they are worn for events such as weddings and parties. Knee-length dresses are versatile, and women can choose from a wide range of styles available in the marketplace. Paired with the right accessories, knee-length dresses can be appropriate for different occasions as well as seasons.
Knee-length dresses are available for purchase at boutiques, malls, and shopping centres. One can also buy them from online retailers and websites such as eBay.
Why Wear a Knee-Length Dress?
The category of knee-length dresses includes outfits that are suitable for different body types, heights, and sizes. Perhaps it is this versatility, along with the fact that knee-length dresses can flatter the figure, that makes these outfits an obvious choice for wardrobes. Additionally, knee-length dresses give women the ultra-feminine look and the feel-good factor that are essential to boosting confidence and carrying off a chosen outfit.
A quick scan of the marketplace reveals that a plethora of choices exists when it comes to knee-length dresses, from the relatively inexpensive kind to dresses created by well-known designers. No matter what a woman's taste, she can be sure to find a knee-length dress that is a great fit for herself. Knee-length dresses can be created combining various styles for the neckline, sleeves, and waist. The silhouettes for a knee-length dress can range from fit-n-flare, A-line, baby doll, and mermaid to sheath and basque styles. The dresses can have sleeves that are puffed, cap, strapless, or fitted, amongst other styles. Fabrics may be colourful with floral, paisley, or self prints, or single colour with prints. Embroidered fabrics and laces may be used to make stunning formal knee-length dresses.
Knee-Length Dress Styles
Many styles are available within knee-length dresses, making them suitable for nearly any occasion, including casual and formal events. Styles range from homecoming dresses to dresses for work as well as summer. Knee-length dresses have also been a popular choice for bridal wear, including brides and bridesmaids.
Homecoming Dresses
Homecoming dresses are popular during the beginning of the new school term. Though many adults prefer that a girl's homecoming dress have a modest appearance, young fashion-conscious girls love sleeveless or short-sleeved dresses with low necklines, and modesty goes for a toss. In this case, the hemline becomes the saving grace of the dress; the accent is on a appropriate look with a touch of glamour. Knee-length dresses in soft, rich fabrics such as satin, chiffon, lace, and other blended fabrics that are minimally embellished are in demand.
Bridal Gowns
Traditionally, brides have worn full-length gowns, but knee-length wedding gowns have also been making the rounds. Many a bride has chosen to flaunt her legs in a knee-length wedding dress, especially in the case of the more unconventional weddings held at the beach or countryside weddings or other semi-formal outdoor locations. Hi-low wedding gowns are also popular with brides. These gowns have dual-level hemlines in which the front of the gown is just at the knee or a wee bit below it and tapers downwards gradually to attain full length at the back, sometimes even forming a train.
Knee-Length Bridesmaid Dresses
Knee-length dresses for bridesmaids in A-lines and frock styles are popular and created using soft and flowing fabrics such as chiffon, satin, taffeta, and organza. Generally, bridesmaids in knee-length dresses feature in less formal weddings that have small guest lists, such as a wedding by the beachside.
Knee-Length Dresses for the Office
A woman can create that professional look donning a knee-length dress without appearing sexy, in a mini or micro-mini, or dowdy, in a dress that is too long. The goal here is to appear well-groomed and elegant. Knee-length skirts and dresses create a stylish silhouette without being figure-hugging. Dresses with conservative cuts but trendy prints and suitable colours, are considered ideal for the office. Suitable materials for knee-length dresses for office wear include cotton, tweed, chambray, and wool. Rich fabrics such as velvet, silk, or taffeta are generally considered inappropriate for work.
Knee-Length Cocktail Dresses
This category includes the quintessential "little black dress", a figure-hugging semi-formal black dress that shows off the curves. Cocktail dresses are usually glamorous, sexy, and attention-grabbing dresses. This type of dress may be a little above the knee, for the bold woman, or right at the knee for a more sophisticated look. Fancy fabrics, sexy necklines and sleeves, and embellishments bring in the wow factor. One-shoulder, lace dresses, peplums, and fringe dresses are some of the popular designs for cocktail dresses.
Knee-Length Summer Dresses
Nothing is more comfortable than knee-length dresses for casual wear during summer. Light pastel colours, sober prints, cool cottons, voile, and similar breathable fabrics are used to make these summer dresses. Short sleeved or sleeveless dresses in A-lines or skirt dress patterns are favoured for this type of dress.
Selecting Footwear with Knee-Length dresses
Footwear worn with knee-length dresses can be selected depending on the occasion and the type of dress. For casual wear, flip-flops or flat sandals are appropriate. However, if formal knee-length dresses are worn to office then pumps it will be, either flat or with a low heel. Party wear dresses are best combined with dressy wedge shoes or sandals, while high heeled knee-length or ankle-high boots also look great with knee-length dresses and are more suitable to be worn during winter.
Selecting Accessories for Knee-Length Dresses
Knee-length dresses that are simple can be accessorised to enhance the style and chic quotient of the dress. A smart silk scarf or stole with a spaghetti strap knee-length dress is eye-catching, while a short jacket worn with an A-line dress or a cocktail dress may invite compliments. Belts give a facelift to most dresses, especially if the wearer has an enviable waistline, adding depth and attitude to the personality. Wide, elasticised belts do full justice to define the curves of a petite woman, while an oversized woman can carry off the dress with elan by using a loose braided rope across the waist. The belt can have a contrast colour, as in leather belts; belts that are a few shades darker than the colour of the dress also look attractive. Crystal belt sashes for bridal dresses, and bridesmaids' dresses worn with sash belts embellished with rhinestones, pearls, and other semi-precious stones add to the richness of the outfits, making them special for the occasion.
Buying Knee-Length Dresses on eBay
With its extensive listings, eBay offers many types of knee-length dresses online. Shoppers can have their pick in design, colour, and fabric, as the online auction site carries products from varied locations on the globe. You can begin the search for a knee-length dress on eBay by entering a simple search term such as "knee length dress". The results give you an idea about the range of options available, along with the pricing. Images of dresses displayed by models also allow you to get a sense of how a dress can be paired with different types of accessories, jewellery, or footwear.
With several dresses available on auction at eBay, shoppers can expect great deals on items. With some research, you can locate items that qualify for free shipping so that you may benefit from additional savings. The many functionalities of eBay make it a user-friendly site, with tips and guides that help a first-time buyer get the most out of his or her shopping experience on the site.
Conclusion
The timeless style of knee-length dresses, with the variations in style, fabric, and pattern, make them a great choice for casual events or formal parties. Ideal for wearing all year round, knee-length dresses can be an integral part of a woman's wardrobe. Knee-length dresses are versatile, and the length of this type of dress can accommodate women of all ages, shapes, and sizes and make them look great. While buying knee-length dresses, one is well advised to purchase dresses made from various types of fabrics, so that a suitable dress is at hand for the different weather conditions during the course of the year. Keeping accessories like belts and stoles handy can ensure that the look of a knee-length dress can be changed to accommodate different occasions. Thus, a woman can be ready for any event such as a business meeting, wedding or an engagement, a family get-together, or cocktail party.
Knee-length dresses in different fabrics and styles are available at brick-and-mortar retailers as well as online at websites such as eBay. With its many search functionalities, eBay can help a woman find just the right knee-length dress that she desires.