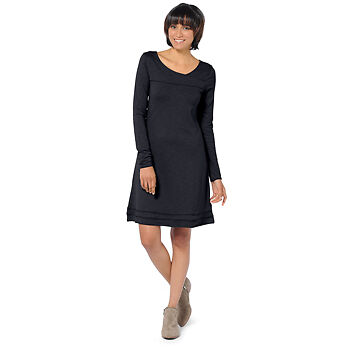 From coffee with the girls on a chilly winter morning, to a elegant cocktail party on a cool autumn evening, long-sleeved dresses are known for their versatility. Models can be found to suit any occasion in cooler temperatures. Women pushed for time can move smoothly between the office and an evening out by adding a few well chosen accessories. The length of the dress is important as it determines the style of shoes or boots that create the most stylish look. Buyers also need to decide whether to wear tights, stockings, or leggings, or to go bare legged.
Important factors to consider when wearing a long-sleeved dress are the dress lengths and how they are compatible with different footwear options, the materials used to make the dress, and the advantages and disadvantages of each material. Finally, accessorising the dress by adding layers of other garments or jewellery can make a plain dress into a fabulous dress. Long-sleeved dresses, footwear, and accessories can be found at women's clothing and shoe shops, department stores, and accessory boutiques, as well as online at eBay.
Lengths of Long-Sleeved Dresses
Long-sleeved dresses are most commonly worn in the cooler times of the year, such as early spring, autumn, and winter. Long-sleeved dresses can be found in any length. The length of the dress should be chosen based on the taste of the wearer, the temperature, and the occasion. Footwear should be selected based on the length of the dress.
Long-Sleeved Maxi Dresses
Long-sleeved maxi dresses have a hemline that reaches the ankle. Long-sleeved maxi dresses can be used as day wear or evening wear. For day wear, they can be paired with warm, calf length boots and tights for a snug, comfortable, and fashionable look. As evening wear, long-sleeved maxi dresses can be paired with strappy sandals or peep toe heels.
Long-Sleeved Mid Calf Dresses
Long-sleeved mid calf dresses can be worn with knee high boots, high heels, court shoes, wedges, or flats. For day wear and cold weather, jersey tights and warm boots, with or without heels are a good choice. For evening wear, high heels work well.
Long-Sleeved Knee Length Dresses
Long-sleeved knee length dresses reach just above or below the knee. Suitable as day or evening wear, these dresses can be worn with or without tights. Ankle boots can work well with knee length dresses, and high heel versions can flatter long legs. However, they should be avoided if the legs are short as they draw the attention downward and visually shorten the legs. Similarly, mid calf boots can be unflattering as the gap between the hem of the dress and the top of the boot visually cuts the legs and makes them appear shorter.
Long-Sleeved Mini Dresses
Long-sleeved mini dresses can be worn at any time of day. Pair them with stiletto heels to make a bold statement. For style and warmth in the colder months, any length of boots can work. To elongate the legs, wear tights in the same colour as the dress and boots. Delicate flats, such as Mary Janes create a simple everyday look.
Long-Sleeved Dress Materials
Long sleeved dresses are available in different materials. The material determines whether the dress is more appropriate for day wear or evening wear, so consider where the dress will be worn before selecting it.
Jersey Long-Sleeved Dresses
Jersey is made from closely knitted cotton or cotton blended with synthetic fibres. The close, equal stitches makes long-sleeved jersey dresses very good at keeping the wearer warm as they trap body heat and do not allow much cold air to penetrate.
Woollen Long-Sleeved Dresses
Woollen long-sleeved dresses are incredibly warm, as wool is a natural insulator. Long-sleeved dresses made from wool are commonly in the tunic style. They tend to be shorter because wool is heavy. Wool dresses can be pulled out of shape easily, so they should be hand washed and dried flat.
Rayon Long-Sleeved Dresses
Rayon, or viscose, is a strong synthetic material that holds dye well, so dresses are available in a large range of colours that stay vibrant. Rayon has a silk-like feel and appearance, and is prized for being comparatively less expensive. Rayon dresses, especially those with lots of sequins or other embellishments, are often worn as evening wear. Rayon does not age as well as other fabrics, and can show wear marks and pilling over time.
Polycotton Long-Sleeved Dresses
Polycotton long-sleeved dresses are made of polyester fibres blended with cotton. Polyester is very strong and durable, and is stain and crease resistant. When blended with cotton, it encourages the cotton to keep its shape when worn and washed repeatedly. Polycotton dresses are easy to launder and care for at home.
Silk Long-Sleeved Dresses
Silk long-sleeved dresses have a luxuriant, sensuous feel, with a smooth, shiny appearance. Silk can be expensive and usually requires professional care, such as dry cleaning. Hand washable silk dresses are available, but because the fabric is delicate, the dress should never be wrung or twisted, as that will damage the fibres. Silk is absorbent, so it stains easily. Silk is available in an array of styles and colours, including eastern-style dresses with long, wide sleeves. Silk long-sleeved dresses are prone to fading and yellowing if they are worn or left in the sun for too long.
Accessories for Long-Sleeved Dresses
A long-sleeved day dress, if accessorised correctly, can move seamlessly from day to night. These dresses can flatter any body shape, especially when paired with the right accessories. Layering, by adding a waistcoat, adds detail and colour, a belt can give definition to the waist, and jewellery can add sparkle to a plain dress.
Waistcoats for Long-Sleeved Dresses
For maximum impact, the long sleeves of the dress should be on display, not hidden beneath a jacket or cardigan. A waistcoat offers texture and detail, and draws the eye upward, making a feature of the long sleeves. A plain long-sleeved dress in dark or muted colours may benefit from a brightly coloured waistcoat. Alternatively, a patterned waistcoat can give a little bit of texture to a long-sleeved dress.
Belts for Long-Sleeved Dresses
Belts can be added to a long-sleeved dress to give the outfit a finished look. A thin, metallic or glittery belt can be added to a block colour long-sleeved dress to draw the focus to the waist, and break up the large amount of colour.
Jewellery for Long-Sleeved Dresses
Even a high neck dress can benefit from a large necklace. If the dress has decorative sleeves, then dangly earrings should be avoided, as they distract the eye and compete with the sleeves. Instead, small, understated studs can be complementary to the outfit and allow the sleeves to be a feature of the ensemble.
Buying a Long-Sleeved Dress on eBay
To search for long-sleeved dresses on eBay, start at the eBay home page. To browse a large number of dresses type in, "long-sleeved dress" into the search box. Buyers can then narrow down their results further by choosing from the various filters, such as price range or colour. If a more specific dress is desired, then add extra terms to the search, such as "black long-sleeved mini dress".
Buyers should read the item description carefully and examine the photos. If purchasing a new dress, ensure that the photo is a current picture of the dress and not a manufacturer's stock photo. If buying a used dress, look for signs of wear and tear. The item description should contain the size of the garment, the material, and any interesting features. If further information is required about the condition of the long-sleeved dress or any other details, such as the sellers returns policy, then contact the seller directly using the "Ask a question" link.
Feedback
Consumers should look carefully at the feedback of the seller before purchasing the long-sleeved dress. The feedback is left by previous buyers who rate the seller according to the service that they received. Sellers who have a high percentage of positive feedback will offer a great service to buyers.
Conclusion
Long-sleeved dresses are very popular in the early spring, autumn, and winter months, when the weather tells us that it is time to cover up. Long-sleeved dresses are practical garments, but they can also be stylish and fashionable. There are both day and evening long-sleeved dresses available, and some that can transition from day to night using the right accessories, such as jewellery or a sparkly belt.
Before buying a long-sleeved dress, it is helpful to understand the lengths of dresses available, and the footwear that is appropriate for each length. Also, the materials that the long-sleeved dress is made from, such as jersey, wool, or silk, make the dress suitable for certain conditions. Each material has its own advantages and disadvantages. When buying any clothing, check that the seller has a returns policy just in case the dress or accessory does not meet your expectations. Long sleeved dresses, and the footwear and accessories that create a well-styled outfit, are all available on eBay.