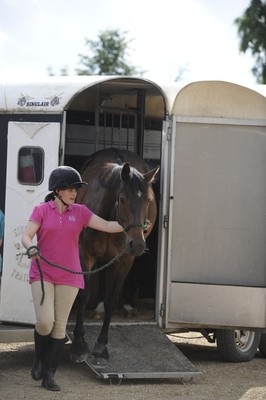 What you need to know when shopping for a new or used trailer
When buying a new or used trailer, important points to check include:
Does it have the option of a front unload ramp, or just a rear unload? Some new designs have a side ramp to help make the prospect of loading into a trailer more enticing from a horse's point of view; while rampless, step-up entrances are another new option
How easy are the ramps to use and are there any signs of rot or wear?
If you're buying second-hand, has the trailer been well maintained? It's very easy to park them up and forget them, but it's important they're regularly serviced (during which, a mechanic will take the wheels off and thoroughly check them, as well as the hubs and the brakes, go over the electrics to make sure that everything is working and undamaged)
If the trailer has been parked up for a while, check the tyre pressures, look for any flat spots and make sure the walls have not perished
Check whether the ramp springs are well greased and check the ramp hydraulics are in good working order
Some modern trailers have aluminium plank floors, which are maintenance free, but check the condition of wooden floors carefully; have a good look around the area where the horses stand to make sure that there is no damage to the floor or mats
Check the the lights are working and have a look at the seven pin plug for connecting to the towing vehicle – these can rust up.