Summary
: The best deals on iPod Touch are to be had from Buy It Now listings, and with the help of free eBay scanning software you can beat other eBayers to the cheapest Buy It Now listings.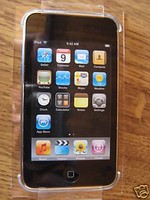 Let's compare bidding on an item with using Buy It Now:
Bidding
Auctions tend to end at a fair price as determined by the market, and the end time is a predetermined time and date.
If you are out for a bargain you need to think outside the square:
bid on items that end at times that are inconvenient for most people;
bid on listings that have extremely unflattering photos (it's difficult to take a good photo of an iPod touch because of all the reflective surfaces);
bid on listings with conflicting information, provided that a little expert knowledge on your part can resolve it (for example, the description says the iPod touch for sale is a 1st generation model, but you can just make out the volume control buttons - which mark it as 2nd generation - on the single blurry photograph).
These are all valid ideas, and have landed me the odd good deal, but they have one pitfall: they are time consuming to apply consistently, and they cannot be easily automated. Fortunately, there is a better way...
Buy It Now
The price of a Buy It Now listing is set by the seller, not the market, and the end time is unpredictable because a buyer can buy the item at any time until the listing expires.
Note well
: the Buy It Now price is not necessarily the market value! It can be higher than market value, or it can be lower than market value. The wise bargain hunter ignores the former and buys the latter.
Most people would think it is human nature for the seller to set a price that is, on the whole, higher than the price the item would achieve in a pure auction, and that is often the case. But, as a hunter of bargains, you have to realise that occasionally a seller sets the Buy It Now price either not knowing, or not caring, about the true value of the item. This happens a lot when the item has been given as a gift or is an unwanted prize, and in many cases like this the item can be brand new or very close to brand new.
Wonderful! So we have established that the best deals are available (with rare exceptions) as Buy It Now. The big problem now is how do you snap up the Buy It Now deals before someone else? Do you sit at your computer day and night, repeatedly running searches?
If you go into Advanced Search you can ask eBay to email you search results on Buy It Now listings sorted by price. This is the kind of information you need, but unfortunately it is only emailed to you once a day, and the best deals are long gone by the time the search is performed.
What you need
You really need to perform the search more than once a day. More like once every 5 minutes. What you want is some scanning software that will perform such a search, and extract the features of the iPod touches from each listing and compare it with your criteria. If the iPod touch in the listing is equal or better to your criteria and price, the software would alert you, loudly, so you can get off your sun lounge by the pool and dash to your computer to buy the iPod touch before anyone else sees it.
What's available
I performed some Google searches to see if I could locate suitable software to do this... and came up empty-handed. So I wrote my own. I hate to sound like I'm advertising my own stuff here, but it is free to use and I don't know that there is any competitive product. You can find it on eBay UK in listings that have 'iPod touch alert' in the title.
Happy Buy-It-Now-ing!
Cheers,
Andrew