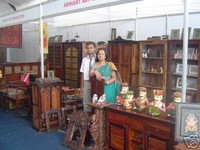 This is hardwood furniture and being a manufacturer and exporter of furniture from india,here is few important points
1)This is hardwood having lesser oil contain with beautiful natural grains,so if you feel you should live near NATURE,you must go for this wood furniture.
2)Always use protective coasters or mats. Do not place cups, glasses or hot items directly onto the surface as this can cause permanent damage.
3)If you found any packing material marks over surface of furniture,don't worry.Use 1000 No. sending paper and honey wax,spread wax over surface and rub that paper only if spot is deep.
Otherwise using wax and rub by soft clothes would be sufficient.
4)If you planing to buy accacia or seesham wood furniture,i can guide you and suply you better idea and product.
Give us chance,if you want to decor your home with us.