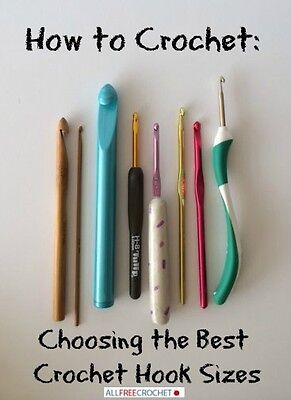 Whats the best hook for me?
The art of crochet has been around hundreds of years but recently, along with knitting there has been a renewed interest. This and the advances in modern technology and materials has seen a wide variety of crochet hooks coming on to the market. But what's the difference between them all? Is expense the best? What are the pros and cons of each? In this guide I hope to answer these questions using my 20+ years of crochet experience. First, let's look at the anatomy of the crochet hook. This picture shows you the main features. From this picture alone you can see that the features of the hook vary widely from hook to hook. Some have pointy points, others more curved. Some have a shallow throat area where the yarn is hooked, and on others it is quiet deep. Some hooks have specific thumb grips, whilst others are smooth all the way around. Some are flat, some round, some tapered etc etc. So let's look at each type in more detail.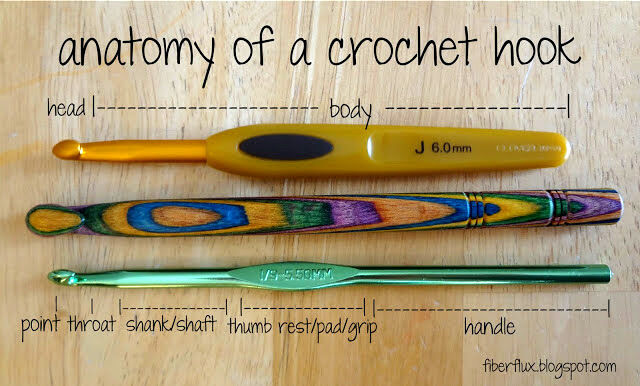 Metal Hooks
These hooks are probably the best known hooks and are widely available. They may either be made of steal or aluminium.
Pros - These needs are strong and durable with a smooth feel to them. They can come in a standard grey colour or in multi-packs of coloured hooks. The size indicator on the hook is part of the make up of the hook so in 10 years time, it will still be visible. The point and the throat are smooth and from my experience, the yarn flows smoothly around it. They are idea for small sizes as they don't break or bend easily.
Cons - The metal can feel cold to the touch. The metal can rub your hand when crocheting and make it sore.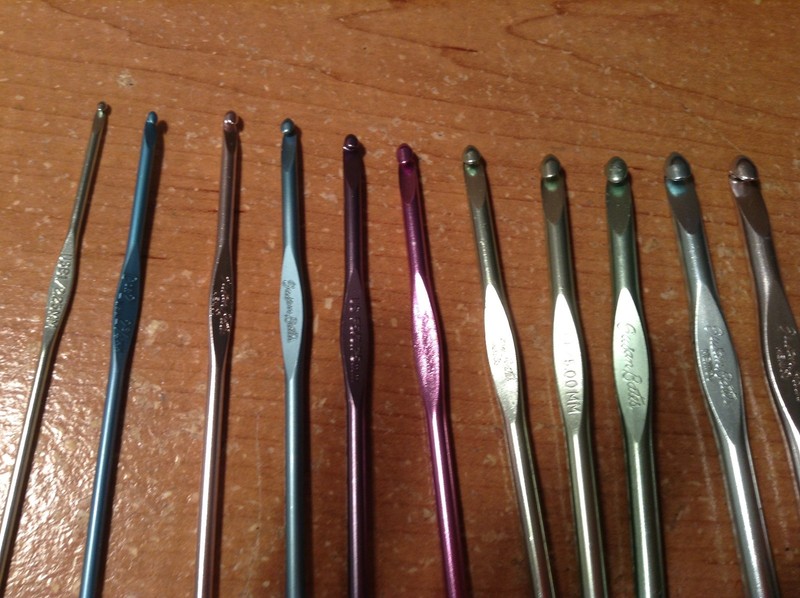 Plastic Hooks
These are a more modern invention as plastic became more widely available and cheap during the 60's and 70's.
Pros - Light weight, cheap, colourful and can be taken on a plane
Cons - They snap very easily and they can become damaged, even the tiniest of scratches can snag your yarn.


Bamboo / Wood Hooks
These are now much more widely available and it is easy to pick up a full set for bamboo hook for not a lot of money. Knit-pro also do a wonderfully colourful range called Symfonie.
Pros - These hooks are light weight, quiet which crocheting and are good if your hands get tired when using the heavier metal hooks. They also have a small amount of friction to then so if you are using a super slippery yarn, these hooks hold onto it better than metal would and crocheting is easier.
Cons - They break easily! I am a heavy crocheter and I have brought expensive Symfonie hooks before only to have then snap in half on me on the first use. I also find the point and throat has too much friction on them and I have to work harder to get the yarn loops on and off the hook. The throat might also not be very deep, so when doing stitches that require lots of loops to remain on the hook, this can prove difficult as the throat does not have the space to hold them when going in and out of the holes and loops. Also, the size of the hook tends to be printed on the hooks and this easily rubs off. (Can you tell I am not a fan!)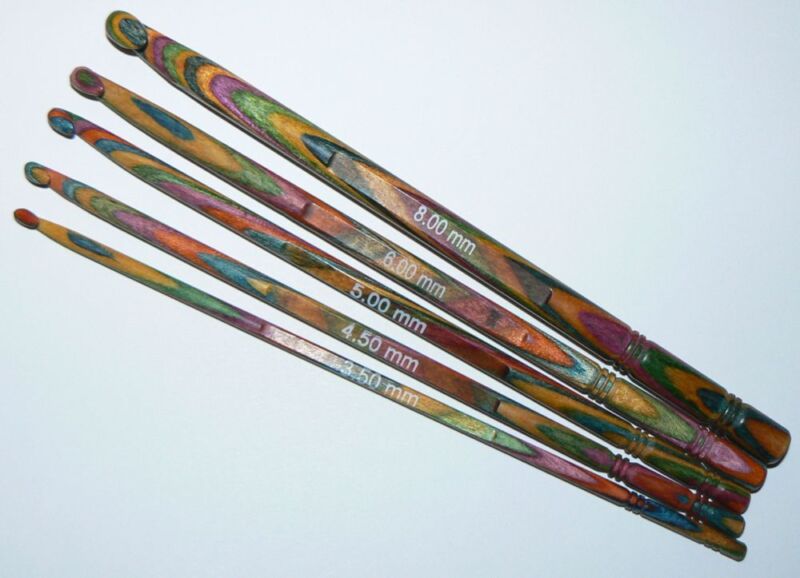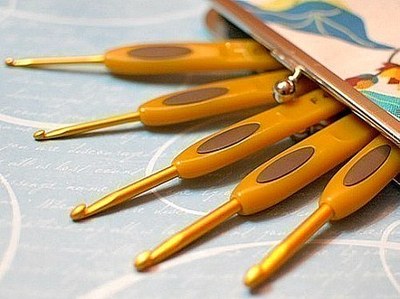 Hybrid Hooks
These hooks are the best of all worlds. They come is such a wide range of options. Metal hook with plastic handle such as the Addi hooks. Bamboo hook with plastic handle. Metal hook with polymer clay handle and even, a plastic hook with a light switch to illuminate the hook in dim light.
Pros - They come in so many shapes and sizes, there is sure to be one that suits.
Cons - They are a lot more expensive than traditional needles. They take up more room.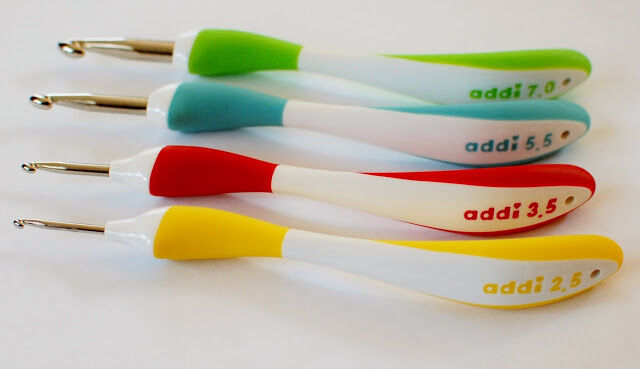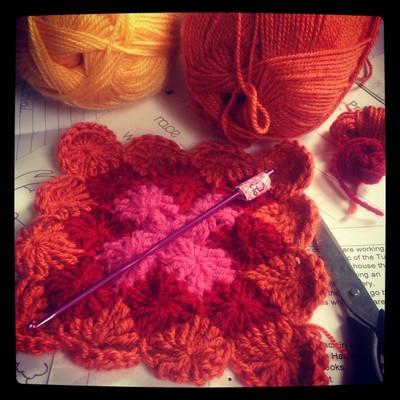 Conclusion
So, that's the options and hopefully you will find it helpful. Each one has its pluses and its minus's. But which one would I recommend? Which one do I use? Well, I like the metal hooks best. They last for years, don't break easily, slide in and out of the holes and loops smoothly, the yarn does not get caught in the throat and they come in pretty colours. But they do make my hand sore. If I had unlimited funds I would buy a complete set of Addi hooks. I was sceptical about these toothbrush shaped hooks but I was converted. They are light, strong and durable with all the benefits of the metal hooks and they are super comfy to hold. However, as I don't have unlimited funds, I usually attach a fabric plaster around the bottom end of the metal crochet hook (as shown in the photo) and this does just fine.

I hope you have found this guide useful. These are just my options on the hooks and how I feel when I work with them. You might love bamboo hooks and hate metal. Really the best way to find out is to try different ones and see how you get on.

Feel free to email me if you have any questions, or if you spot a spelling mistake (I'm Dyslexic so even though I have read it several times over I might not spot them!)

Pictures from the following sites.
allfreecrochet
fiberfluxblog