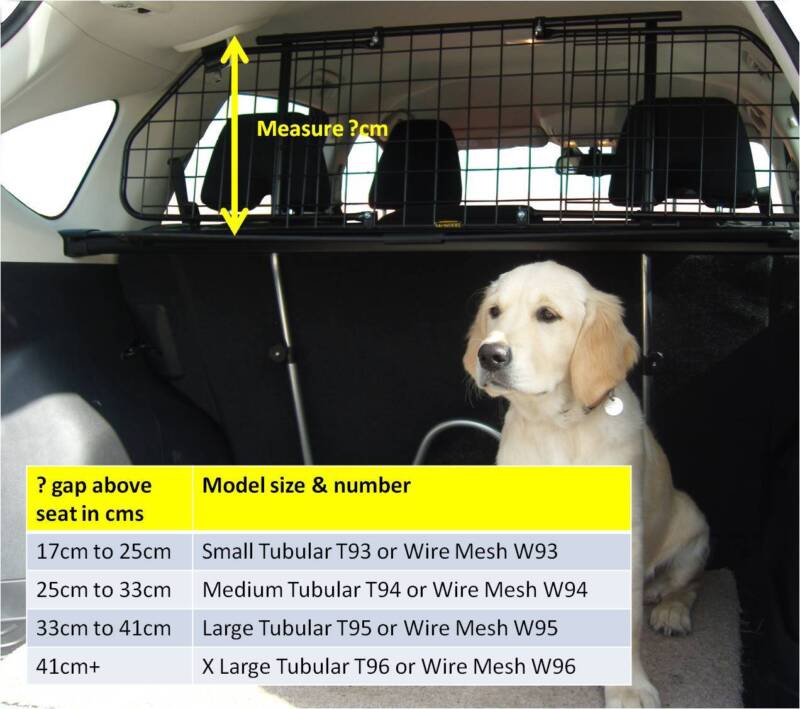 Add a caption
Measure the gap above the seat at the lowest point & look up the guard in the table
Tubular frame or Wire Mesh?
We get asked quite often which is best. The answer is really 'it depends' !
Both of our frame styles will stop your dog from entering the passenger area of your car. Both are made from steel & are very strong. The Tubular frame has the advantage of slightly more adjustable side sections & being able to pass long loads or rear seat belts through the frame. The Wire Mesh helps protect the rear seat & passengers slightly better from muddy paws & wet noses. One is black & one is silver:)
In the end it's often down to price & as the Tubular frame doesn't take us as long to manufacture it is cheaper than the Wire Mesh version.

How does the guard attach to the car?
As long as you have headrests you can fit a Saunders car dog guard.
By using incredibly strong webbing straps that go around the headrest stalks & our unique W shaped fixing foot, the guard is locked into place. It will not move even if you are unlucky enough to have a minor accident or need to brake sharply & something is thrown against it.
Another advantage is that once you have the dog guard set to the size of your car, it can be easily removed & refitted just by undoing the quick release webbing straps. Often it can also be fitted into another similar sized vehicle with only minor adjustments.
Talking of adjustments all our dog guards have a wide range of both height & width adjustment & only take a few minutes to assemble & fit.
We have a couple of fitting videos on our YouTube channel https://www.youtube.com/user/SaundersDirect