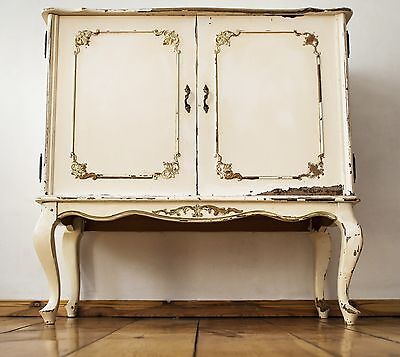 Want to give your home a splash of Parisian je-ne-sais-quoi? It's easier than you think to turn your funct ional, modern furniture into something kitsch and cool – try giving it a shabby-chic makeover!
Here's how to transform a plain old cabinet into an elegant statement piece, worthy of the Avenue Montaigne...
---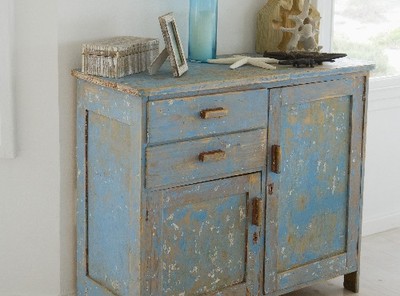 Choose a cabinet made out of a
fairly soft wood
, as it'll be easier to make it look antique. Try ash,
teak
, or mango wood. Plastic cabinets won't work as well.
To really capture the shabby-chic aesthetic, find a cabinet that has a hint of Versailles to it. Look for something with
curvy embellishments
to the doors, a sweeping,
Louis XVI
-style frame and regal, lion's-paw feet. But don't worry if you can't find these features – we can always add them later on!
---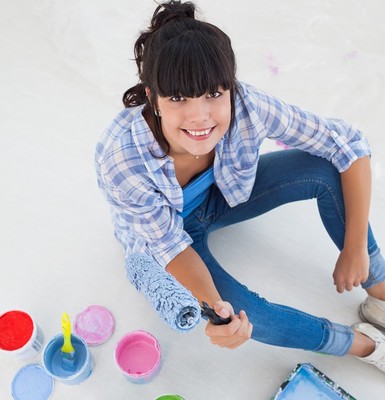 Choose
two complementary paint colours
for your cabinet.
To keep the cabinet looking aged, steer clear of bright, fresh colours like brilliant white or hot pink. Pastel colours are a good choice. They're cheerful but muted, so easy to match with delicate shabby-chic fabrics like lace and silk.
If you're stuck for inspiration,
Farrow & Ball
have a great range of antique-inspired colours, perfect for our purposes. Try teaming a dusky, deep colour like Smoked Trout with a lighter blue-based top shade, like Purbeck Stone, or – suitably – French Gray.
---
Peeling paint? Check! Weather-beaten surfaces? Check! To give your cabinet that been-around-for-centuries feel, you'll need to 'distress' it. Here's how.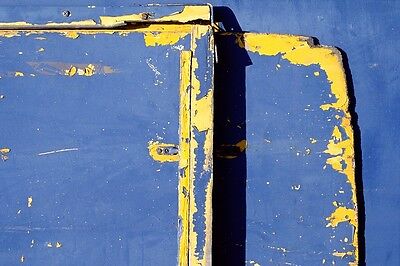 Sand it down
Get rid of any existing layers of paint and varnish, until you've a smooth surface to work with. Wipe it down with a tack cloth, to lift off any dust or dirt.
Age the surfaces
This is the fun part! To make your cabinet feel aged, give it the kind of treatment it might have had over 200 years in a Montmartre ca
fé parlour.
Try hitting it with a bag full of nails to pock-mark the wood. (Make sure you're in an open space, with plenty of room!) Using a file, shape the doors and top unevenly to create little peaks and troughs, a tell-tale sign of wear. Or, just whack it with a hammer.
Apply a base coat
Paint in the first colour. For a really authentic look, you could use masking tape to create sections of bare wood. Don't worry about being too precise – slapdash paintwork is all part of the charm.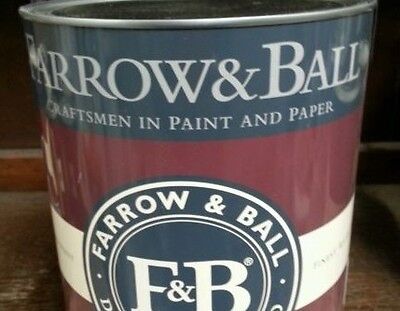 Let your base coat dry completely before moving on to the next step, or you'll lose the distressed feel.
Paint in the top coat
After your base coat is bone dry, cover it over with a top layer in a contrasting colour. Once the top layer is close to being dry – but still leaves a mark on your finger when you touch it – sweep a damp cloth along its surfaces, pressing quite heavily, and repeat in the same direction. You should have a speckled, peeling-paint effect, with the base colour poking through.
---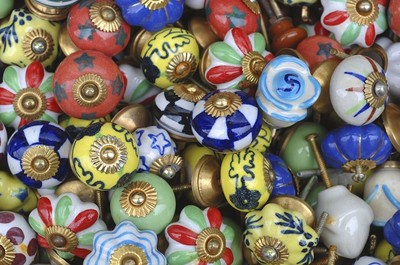 To finish off our shabby-chic cabinet, we'll need to add some
antique cupboard handles.

This is where bright colours and off-the-wall patterns come into play – they'll make the cabinet feel really quirky! Be as bold as you dare.
You might also want to think about adding those Louis XVI-style embellishments, like curving
wooden furniture legs.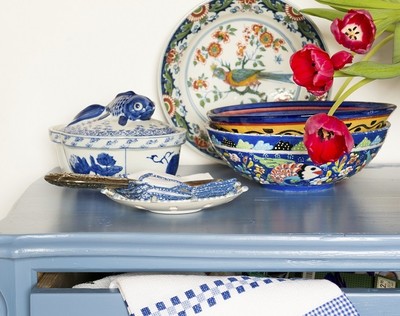 For something a bit lavish, you could try daubing gold or silver paint along the edges of your cabinet's doors, to give the appearance of antique glamour.
The (glacé) cherry on top? Sprinkle the cabinet with shabby-chic accessories – try an old wind-up alarm clock, a beautiful antique vase or a baroque candlestick.
Voil
à
!