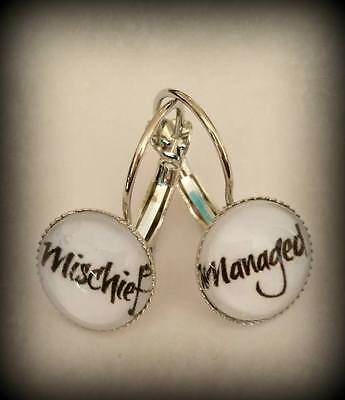 Add a caption
12mm glass dome silver earrings inspired by Harry Potter
What you will need...
*Blank jewellery Settings e.g earring posts, cameo setting, bracelet blanks.
*Glaze/Mod Podge (I recommend Judykins Diamond Glaze available on eBay)
* Glass dome to fit the jewellery blank you have purchased (some blanks can be bought with the glass of the correct size)
* Chain if you are making a necklace
* A good printer and photo paper.
* Scissors or craft blade.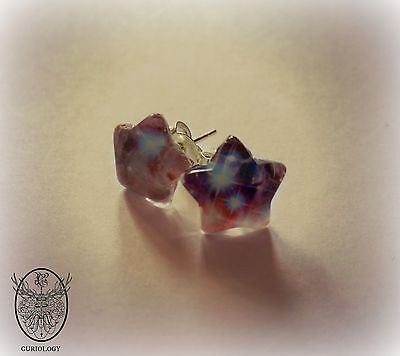 The process...
Ok so you want to make yourself some unique jewellery, or give special and inexpensive gifts to friends, or even set up in business - great! I have been working as a self employed artist and designer for 4 years, and one of the easiest and most enjoyable projects, is using my images and designs and turning them into something wearable!
Here's how it works...

1. Choose your image. Remember, if it has a copyright, NO SELLING! If it doesn't belong to you, or you haven't got express permission from the original owner, you cannot make profit from it. If the piece is 'inspired by' and your own take on it though, that is ok!
2. Once you have your image, you're going to need to make sure it fits the glass you are using! If you have photoshop skills, this will be a breeze, if not, you can use MS paint to resize, or use your printer to shrink the image down to the best fit. Make sure to use nice high resolution images too so your picture is clear and bright. You can also buy whole sheets of ready sized images on sites such as Etsy to print out.
3. Print! Be sure to use a good quality photo paper, and print at the highest quality your printer allows.
4. Now you have your beautiful image ready to go. It's time to grab your glass dome/shape, and your glaze. Do not cut the image from the paper sheet yet. Drip a pea sized amount or smaller if the glass is small, onto the back of the glass, and using a clean finger, gently rub the glaze to the corners. Be sure that it does not dry or have finger print marks on there! It needs to have about a 1mm covering evenly of the glaze. Then, turn the glass over, and place carefully onto your image. No turning back! You cannot take the glass back off to reposition, so be VERY careful to line it up right! Once it is on the image, gently press all over the glass to affix evenly and remove any tiny bubbles under the surface.
5. Patience! Leave the glaze to dry for 10 minutes. Then, carefully cut around with scissors or craft knife, to remove any excess paper.
6. Time to put your glass in your setting! Using another small drip of glaze on the setting, and rub around evenly. Then place your glass dome onto the setting, press down for a few seconds, and leave to dry another 10 minutes.
7. Nearly there! If you're making a necklace, attach the chain to the pendant, and you're good to go! Now you have a wearable piece of art, made by you.

I hope you have enjoyed this guide! If you would like to see more of my work, just google Curiology! x