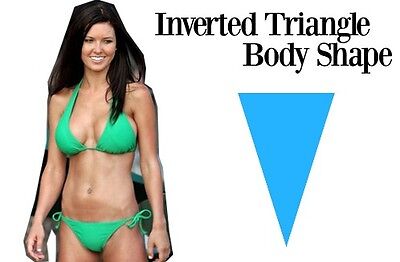 Inverted Triangle body shape

Women can't help but take a sneeky glance at your beautiful, big busts. Your top heavy frame is favoured by most catwalk models, and you have killer legs. It seems your body was made in heaven! But here are a few top tips to make sure your bazookers and broad shoulders don't outweight your frame:

Yes please:
• Open necklines, V necklines, halternecks (will make your shoulders look smaller).
• Dresses that show off your collarbones
• Dress that skim your body shape
• Dresses that come in at the ribcage and waist – to help define your waist
• A line dress with a V neckline – puts focus on your smallest parts
• Wrap dresses – they create more curve around your waist.
• Loose dresses that hang from the bust.
• Wide straps on dresses, to support and balance out your breasts
• Full circle dresses that come out at the waist – adds curve!
• Empire line dresses – they come in under the bust and out over your hips, adding shape to your bottom half.
• Pleating on the hem of dresses, adds a cute bit of detail and volume to your bottom half, without making you looking big.
• Always have a well fitted plunge bra, to wear underneath your dresses.
• Dresses that flare out at the hem – this again, adds volume to your bottom half, to balancing you out and adding shape where it is needed.
• Dresses that have detail on the hips or lower half – this will make you look curvier!
• Waist belts – they will cinch you in where you need it most!
• Soft, light, floral prints will help combat your strong looking shoulders and give you a more feminine look.

No thanks:
• Heavy, baggy tops, these will make you look huge all over
• Fuss on your shoulders or top half – detailed prints, puff ball shoulders, ranching.
• High necklines – this will make you look extremely blocky
• Stay away from skin tight tops – you will look too over the top; you want to be tastefully sexy
• Any draping around your top half – this will make your breasts look saggy and will focus all attention on this area
• Really short dresses, you'll go from sensual to tarty very quickly
• Off the shoulder dresses, or dresses with boat necklines – they will make you look even bigger on your top half.
• Strapless or backless dresses – these won't provide your large breast with any support!
• Shoulder pads – these will add volume and bulk to your top half, where it is just not needed.
• Never, ever, go without a bra. I don't think I need to tell you why. Shop by your body shape
Take a look at our gorgeous clothing and start shopping by your body shape today! Our range includes brands such as Fever London, Closet London, Vila, AX Paris Curve, Motel, Dahlia, Daisy Street, Ruby Rocks and AX Paris.