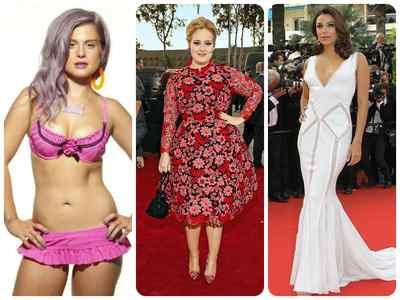 Top tips
To all you lovely Apple Shaped babes!

You have an ample bust, and a cracking set of pins. But as with everything, with good, we get a little dab of the not-so-good. Your aim is to draw attention away from your tummy and to create a more definitive waistline. This one's especially for you:

Bring out your best:
• Dark coloured, wide belts – these are just great for cinching you in and creating a waist.
• Empire line dresses - they come in under the bust and skim over your tummy, making your waist look trimmer and lifting your boobs.
• Dresses that flare out at the hips and add volume e.g. full circle dresses.
• Well cut shift dresses that finish above the knee – they will fall smoothly over your tummy and draw attention towards your fabulous pins
• ¾ length sleeves will flatter your toned arms and keep the attention on your torso and not your tummy.
• Low necklines, V necklines – these make your torso look slimmer and they also draw the attention towards your chest and away from your tummy.
• Dresses with detail on the hemlines focuses attention on your great legs!
• Dresses with detail on the arms and sleeves – accentuates your delicate arms.
• Bias cut hems – these work wonders for your shape.
• Wrap dresses – these have the illusion of lifting up your bust and creating curve around your waist.
• Apple shapes can play around with embellished necklines.
• Dresses with asymmetric hems will add curve to your frame and draw the eye line down towards your great legs.

Avoid like the plague:

• Clingy jersey that will focus on your tummy.
• Excessive fabric on the midsection, this will make you look even bigger!
• Dresses with sleeves that stop at your bust.
• Pleated or tiered dresses are very big no no! They will draw accentuate your tummy.
• High necklines will make your torso look even bigger.

Shop by your body shape
Take a look at our gorgeous clothing and start shopping by your body shape today! Our range includes brands such as Fever London, Closet London, Vila, AX Paris Curve, Motel, Dahlia, Daisy Street, Ruby Rocks and AX Paris.