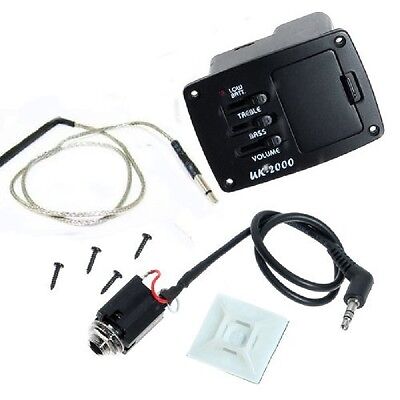 Fitting Instructions UK2000 Ukulele Pickup System
Check you have everything before you start
Package contents :
Pre Amp Unit Transducer
Pre Wired Jack Socket
Cable Tidy Plate
Cable Tie
Fixing screws x 4
Battery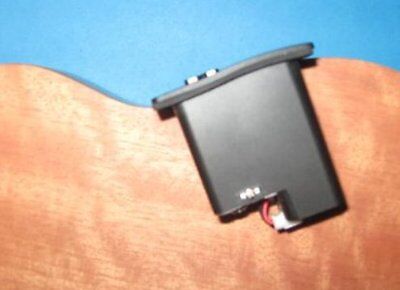 Choose where to fit pre amp
1) Establish where you are going to fit the pre-amp unit bearing in mind the slight curve of the moulding which should match the curvature o f the instrument body.
Cut suitable size hole
2) Cut a suitable size hole in which to insert the pre-amp unit, DO NOT fit the unit at this point. 32.2mm x 45.5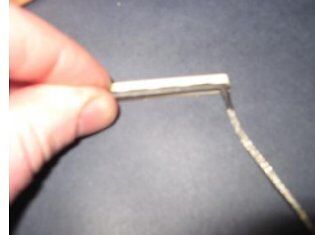 Transducer fitting
3) Remove the original saddle and cut saddle down by removing the height of the transducer. Quick Tip – Lay the transducer onto the old saddle and mark with a pencil before cutting.
Hint: Drill slowly
4) Drill a small hole through the body of the ukulele between the saddle slots in the position where the cable exits the transducer. This will be towards the end of the slot.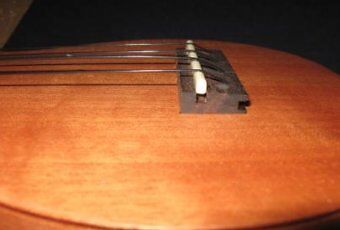 Fix transducer under saddle
5) Pass the cable through the hole, push transducer carefully into slot.

6) Place reduced height saddle into slot above transducer.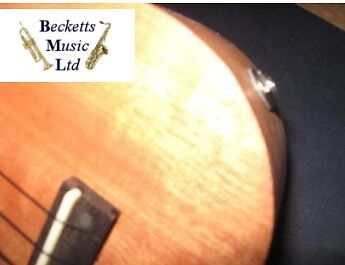 Drill socket hole
7) Drill a hole to allow the fitting of jack socket

( Don't fit at the bottom of the ukulele where strap button might be fitted as the wood is normally too thick here as there is normally a reinforced wooden block at this point )
Fix Socket
8) This is probably the trickiest bit - fit the socket into the hole just drilled. Quick tip : Get a piece of thin rope a bit thinner than the hole in the socket and about 50cm long. Tie a knot in the rope about halfway along. Pass the end of the rope though the socket from the rear ,where the cables are soldered, being careful not to bend the contacts. Feed the loose end exiting from the socket through the ukulele body and through the hole. Slip the washer and nut over the loose end and slowly pull the socket through the body to the hole. When the threaded part comes through the hole simply do up the nut to fix in place. Pulling slowly on the other end of the rope will extract the rope from the socket.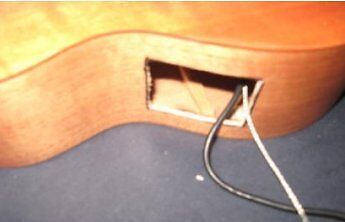 Wiring Up
9) Pass the two connectors through the hole created for the pre-amp unit.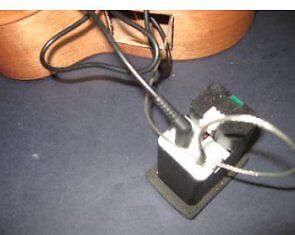 Connect to the appropriate sockets.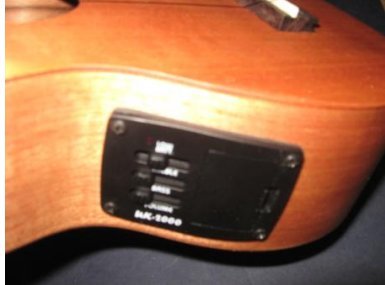 Final fix pre amp unit
10) Insert pre-amp into ukulele body and fix using 4 black screws provided.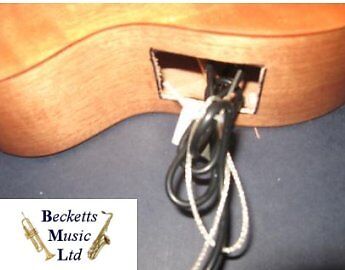 Tidy Up
11)Tidy up cables internally using the self adhesive support and cable tie.

12)Fit battery ( supplied )

13)Plug in cable to amplifier and play away
Becketts Music Ltd
56 Commercial Road,
Southampton
Hampshire, S015 1GD

Tel: +44 (0)23 8022 4827
Fax: +44 (0)23 8032 2046


VAT REG NO. : 188 0841 36
Company Registration : 04058232

© Becketts Music Ltd 2013