When grading records it is most important that you do so under a bright light bulb. Never grade records in direct sunlight.
When grading records it is most important that you do so under the correct light conditions. The best way is to use a table lamp with a naked light bulb. No lampshade! Hold the record about 10-15 inches under the bulb. Use a bright torch if you dont have a lamp. Tilt the record in every direction & look very closely at the surface trying to find the slightest tiny mark. Never ever grade records in direct sunlight or without a light bulb. There are some examples near the end of this blog.

A mint record means NEW/Unplayed/Perfect. You will not find the slightest tiny mark. Look for spindle marks on the label around the spindle hole. If there are.... it's not mint. So how do you grade it if it's not mint? Use the systems below. It is important to state which system you are using on your listings as this can lead to problems & the more photos the better. Remember the cover & labels are equally important. Americans use a different grading system to the UK & Europe .

Below are two industry standard grading guides for records. It is also worth noting that many dealers use in between grades like Ex+ Ex- Vg+ whish is acceptable. But some go as far as using grades like VG++ which is quite ridiculous. I avoid any seller using VG++ as a grade as VG++ should really be Ex.

UK Record Collector Grading System
Mint: The record itself is in brand new condition with no surface marks or deterioration in sound quality. The cover and any extra items such as the lyric sheet, booklet or poster are in perfect condition.
Excellent: The record shows some signs of having been played, but there is very little lessening of sound quality. The cover and packaging might have slight wear and / or creasing.
Very Good: The record has obviously been played many times, but displays no major deterioration in sound quality, despite noticeable surface marks and the occasional light scratch. Normal wear and tear on the cover or extra items, without any major defects, is acceptable.
Good: The record has been played so much that the sound quality has noticeably deteriorated, perhaps with some distortion and mild scratches. The cover and contents suffer from folding, scuffing of edges, spine splits, discolouration etc...
Fair: The record is still just playable but has not been cared for properly and displays considerable surface noise: it may even jump. The cover and contents will be badly damaged or partly missing.
Poor: The record will not play properly due to scratches, bad surface noise etc.. The cover and contents will be badly damaged or partly missing.
Bad: The record is unplayable or might even be broken, and is only of use as a collection filler.

American Goldmine Grading System
Mint (M)
Absolutely perfect in every way. Certainly never been played, possibly even still sealed. Should be used sparingly as a grade, If at all.

Near Mint (NM or M-)
A nearly perfect record. Many dealers won't give a grade higher than this implying (perhaps correctly) that no record is ever truly perfect. The record should show no obvious signs of wear. A 45 RPM or EP sleeve should have no more than the most minor defects, such as almost invisible ring wear or other signs of slight handling. An LP cover should have no creases, folds, seam splits or other noticeable similar defects. No cut-out holes, either. And of course, the same should be true of any other inserts, such as posters, lyric sleeves and the like. Basically, an LP in near mint condition looks as if you just got it home from a new record store and removed the shrink wrap.

Very Good Plus (VG+)
Generally worth 50% of the Near Mint value. A Very Good Plus record will show some signs that it was played and otherwise handled by a previous owner who took good care of it. Record surfaces may show some signs of wear and may have slight scuffs or very light scratches that don't affect one's listening experiences. Slight warps that do not affect the sound are "OK". The label may have some ring wear or discoloration, but it should be barely noticeable. The center hole will not have been misshapen by repeated play. Picture sleeves and LP inner sleeves will have some slight wear, lightly turned up corners, or a slight seam split. An LP cover may have slight signs of wear also and may be marred by a cut-out hole, indentation or corner indicating it was taken out of print and sold at a discount. In general, if not for a couple things wrong with it, this would be Near Mint. All but the most mint-crazy collectors will find a Very Good Plus record highly acceptable.

Very Good (VG)
Generally worth 25% of Near Mint value. Many of the defects found in a VG+ record will be more pronounced in a VG disc. Surface noise will be evident upon playing, especially in soft passages and during a song's intro and fade, but will not overpower the music otherwise. Groove wear will start to be noticeable, as with light scratches (deep enough to feel with a fingernail) that will affect the sound. Labels may be marred by writing, or have tape or stickers (or their residue) attached. The same will be true of picture sleeves or LP covers. However, it will not have all of these problems at the same time, only two or three of them. Goldmine price guides with more than one price will list Very Good as the lowest price. This, not the Near Mint price, should be your guide when determining how much a record is worth, as that is the price a dealer will normally pay you for a Near Mint record.

Good (G), Good Plus (G+)
Generally worth 10-15% of the Near Mint value. Good does not mean Bad! A record in Good or Good Plus condition can be put onto a turntable and will play through without skipping. But it will have significant surface noise and scratches and visible groove wear (on a styrene record, the groove will be starting to turn white). A cover or sleeve will have seam splits, especially at the bottom or on the spine. Tape, writing, ring wear or other defects will start to overwhelm the object. If it's a common item, you'll probably find another copy in better shape eventually. Pass it up. But, if it's something you have been seeking for years, and the price is right, get it...but keep looking to upgrade.

Poor (P), Fair (F)
Generally worth 0-5% of the Near Mint price. The record is cracked, badly warped, and won't play through without skipping or repeating. The picture sleeve is water damaged, split on all three seams and heavily marred by wear and writing. The LP cover barely keeps the LP inside it. Inner sleeves are fully seam split, crinkled, and written upon. Except for impossibly rare records otherwise unattainable, records in this condition should be bought or sold for no more than a few cents each.

I hope this has been helpful if it has, please rate it with a "Yes" vote below. If you think this can be improved please let me know. Yes I know my photos are not too good but then I'm not a photographer.... but I know about grading records. I have also included some record labels. So many sellers do not show the record label in their listings & these three pics of a T Rex record illustrate why displaying the label is important. Thanks for looking.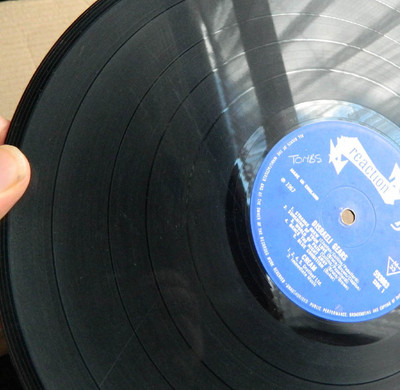 You can see that by moving the record around in different light conditions will reveal more scratches. Here is a shot by my window.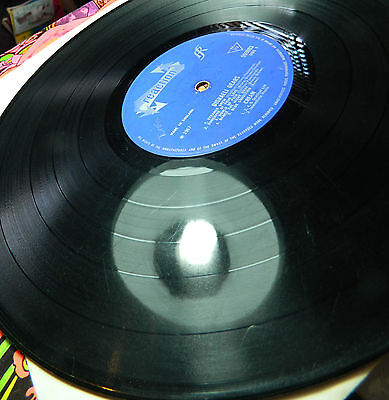 Here is a shot under a light bulb.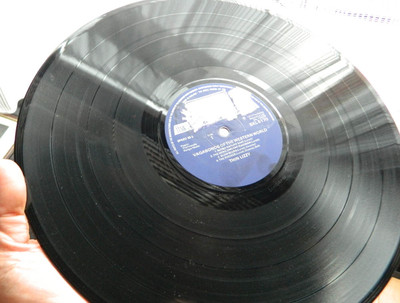 By the window again. Looks great apart from some dust.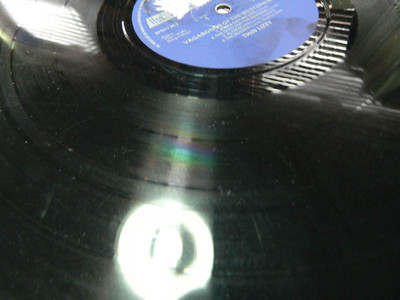 Under a lamp. No... it's actually scratched.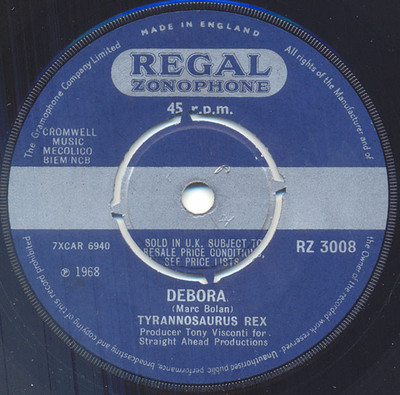 Tyrannosaurus Rex "Debora" four prong Push Out centre
When listing records on eBay it is also important to show the label so you don't have to answer requests for catalog numbers and a ton of other questions.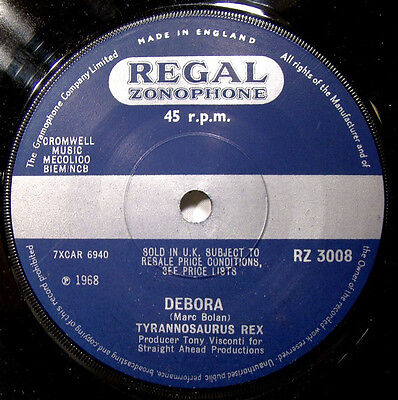 Tyrannosaurus Rex "Debora" Solid centre
Tyrannosaurus Rex "Debora" Solid centre.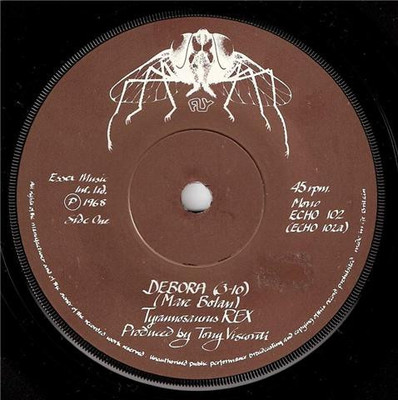 Tyrannosaurus Rex "Debora" This is a 1972 reissue
This is a 1972 reissue despite the 1968 publishing date which drastically alters the value.
How grading affects value.
If a MINT condition LP valued at £100 looks VG but still sounds MINT it will not be worth £100. It's value would be around £35 - £40. If the stylus plays through the marks & scratches the very fact there are visible scratches will still affect the value. Obviously you can say the record sounds great but you'll have to mention the visual grade. You can grade visually & then again by ear. Here's an example... "Looks VG but plays perfectly well with a couple of clicks on intro & a click that lasts 7 revolutions on track three" The more detail you give the better. Especially for high value items.

You should also remember that the cover is just as important as the vinyl. A Mint LP in a cover with a bent corner would no longer be mint which is why you should grade (both labels, the vinyl, the cover and spine and any contents like posters, inner sleeves, lyric sheets) individually.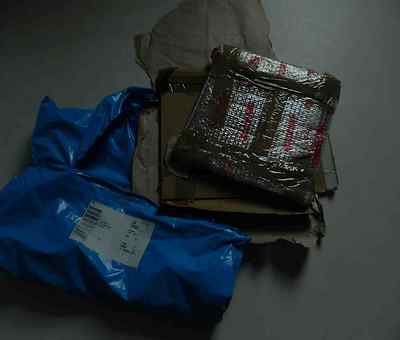 Add a caption
Worst packaging to use. Bubbles always burst on corners.
Packing & posting vinyl.
There's no point grading all your records & then posting them in bubble wrap or badly cobbled together cardboard as they will undoubtedly end up damaged. This only leads to returns which are enforced by eBay regardless of a "No returns" policy. If an item arrives damaged the "No returns" policy is invalid.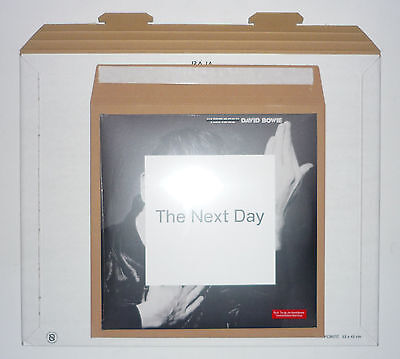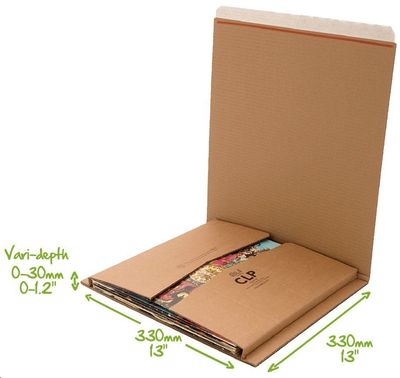 Add a caption
You can double pack or use CLP "Amazon style LP mailers" sold on eBay
If the package is rectangular the corners of a square record cover are well protected.
These mailers are not cheap at around £1 each on eBay but a returned LP will cost you much more as you will have to refund the postage cost & foot the bill for the return. Yo must use a signed for service so if you post an LP to USA for £12.45 you will have to refund the buyer for the LP & the Postage & the cost of having it returned so you are paying out £12.45 twice. You may end up cutting you losses & refunding the buyer & letting them keep the record if it's only a £20 record.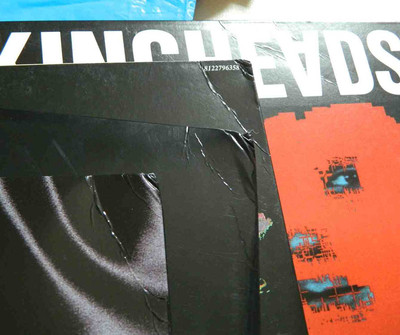 This is what happens if you use Square record mailers.
This is what happens if you use Square record mailers. Post office workers do not place mail. They throw it. Onto a conveyor belt. Off a conveyor belt thrown into a cage on wheels & then wheeled out & thrown into a van. That's just before it leaves depot One! If you post to United States you can imagine how many times a parcel is moved from state air port to the next state airport. Pack well & you'll have no problems.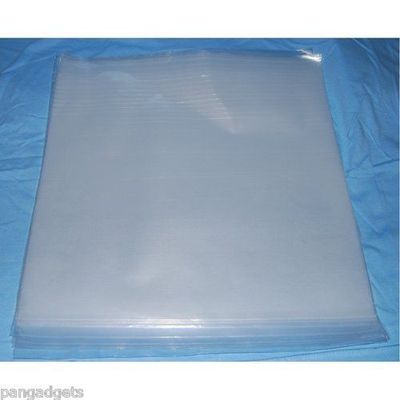 It is important to remove the vinyl from the LP cover.
If an LP is thrown about (even in decent packaging) the vinyl will split the cover or inner sleeve. You will need to remove the LP & place it into a spare paper or polythene record cover. They only cost £8 for 100.
This is an ongoing blog. If I have missed anything out let me know & I will add to it.