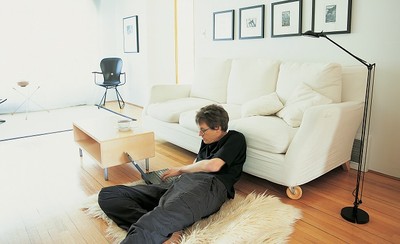 Give your home a clean, fluid and attractive look with laminate flooring. Reasonably priced and virtually indistinguishable from solid wood, laminate flooring is a great way to improve the look of a bedroom, playroom or kitchen without breaking the bank!

Durable, good-quality laminate flooring that is well maintained should last for years. And, as long as you have some DIY experience and a few tools lying around the house, laying laminate flooring is a breeze.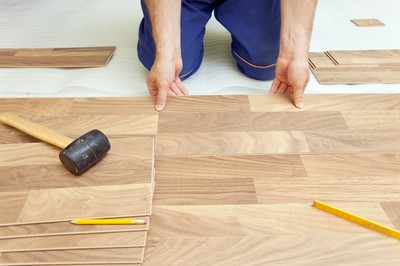 ►
affordable
, easy to lay and long-lasting
►
versatile
, install it more or less anywhere
►
super-easy to clean
and maintain

Laminate flooring in brief
Cost
: about £10 a square metre, but worth paying more for better quality
Perfect for
: virtually anywhere, but especially good for studies, playrooms and living rooms. Commercial premises too
Laminate options
: there are two main types: laminate flooring that needs to be glued and laminate flooring with a 'click-together' system (for which you won't need glue). Waterproof varieties are available - good for kitchens and bathrooms.
---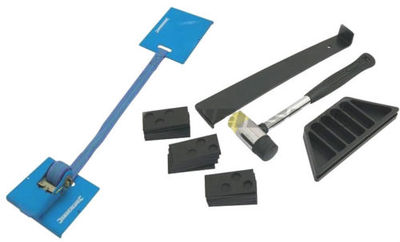 You will need:
Laminate flooring packs,
laminate flooring underlay
, flooring adhesive (unless you use click-together),
saw
, craft/paring knife, pencil,
spirit level
,
tape measure
, spacer blocks, hammer, plastic sheeting
You might need:
Electric saw, drill, knee pads
OK, got everything together? Let's get to it…
---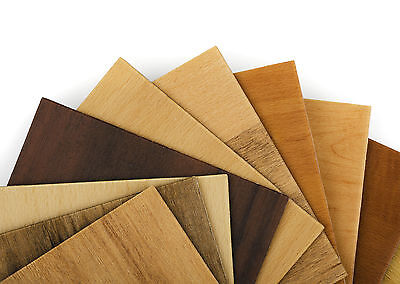 Work out how many laminate flooring planks you'll need
. If you're working with a straightforward rectangular room it's simple. Determine the floor area of the room (or metres squared) by measuring its width and length and then multiplying that length by the width. Example: width 10 metres x length 5 metres = 50 square meters of laminate flooring.
If your room isn't a straight rectangle, just divide it up into separate rectangles and add these together to get a total area.
Top tip: add on 5%-10% to accommodate wastage
And prepare the sub-floor. Your surface needs to be smooth, dry and level, and always make sure a freshly-concreted floor is completely dry. Use your hammer to bash down any floorboard nails and remove any unwanted skirting. Clean the floor properly, getting rid of dust, dirt and debris.
Top tip: as well as prepping the room, let the laminate planks 'breathe' in your home to acclimatise to the temperature and humidity. Unpack them and stack them up for a few days before you start proper.
---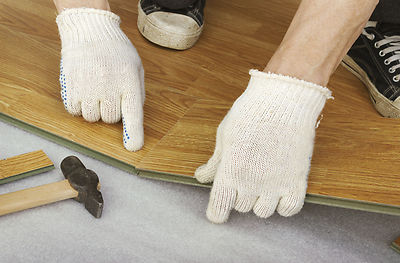 Your sub-floor needs to be packed with laminate flooring underlay before you lay anything on it. There are different types, here's a quick round-up of the main ones:
Polyfoam underlay
–
thin and really simple to roll out. Suitable for virtually any sub-floor, especially chipboard and plywood. Basic, a good option if you're on a budget.
Layered underlay – twin-layered underlay made up of polyethylene and polystyrene. Thicker than polyfoam underlay so good for insulation and it includes a damp-proof membrane. If you're laying flooring on concrete, go for this one.
Top tip: Never use carpet underlay under laminate flooring.
---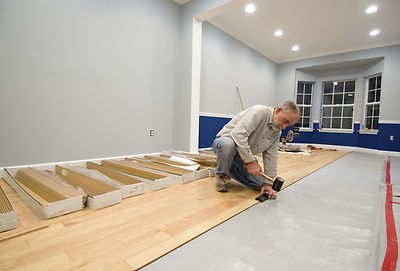 Once your underlay is down, it's time to put the flooring in.
If your laminate flooring is a click-system, then it's pretty obvious how everything fits together. Each panel will just click into place with the next,
like putting together a jigsaw
. If you're using glue, you'll need to make sure you get the right amount of adhesive to lock it all together.
Top tip: Get 3 or 4 pieces of laminate and glue them together as a test run.

Whichever system you use, start in the far corner of the room so you're working back toward the door. Place plastic spacers between the wall and the board at intervals of around 60cm. This space is known as an 'expansion gap' that allows for natural expansion of the laminate flooring once it's laid down.
Work in rows
, laying the first row with the groove side facing the wall. Then just lay more rows, clicking everything into place as you go. Note as well that you might need to cut the end of rows to make them fit in. Bosh – job done!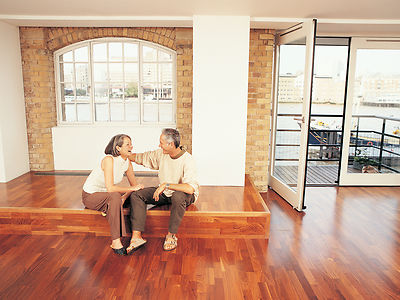 Top tip: remember to make holes in your laminate flooring for central heating pipes and door architraves. Make a pencil-mark on the board it'll fit into and drill a hole about 5mm larger than the pipe

Bonus top tip: Knee pads are not a necessity but they will make this part of the job a little more comfortable!
---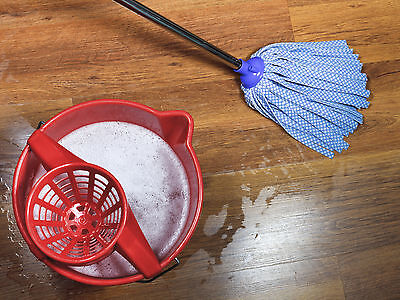 After finishing off (removing spacers and replacing skirting board, etc), bask in the warm glow of your new flooring. And once laid down, you'll want to keep your laminate flooring looking as good as new so make sure you maintain it.
Cleaning, vacuuming and sweeping it regularly, say every 3 or 4 days, is a good idea. Don't use too much water, especially on non-waterproof laminate flooring. An economical sprinkling will suffice.
While there are a number of cleaning products on the market tailored specifically for laminate flooring, always make sure you read the maker's instructions. You don't want to end up with discoloured boards just a week after you've laid everything down.
Top tip: Never use detergents to clean laminate flooring. It can discolour the boards and damage the joints.
Good luck with your DIY project!
---