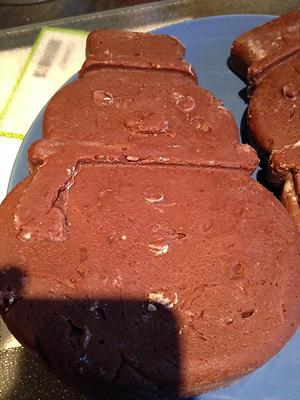 A few months ago I bought my first slow cooker. And I love it so much I can't understand how I managed without one.
I recentely discovered that you can make chocolate fudge in the slow cooker. And even better news is that it is insanely simple to do.
All you need is:
397g tin condensed milk
200g milk chocolate
200g white chocolate
2 capfuls of vanilla essance
1 tablespoon butter

Put everything in the slow cooker together on high for at least 1.5 hours. Once the chocolate has melted stir every 10 minutes. At the end add 50g of Icing sugar and pour into a shallow tin lined with greaseproof paper or any silicon tins/tray you want to use.

Leave to cool then refridgerate for at least 8 hours.

Turn out, cut if needed, and enjoy. And try not to eat it all too quick.

There are many, many different flavour options. Just add a different essance or different chocolate. Favourites in this house are, 200g of toblerone instead of the white chocolate, or the same amount of anyother chocolate you like. ie. chocolate orange, galaxy, after eights. Pretty much anything you can think of that you like.
You can also just cut into squares when ready and wrap or put in clear gift bags. Or you could pour into different shape silicon moulds which you can find in almost every shape you could possibly want right here on Ebay.
I was asked to right an Ebay guide as part of a Bzzcampaign by Bzzagent.