Kat Von D Contour Shade and Light Platte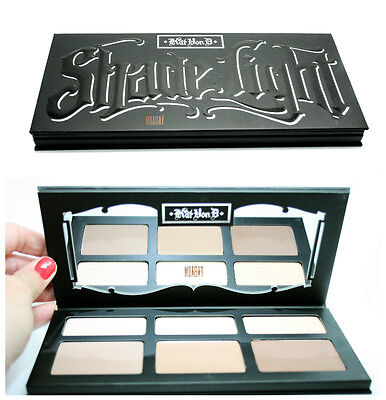 PLEASE FOLLOW BELOW FOR FULL GUIDE ON HOW TO RECOGNIZE THIS PALETTE AUTHENTIC FROM FAKE!

The palette has been on the market for over 1 year and has become an absolute best-seller. Just few months ago eBay has been flooded with sadly fake versions of this particular contour kit. We have ourselves obtained one on eBay from not business registered make up seller (palette is fake) just to show our customers the difference between real and authentic item that we sell in our MuaBay store and fake sold elsewhere!

1. Always do a background check on the seller. See if they sell make up in general, are make up store, online store or make up business. Do not buy this product from personal sellers, sellers not registered as business sellers or seller that do not sell make up in general. Business, establish sellers are most safe place to buy from.

2. Anything priced below £49.99 is 99% not genuine product. The market price for genuine Kat Von D palette varies from £49.99 to £69.99 in UK and EU and there is a reason for that (genuine palettes are made in USA and taxes will apply that are reasons for higher price).

3. Each palette has list of ingredients of each shade on the side of the box written in tiny print. Genuine palette will have written each shade and ingredients used in its production in particular order. This order is different for fake palettes, moreover fake palette has missing ingredients mentioned in comparison to authentic one - they do not care as they are not produced from these ingredients any way.

4. Palette on the top (Authentic Palette sold by us) and the bottom one (fake sold by other seller/s). Shade and light letters on genuine palette are raised and sleek, with matte background, the letters are black with silver outlining being distanced from letters (creating shade effect). Fake palette has non raised letters, they are bubbly and creased, the silver outlining is painted over letters in a messy manner. Kat Von D logo is printed right on the edge of the fake box, authentic box has a distance between logo and the edge. Logos are of different size.

5. Back of the box - genuine top one, fake bottom one. The genuine palette will always have serial number at the left bottom corner of the box, outer box and palette itself - this is specific stamp number for genuine product. See fake palette has no serial numbers. Also notice the difference in lettering on the bottom of the box, the size of the font for the fake palette is different from genuine, there are also spelling errors for Greek and Polish description in small print.

6. Top box genuine we sell, bottom fake. Box itself is made from different materials. The fake box creases easily, is more rounded, softer, easy to damage. There are makrs of ripping and glue. The genuine one is very tough,strong does not crease is made from high quality product.


7. The magnetised closing mechanism of the palettes is different. Fake palette has too powerful magnet that makes palette flip in a clumsy way making loud noise. Pulling of the magnet is too storong. Genuine palette will close softly making no pulling or noise.

8. Genuine palette has non textured smooth highly pigmented shades. Fake palette has low quality not pigmented shades with chequered texture on them. Pans of the fake palette are not straight with the frame.


9. Back of the fake box will have a guide of the shades inside that is wrong all shades look yellow! Genuine palette will have accurate guide!

10. Always check that the seller has actual pictures of the stock they have from every angle. Not pictured copied from other sellers, or from blogs, instagram, facebook or google! Beware of this as is too common! If the seller is not bothered to take own stock pictures you may imagine they do not sell it with passion as real make up sellers do!

PLEASE REMEMBER THERE IS NON SUCH THING LIKE BAD PRODUCTION BATCH WITH KAT VON D PRODUCTS! There are only authentic and fake products to choose from!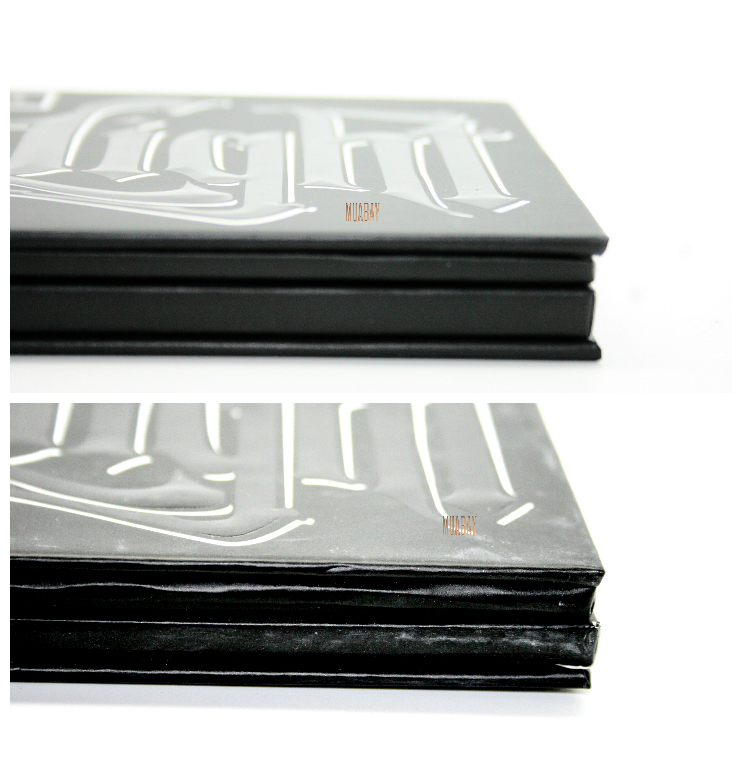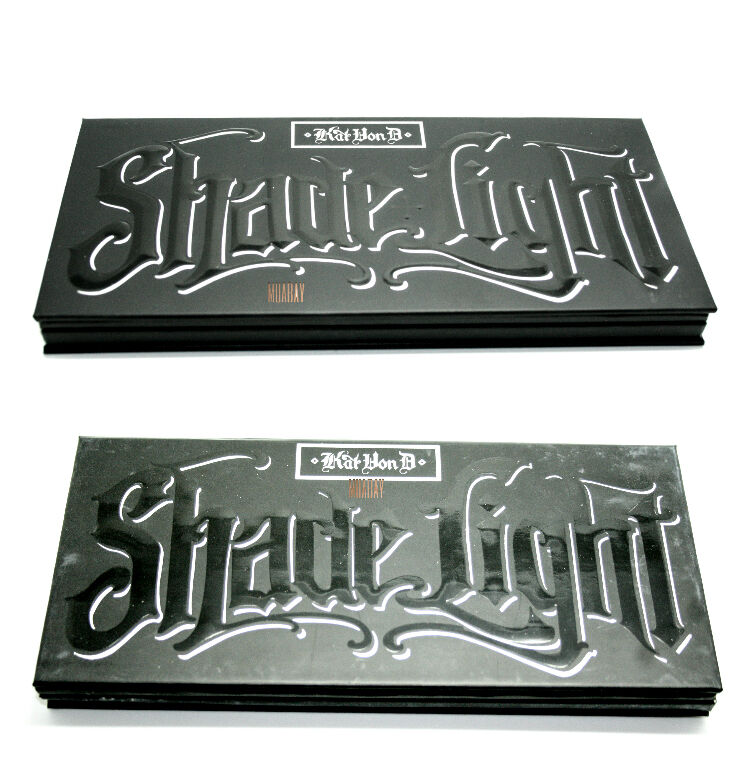 Add a caption
Shade and Light letters suppose to be raised not flat and creased.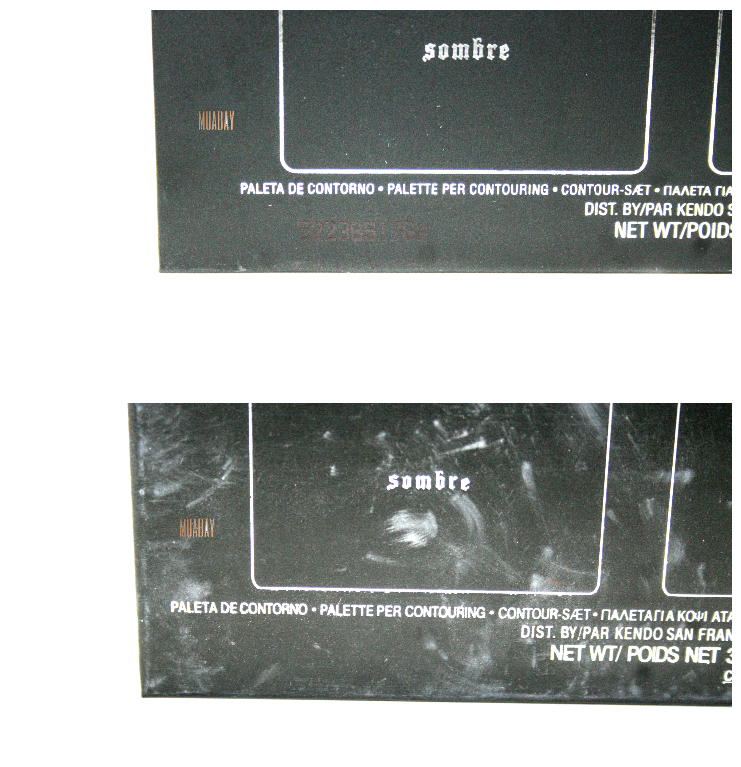 Add a caption
Lack of serial number indicates that item is not genuine.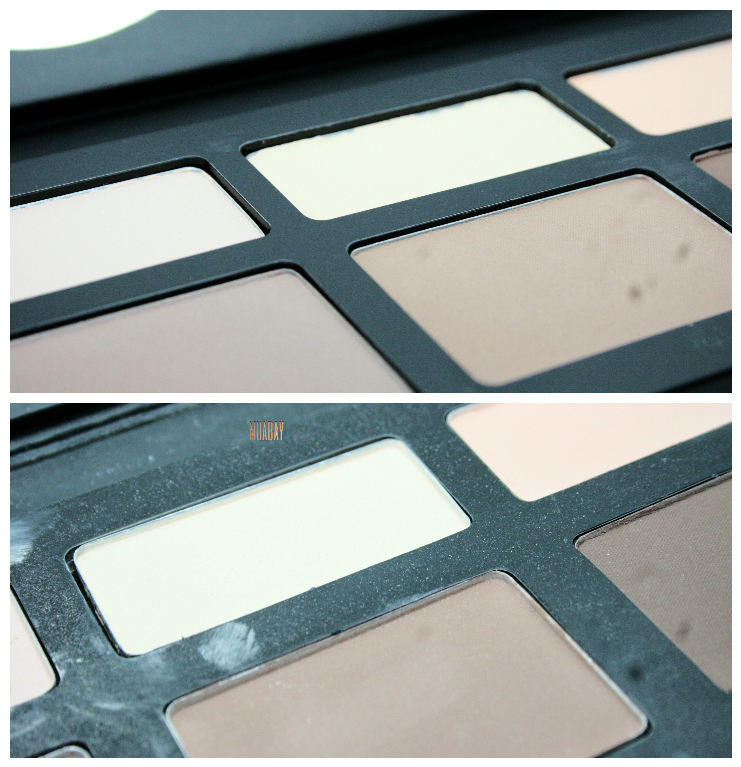 Add a caption
Fake palette has not straight pans that are showing its edges from the frame, shades are low pigmented and textured!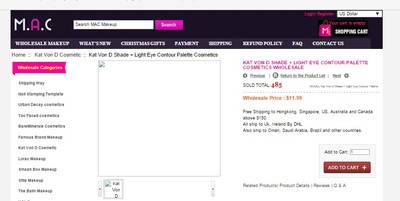 So where are these fake palettes from?
Some sellers buy their stock from wholesale websites selling non authentic make up. Note that these high end brands do not provide wholesale on their products! Fake palettes can be purchased at rate as low as £7 per piece! Example: ''wholesalemakeupvip'' There products are very dangerous to our health, they contain unknown ingredients, are not properly tested, are made from cheap and unknown materials and selling them is illegal.
What about the eyeshadow palettes UPDATE
For those asking about guide on Eyeshadow Palettes (sorry guys don't have ability to reply directly) - as there is quite a few models from KVD traveling around and being sold for as low as £10 per piece - we all know they don't retail anything lower then £40-45 being the lowest price for genuine piece. Don't full yourself how lucky you are you got a KVD Innerstellar for £18 on auction :) Really? Haven't you just been ripped off as they worthless! The rule is exactly the same - the price first and seller background check, no real photos just copied from internet or other genuine sellers perhaps - these are warning signs before you go ahead and buy it. But once you have it what really matters is the box material being cheap easy to crease, oval messy edges, no serial number, no stamps, no raised logo at the front, textured eyeshadows, lack of pigmentation, different fonts being printed the wrong way, and usually supplied by sellers selling bunch of others asian made so called US high end make up brands for 20% of its original value. Most of them may even have some negative feedbacks from other buyer that managed to spot it was fake - please pay attention to all of these details. Please remembers these products in authentic form are specifically designed and produced to be eye-safe, this is really crucial information. By using a non eye safe products as eye shadow it can cause serious life long complications from minor eye irritation to long lasting irritations and allergies, that may prevent you from wearing any more make up in the future. Irritation is only one part of the side effects that may occur. There are vast cases of developed illnesses like skin cancer, nano sized particles from eyeshadows can also accumulate in our lungs, other ingredients like parabens are absorbed directly to the pores of our eyelids and mess with the hormonal functions, and others can play even with our brain functions. And I am talking about branded products that are widely available in different stores - now imagine what fake makeup will do to your eyes since they even fake ingredients list on their fake boxes.