I have noticed that there are a lot of fake Moschino silk scarves on ebay, many of which are going for £20-30. The Miu Miu scarves often go for up to £50. Before bidding on a scarf, I suggest searching for 'Moschino Silk Scarf' on the ioffer website. This is an ebay style website that is swamped with fake items from China. Checking this website will give you an idea of the fake styles currently in production and will enable you to make a more informed decision before buying a scarf off ebay. Current fakes include ones with butterfly prints, black or red hearts, repeated moschino name coloured print, olive with a large bow tie, olive surrounded with hearts and a vintage chain effect print. Please note that these style fakes can be either in the long silk chiffon style or the smaller square satin silk style. Fake labels are almost identical to the real ones, but on comparison, the lettering is more elongated, especially where it reads 'larioseta 100% seta' and the label itself is a slightly coarser weave material.
Fake label: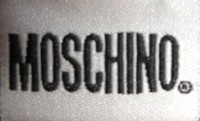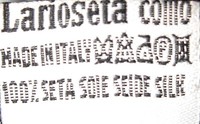 Real label: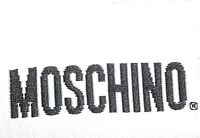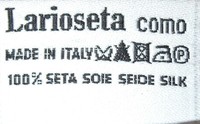 If I am entirely honest, I have a drawer full of genuine Moschino scarves and one fake that I ordered from China to replace an old favourite pattern that was no longer available. I can honestly say that the fake was of a good quality. I therefore doubt that you would be disappointed with a fake. However, it is wrong if you are being sold a fake when you believe you are buying the real thing. Especially when you can buy a fake direct from China via ioffer for under £10.
To my knowledge, all long silk chiffon Miu Miu scarves are fake and feature the Miu Miu Harlequin lady.