Here's a quick guide on what to look out for if you are thinking of buying a Mulberry Annie handbag and only the real thing will do. Lots of Mulberry bags listed on ebay are genuine and there are some fantastic buys to be had, but there are fakes too. Today, 13/11/11 for example there are 6 Annie bags listed, three of which look good, two of which don't, and the last one I'm not sure about as there aren't enough photos for me to decide. So, even though the Annie was discontinued a couple of years ago there are still plenty of replicas being made. Do a general internet search and see....
I've owned a couple of genuine Annie handbags as they are one of my favourites of all the Mulberry bags, and I've also seen a good quality fake Annie so I've got a fair idea of what the real thing should look like compared to a replica.
At first glance, some of the fakes look very good and if you don't know what to look for it can be really hard to tell the difference, so here are some features to look out for so that you can decide whether you're looking at a fake or not:
A fake Annie can have the wrong closure on the buckle. It should have a round ball, not a postman's lock closure. Look for packaging around handles too, Mulberry never put this on, but it's often pictured on bags on the replica sites.
BALL CLOSURE
Not many fakes have the wrong closure any more however, so another thing to look out for is the placement of the brass plate itself. This is quite easy to spot and an easy giveaway. An authentic one is placed very close to the stitching at its base, it's set about 2-3mm above the stitching like this:
THE REAL THING: nice and close to the stitching at the base and the sides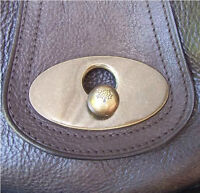 FAKES: the plates don't even reach the stitching either side in both examples below.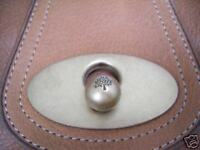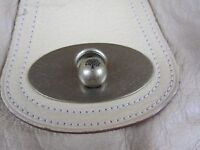 They're also set too high.You really need to see a close up like the one above to see this because the plate can look quite close to the stitching if the picture is taken from further away. Look also at the shoddy finish on the vanilla example around the bottom of the opening flap. The dark brown sealant would never seep over the edge giving a slightly ragged finish as in the example above. Perfect craftsmanship is key with a genuine Mulberry.

The Annie bag is a lovely shape but fakes can sometimes be slightly square looking at the top,

and often the buckles on the pockets are set too high, giving the pockets a droopy and elongated sort of look:
FAKE:
REAL: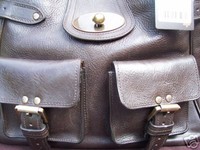 Watch out though because those pockets could be adjusted should there be another hole higher on the strap.
Check the underside of the magnetic closure on the front pockets. There should be no serial numbers engraved into them. Hard to see in the picture of the fake, but there are serial numbers engraved right the way around the underside of this one whereas there aren't any on the real one. This doesn't just apply to the Annie bag, none of my other bags have numbers etched on the underside of the closure.


FAKE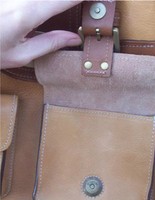 REAL
Another thing about magnetic closures is that the base part of the closure (the bit that you press the top part onto) should not be completely flat. It is kind of gently raised, sloped upwards from the outside on the genuine bags, as you can see on the photo of the pocket of the blonde/oak version of Annie above. Fakes are sometimes flat -if it's flat on an Annie bag it's fake - but more recent fakes can have the correct looking closure so you'll need to look for other clues to check the authenticity.
Colours to look out for in the fakes are Vanilla, Oak, Chocolate, Black, Khaki, Ginger and recently, Red.
Some other things to think about are: Is it too cheap? Not many would let a bag that costs hundreds go for £120 for example.

Where was it bought? Is there an original receipt? Also just because a seller says it's been sprayed with Collonil spray doesn't mean it's definitely genuine..it seems to be stated sometimes as a kind of an assurance (because Mulberry recommend that you buy this spray to protect the bag from water damage/rain etc) and I've seen it stated on auctions of fake bags many a time. Having said that, the sellers themselves are not necessarily aware that they are knowingly selling a fake bag, especially if purchased on ebay or second hand.
Anyway, the point is, a swoosh of Collonil does not = Genuine Annie Bag.
Look at the pictures carefully. Are they clear? Do they show the details? If they are blurred then it's very difficult to tell whether the bag is genuine or not. Ask the seller to send you more pictures of key areas of the bag mentioned here if you're not sure about the authenticity.
And another important point about pictures: Check that the bag you receive and all of the features pictured, match those on the auction page. I've seen pictures of a genuine bag taken from a seller's auction that finished a week previously and were then used in someone else's auction a few days later. The bidder who won the latter auction wouldn't have had any idea what kind of bag they were going to receive. This is why most sellers will tell you that the pictures on the auction page are pictures of the actual bag you will receive. If it doesn't state this on the auction page, ask the question just to make sure.

I also saw an Annie bag last week that looked fake to me because the plate was too small and too high, but which had a picture of an authentic serial number and a couple of other shots that just didn't seem to match the rest of the pictures. So mismatch pictures are also sometimes used to convince you that the bag is genuine. You don't see that too often though.
Zips: You should never have to fight with a Mulberry zip to get it to open. On my Annie, the interior zip glides open, and shut for that matter. Me and my Annie zip never fight! As zips go, it's top notch. Mulberry bags and purses often have gorgeous fine toothed metal zips. On the fake Annie the interior zip wasn't good. The metal teeth were further apart and it would get caught a bit here and there. This shouldn't happen.
Magnetic Closures: The magnetic closures on all the Mulberry bags I've had have a very strong pull and you shouldn't have to fumble around for long until the attracting poles attract eachother! On the replica bag the magnetic fastenings were not as strong and some fumbling was inevitable, not to mention annoying. It's a small point I know but combined with some of the other features mentioned here it's worth noting.

Serial numbers are faked on lots of replica handbags, so just because there's a serial number does not mean that it's the real thing. Some Annie bags don't have a serial number at all but others do. Here's what a fake serial number can look like, quite bold and round: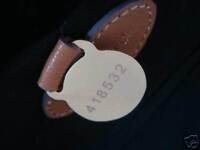 and here's the real thing: narrow numbers which are lightly stamped. On the fake example above you can see the steel underneath probably because it's only got a very thin coating of brass or because the numbers are stamped by a different machine.

An example as clear as the one here is not always guaranteed unfortunately so another thing about a Mulberry serial number is this: if you run the tip of your finger across it you can't feel the numbers, it just feels smooth. It's only if you drag your nail across the digits that you can just about feel where the numbers were stamped.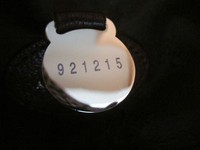 Tags: If the bag has a tag it doesn't mean it's the real thing either as these can be faked, and so can the care card.
The care card by the way....look out for spelling mistakes! There are no spelling mistakes on a Mulberry care card. A real care card is made of fairly sturdy card, a fake one is flimsy and does have spelling mistakes. I think there were two mistakes on the one that I saw.

Finally, I would say that anyone who buys a genuine bag will be really pleased when they receive it, even if it's been pre-loved to death! Mulberry bags are such lovely quality. The brass fittings, leather, the interior and the zips are top quality, as is the overall finish. It should look even better in real life than it did in the photos. So if you do receive a bag that you thought was genuine in the pictures and in real life is possibly not, take it up with the seller and paypal and get your money back if necessary.
Bit of a minefield isn't it? But just piece all the clues together and you will be in a much better position to judge exactly what you are buying.
If you're still not sure whether the Annie bag you're interested in is a fake or not, feel free to contact me with the item number and I'll do my best to advise. Alternatively, the knowledgeable ladies over at The Purse Forum will always help with this or any other Mulberry.
Thanks for reading my guide, I hope you find it useful...if you do, don't forget to vote!

Thanks