1 - Colours
The North Face Summit Gore Dryloft (and the Baltoro Gore Dryloft) jackets were made in aztec blue, yellow gold, black and red colours, see photos. As you can see the colours are not dull and they are full of life.
2 - Labels have English and French writings.
The 4 labels below are from fake The North Face jackets.
Picture 1:
- Look at the word LAMIN ATED . It should have been LAMINATED but it's spelt as two words.
- Here is where your French comes in handy ... under GOOSE DOWN it says DUVET D'OLE. that should have been DUVET D'OIE , instead of a capital 'I' there is a capital 'L'.
(Goose for Oie and Down for Duvet).
-
Look at the paragraph starting with NOTE
, the word at the end of the 5th sentence is PASLA and should have been spelt as two words PAS LA
Picture 2:
- As in Picture 1 but the size says MOYENS which in French means MEDIUM but then above it, we have L which we all know means Large.
Picture 3:
- This one is a MOYENS i.e. MEDIUM but it also has a small size label that says XS .
- The English version of the size is missing too. You can see the MEN'S/HOMMES but only the French version of the size.
- If you magnify the photo, you can see the word BY LAW spelt as one word BYLAW in the paragraph starting with NOTE and the word PRODUIT is spelt as PP.ODUIT on the same line.
Picture 4:
They got the English and French writings with the sizes almost right, S for Small and P for Petit but they spelt MEN'S as MENS and they spelt FABRIQUE as FABRJQUE.
These 3 labels below are from genuine The North Face jackets.

Picture 1 is from a genuine Baltoro jacket and picture 2 and 3 are from genuine Summit jackets.
- The word LAMINATED is spelt as one word.
- DUVET D'OIE is spelt correctly.
- PAS LA and BY LAW are spelt as two words.
- PRODUIT is spelt correctly.
- FABRIQUE is spelt correctly.
- The sizing is correct, written once in English and once in French, the positioning could vary which is OK, compare picture 1 and 2 .
- picture 3 also has the correct small size label as M for Medium as specified on the white label.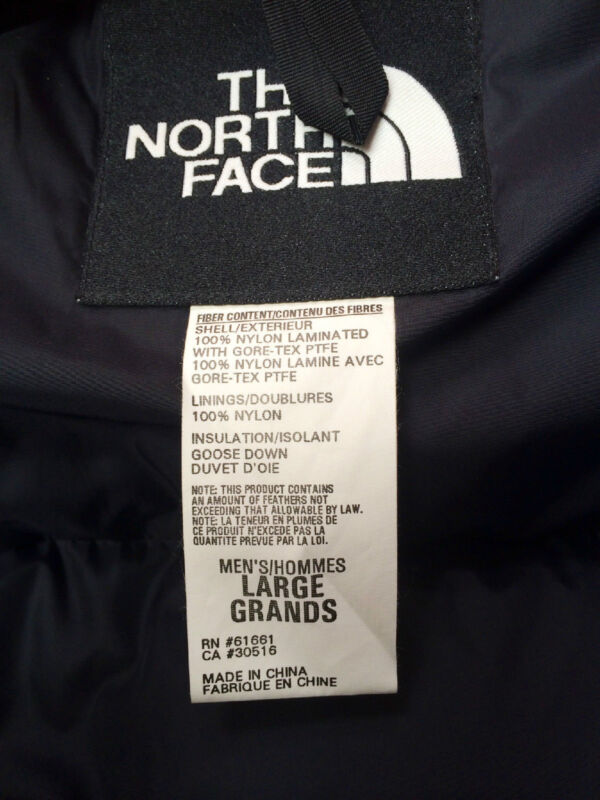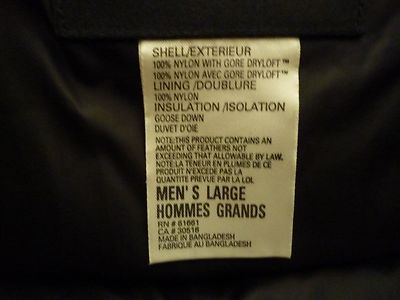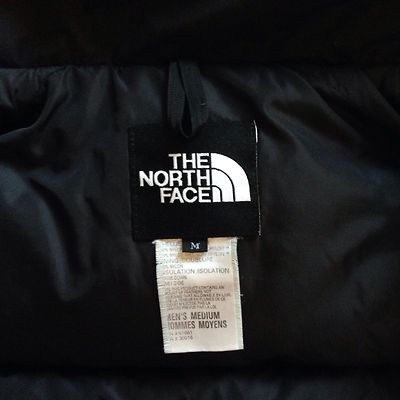 I hope you will be able to use this short guide (I will add to it over time when I come across more labels and cover other jackets when I come across them). Any questions, please free to message me.
Remember the labels are where you should look for clues if you haven't handled them as it may be hard for you to tell by just looking at the jacket itself. The North Face embroideries can also be quite messy and that is also a sign of the jacket not being genuine, including spelling mistakes with Gore on one jacket spelled as Core, see photos below.