Ok, so this brief guide is aimed at Vivienne Westwood melissa dragon lady anglomania shoes...the variety with the big heart on the toe. There's also some with globes and seals and bows etc, but I don't think they've been copied so much. Well, I was shocked to see so many fakes of the heart style ones, and they're so obvious too! Since the shoes are so cheap in the first place I see no point buying fakes. Very very easy to spot the fakes.
IF YOU FIND THIS GUIDE HELPFUL PLEASE DO VOTE, IT WOULD BE MUCH APPRICIATED!!! THANK YOU!! :D
Packaging:
So the real deal...comes in a blue box that 'slides' out like a match box, you know what I mean? Well, the lid doesn't lift up. Also, if it comes with a white dust bag, a white box etc etc it's fake. It needs to have the blue, sliding box. And real boxes are blue with dark blue orb design. Fake ones are blue with a black design. Links to photos are provided below, please do take a look.
Inside soles:
Look at the orb on the inside of the shoe where your heel should sit. The fake shoes show the bottom part of the orb and it's coloured in/filled in. The real shoes 'cut off' the base of the orb. Also, if you put the shoes together the orbs should face the same way...if you put the shoes together and the orbs are 'mirrored' they are fake. Compare some different eBay listings and you'll see what I mean. Also go to hervia.com and familiarise yourself with the real deal. If there is lettering/words on the inner sole and no orb they're also fake.
Colours:
Here is a list of colours that the lady dragon heart has actually been made in. It may be worth asking sellers when they bought their shoes to try and help autheticate them
A/W 2009: a pearly white with red heart, a baby blue with red heart, a custard yellow with black heart and an orangey-salmon colour with black heart.
S/S 2010: lilac with black heart, fushia with red heart, gold with red heart and dove grey with blue heart.
A/W 2010: translucent pink with red heart, translucent violet (looks blue in pics) with red heart
UPDATE: Sorry, too much for me to keep updating, but any listings you're unsure of please do message me the item no and I'll be happy to have a look for you :)
Go to hervia to familiarise yourself with the colours and with updates on the colours.
The worst of the fakes is the black with red heart...Vivienne Westwood has never made these so if you buy and wear them EVERYONE who sees you in them will think you are cheap and fake...don't do it!!!
Heel Tips:
The heel tip should be the same colour as the main 'body' of the shoe. For example, the lilac shoe with the black heart on has a lilac heel tip...the heel tip isn't as exact match, but it's close enough. Fakes often have a different colour heel tip...I recently saw some of the lilac shoes with black heart and they had black heel tips...these are clear fakes.
EDIT: Other warning signals, information and updates.
The dragon lady heart shoes do not come in flats. If someone is selling a version with flats they're 100% definitely fake.
UPDATE!!! The above sentence is now wrong! (as of 17-05-10). You can get a red flat with red heart and a black flat with black heart, but the hearts are not the same as on the usual lady dragons...they have studs on them, and they are called 'Zen Girl' instead of 'Lady Dragon'.

You can now get baby Vivienne Westwood x melissa shoes in sky blue with red heart, peach with black heart and blue or pink or black with bows all over them!! They are called 'mini melisss baby' and they're the perfect excuse to go off and get yourself pregnant (please note I am only joking!)

The strap that goes around the heel fastens with two gold studs that go into holes...each stud has a flat tip, not a pointy cone shaped tip. The straps definitely do not ever have a kind of buckle that you pull the strap through
I recently saw a listing for lilac lady dragon with black heart...the seller said that it was 'direct from the factory' so there was no printing on the inner sole because the factory where the she is made and the factory where the printing is done are different....what a load of rubbish!! The melissa factory in Brazil would not do that. She clearly didn't want to show the inner sole on her listing because she knew it would show what an obvious fake it was. If the item description sounds suspicious, simply don't bid...there'll be plenty of other oppertunities.
The rocking horse melissa shoes do come in white marble...you used to be able to get these at Hervia, but now you can't. The lovely store assistant at World's End told me you can still get the white marble version at Conduit St (this was in 8th April 2010, I'll be going to Conduit St store soon to collect my Ballerina Rocking Horse shoes and I'll double check then).
UPDATE: Went to Conduit St store this weekend (on Sat 8th May) to pick up my rocking horse shoes and they are sold out of all rocking horse wing sandals except gold. However DON'T PAY OVER INFLATED PRICES ON EBAY!!! The store assistant told me that for next season there's going to be new colours of the lady dragon heart, and the rocking horse wing too...I'm not sure about the ballerina flats, the lady dragon seals or globes because I didn't ask!
UPDATE: Phoned Conduit St store about a week ago - this season the rocking horse winged melissa shoe comes in black, white and red.
ASOS don't sell fakes as far as I'm aware, but they are rude, very bad customer service, ignorant and bad photoshopping that makes their items look fake.

UPDATE: Fake rocking horse shoes are being made. The fakers are getting better...the orbs are mirrored. I think another good way to tell the fakes is that the box...real boxes are blue with dark blue pattern. Fake ones are blue with a black pattern. I've uploaded photos to my photobucket, copy and paste the links below to see :)
UPDATE: Fake lady dragon bow shoes are being made. Here's a great pic that shows you what the fake inner soles look like...filled in lower half of the orb, sloppily printed ugly lettering :P. Thank you very much to eBay user red*peeptoes for your help with this :)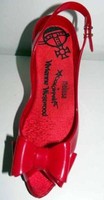 For a bigger clearer pic of a fake shoe, courtesy of a fake seller from eBay please follow this link:
http://i602.photobucket.com/albums/tt101/aluminiumsiren/VW stuff/fakeshoe.jpg
Genuine shoes look like this:
http://i602.photobucket.com/albums/tt101/aluminiumsiren/VW stuff/melissa.jpg
http://i602.photobucket.com/albums/tt101/aluminiumsiren/VW stuff/VWmelshoes.jpg
EDIT: Thank you very much for these pictures from eBay user vivian_mouse, very very helpful in fake spotting :)
http://s1216.photobucket.com/albumsdd378/vivian_mouse/
And a Livejournal post by the lovely Livejournal user Papier, containing info on avoiding fakes and a lit of authentic retailers:
http://community.livejournal.com/vwestwood/356521.html
EDIT: You can now get boxes with lift off lids, as I just bought a pair :/ Keep looking out for the correct colour combo on the box though!
Remember, if you're not sure don't bid. I offer an authentication service via eBay at a very reasonable rate. Please check out my listings or contact me. Alternatively I would recommend asking the members of the Vivienne Westwood Live Journal community for help: http://community.livejournal.com/vwestwood/
Finally, any seller that says 'sold out everywhere' is usually LYING...YOU ARE BUYING FROM A DIRTY LIAR!!!!! I went to the VW shop on Conduit St. London on Oct 17th 2009 and they had all styles in stock (from the A/W 09). Yes, when the shoes were first out they sold out quickly, and they sold out everywhere, but now you can get them easily from hervia, VW shops or any RELIABLE stockist. Anyone selling VW melissas on eBay that are new, treat with caution...you have been warned!!