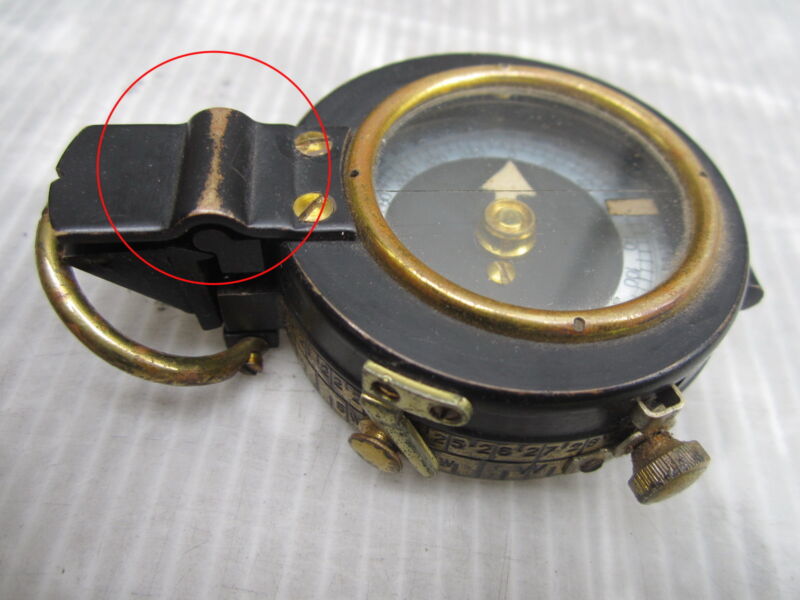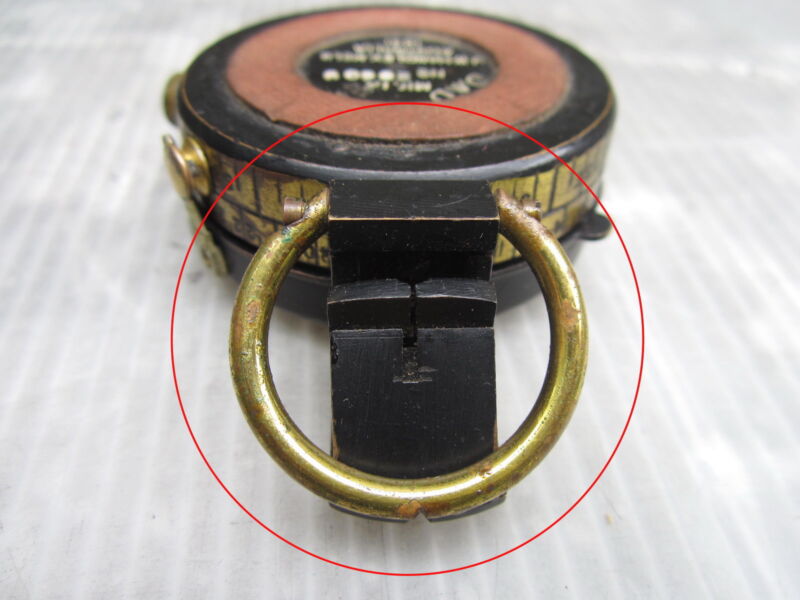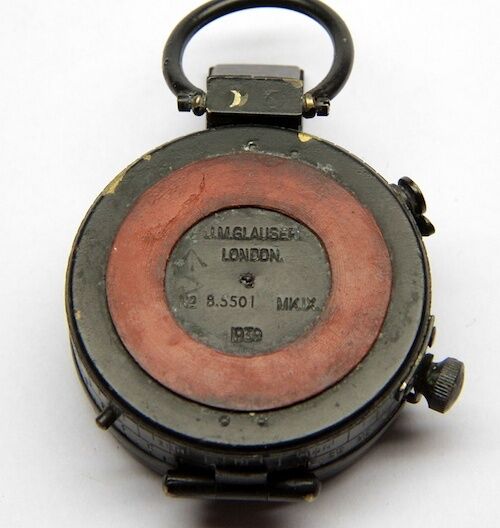 Add a caption
The neatly impressed lettering on a genuine compass
Many military, scientific and surveyors instruments are being reproduced in India and whether by mistake or design are being offered for sale on eBay. I hope this guide will help you pick out the genuine MkIX compass from amongst the reproductions.
The MkIX compass was the result of development of the Verners Pattern compass of WW1. It was manufactured by several companies both in England and Australia and was in production up until the early 1940's. When looking to purchase a MkIX compass look out for the following points.
1) The original compass was made of brass which was then protected by a coat of black lacquer or paint. If the compass you are looking at is shiny brass then be on your guard.
2) The genuine compass has a 'kink' in the prism guard (See photo), the reproduction does not.
3) On the genuine compass the thumb or lanyard ring is circular (See photo). The thumb ring on the reproduction has two parallel sides.
4) The lettering on the base of a genuine compass is neatly impressed or stamped (See photo). The markings on the reproduction compass are engraved, often quite crudely with letters and numbers misaligned.
5) The current batch of reproduction MkIX compasses are engraved with the manufactures name 'F. Barker & Sons Ltd.' Also they are all engraved with the same seial number B13066.
There is nothing wrong with selling a reproduction so long as the seller makes it absolutely clear that the item is a reproduction and that this is reflected in the price. A British Army issue MkIX compass in good condition, with its case can be worth up to £250. A reproduction is worth less than £20.
Take care, buy wisely and save yourself some money
Two of my previous guides on the subject of fake MkIX compasses and fake WW2 German awards have suddenly and mysteriously become 'unavailable'. I was not aware that eBay was in the business of taking down guides which highlighted potential mis-selling.