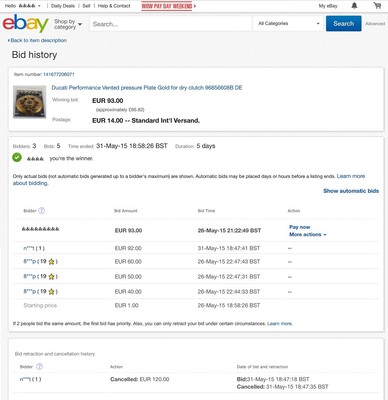 This is the story of auction
#141677206071. It was an auction for a Ducati clutch pressure plate, sold by seller Forza Moto.
The auction end date was 31st May and on 26th I bid my maximum bid of €93.51. That evening a bid was put on by another seller of €60 so I was winning at €61. This remained the case until 10 minutes before the auction ended when a new bidder, known only as N***t due to the eBay idetification protection, joined in with a bid of €120. This was very strange as Forza Moto lists the plate on a buy it now for only €115. The €120 bid obviously beat and revealed my maximum bid. N***t immediately retracted the bid and rebid €92, forcing my previously winning bid of €61 right up to my maximum of €93 at which it remained for a few minutes until the auction ended.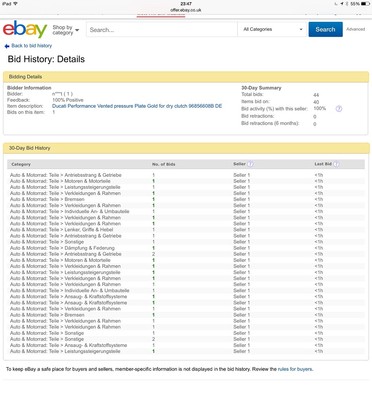 I decided to use the tools made available by eBay and checked out bidder N***t's history. As you can see from the screen grab he has only ever bid on Forza Moto's items, over 40 in fact and all within an hour of them ending.

I contacted Forza Moto and explained the situation. I was prepared to pay €61 for the plate because of the actions of bidder N***t. Forza Moto replied saying that I 'cannot imagine how many bid cancellations I have on each item' and that the price was €93. I have refused to pay and reported the situation to eBay. Forza Moto has now banned me from bidding on his items and opened a non paying bidder report.

As you can see from the screen shots you can trace a bidders activity quite easily and if there is strange activity, such as there was in auction #141677206071 it is worth doing. Since this auction Forza Moto has so far made his auctions private. This means a bidder will now show as a number such as 'Bidder 1' rather than 'N***t'. This makes it a little more tricky but nonetheless still possible to trace activity.