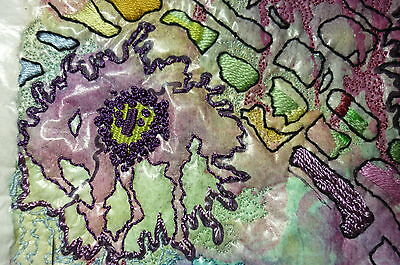 Choosing the right book..........
Yes, I know that can seem a headache in itself, there are literally hundreds out there all clambering for your attention. But choose one that state it is for beginners and take it slowly. There is no quick way only practice, practice and more practice.
Firstly
start by purchasing a free-machine foot which you attach to your machine and make sure that your feed dog(the little teeth under the base plate) are lowered so they can't move the fabric, so you are the one moving your fabric around.
Secondly
Use an embroidery ring to hold the fabric taut if you don't the fabric will get pulled beneath the base plate and you'll have one pig of a mess!
Thirdly
Always use a new needle and some interfacing underneath your fabric for support if it is thin or flimsy in any way.
Fourthly
Use good quality needles and use the type specifically for machine embroidery. Consult your machine manual for the brand of needle to use.
As a rough guide :
For fine fabrics generally a size 9 or 11.
For medium weight fabrics a size 90/14
For heavier weights a size 100/16
There are plenty of charts out there which will give lots of information about the choice of needle to fabric :)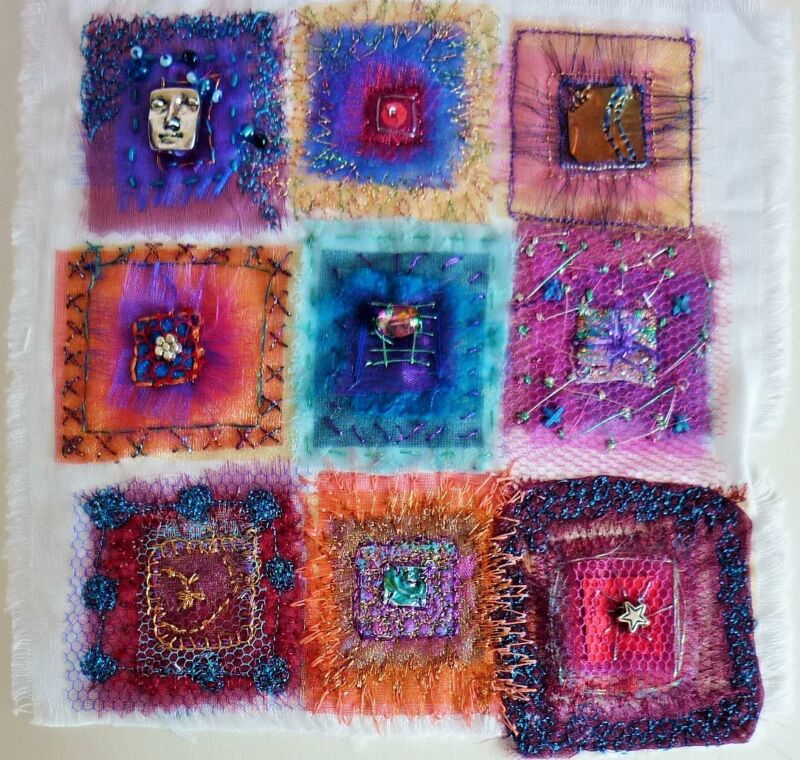 Add a caption
Great way to use up scraps and play with texture and colour :)
Simple samples
Most importantly, start slowly and simply, you will be guiding the fabric - not your machine and the speed of your foot on the pedal controls the size of your stitches.
So :
Fast foot and a slow hand = tiny stitches
Slow foot and fast hand = long stitches
Above, you can see a simple sample I did(quite a while ago!) I placed different coloured patches on a background fabric and had fun doodling! The rest is only bits and bobs for embellishment.
So please give it a try and don't get disheartened if it doesn't work right away.
The more you practice the easier it will become until it feels like a second nature to you.

See my collection for the type of basics you will need and a few hints as well.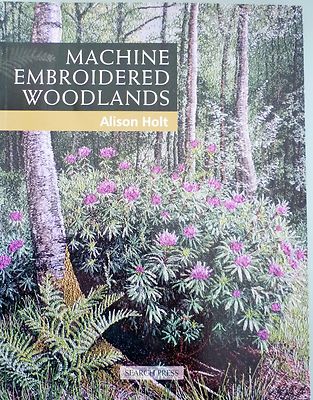 Books and all things useful :))
Over the next week I am listing part of my rather large book collection. I have outgrown some(experience-wise)
And others have been duplicated as presents. They are all in excellent condition as I treasure them all. Some may have slight scuffs through being displayed on my tightly packed shelves, but they are all clean and well cared for.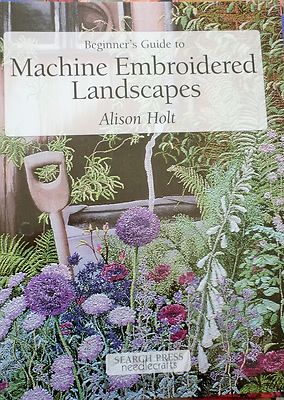 On Sale this Thursday
The first two books are by the well known textile artist, Alison Holt and these are excellent introductions to the technique of machine embroidery!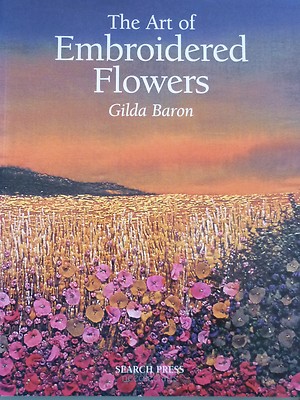 The Art of Embroidered Flowers
Again, another book but by Gilda Baron another accomplished textile artist. This is a lovely book and draws you into creating your very own gardens in stitch!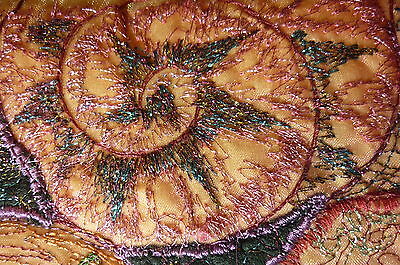 More to follow................
please stay in touch with this guide and I will try to share what I have learnt with you, to help you on your way and also list some books that were so useful to me when I started out on this adventure.