You will need to start this process in early march.You need a fuchsia to take cuttings from.
The average time table would look something like this;
Early march -----Buy fuchsia
Mid march-------Take cuttings(two or three)
Late march-------Take more cuttings(one or two)
6 weeks after cuttings----Pot up into 15 cm (6 in )pot
4 weeks after potting-----Begin to harden off plants
2 weeks later(no earlier)plant into borders,tubs or hanging baskets.
CHOOSE A FUCHIA FOR CUTTINGS
Choose plants with; Good green leaves from green (not woody)stems,
Good root system,
Several shoots from the lower part of the main stem.
Dont choose plants with; Uneven growth,
White fly,aphids or rust,
Incorrect pot size(roughly 40% pot 60% visable plant),
Signs of lack of water.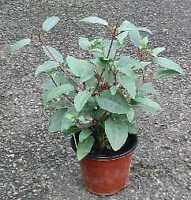 PREPARE THE COMPOST AND POTS
Its best to pot each individual cutting on its own in a 7cm (2.75in) pot,
Fill the pot nearly to the top with potting compost,
Place the pot in some water to ensure the compost is fully moist you can water from the top but it s better to water from the bottom ensures all the compost is moist.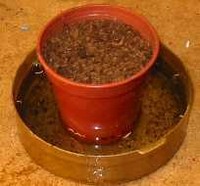 SELECT A GOOD SHOOT FOR CUTTING
The top left shoot is ideal for use as a cutting,It looks healthy.The cut on the stem needs to be made above a set of leaves leaving three sets of leaves above the cut.
The arrow in the picture shows where the cut is to be made.Use a sharp knife to make the cutting this will prevent damage on the stem which could introduce disease to the cutting.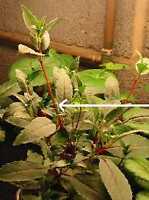 MAKE THE CUTTING
The cut to seperate the cutting from the main plant needs to be made above a leaf node (the point of which two or more leaves sprout from the stem).
During the process of taking the cutting be careful not to damage the stem,Handle by the leaves where ever possible.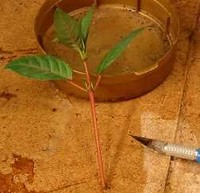 TRIM THE CUTTING
Trim the cutting directly below the third set of leaves,Then carefully trim off the lowest set of leaves and any shoots around the leaf nodes.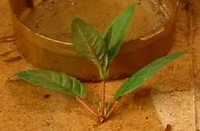 POT THE CUTTING
Use a pencil or a dibber to make a hole in the compost and place the cutting in the hole to just below the first set of leaves,Position the cutting so that the leaves do not touch the soil,Gently firm around the edges.
Cover the cutting with a clear plastic bag or better still a plastic clear bottle with the bottom cut out.Alternitively it can be placed in a propagator.
Place in a light area but not in direct sunlight,20 c (68f) is ideal.In two weeks the cutting will have rooted.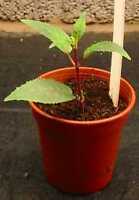 Three to four weeks after taking the cutting pinch out the growing tip of the cutting leaving two sets of leaves below the pinching point.This will encourage the plant to bush out.
plz rate my guide :)